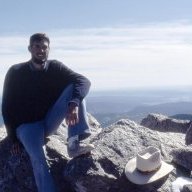 Joined

Feb 1, 2014
Messages

412
Its been a year since I made this trip and I'm only finally getting around to posting something. Part of the reluctance is due to the other great reports on this web site. I don't really have anything to add and a lot of my pictures are repeats of ones found on those other reports. But, it was a great trip and I thought, 'So what if its basically a repeat of other reports?'. Its nice to see the pictures again.
One thing I didn't count on in planning this trip was the possibility of snow. It was a complete surprise to find out that the Beef Basin was snowed in. At the Needles Park Headquarters they expressed a high degree of doubt about our prospects of being able to get to the trail head. We decided to try it anyway. We had a 4WD pickup and we had always planned to take the pickup to the trail head and had never quite figured out how we were going to retrieve it. That problem was suddenly looming a lot larger. There wasn't much snow on the road till we got near Bridger Jack Mesa. We did encounter a fair amount of mud. At first it was just muddy, then it was slippery mud, then it was snow on slippery mud. I wasn't driving and I have to admit I was unnerved by how much difficulty we were having staying in the track and making way once we passed the last place anyone before us had given up and turned around. We didn't quite make it to the trail head before we gave up too at sunset. We ended up camping by the road in the snow. Its been a few years since I've done that and I was reminded of how I still don't like it.
As I look at this , I think it doesn't look so bad, but what finally got us was going down hill. You couldn't stop - you'd just slide - and you couldn't hardly control the direction vehicle was taking. The road goes close to the edge in a couple places and although nobody said anything I'm sure we were all thinking about the possibility of sliding off.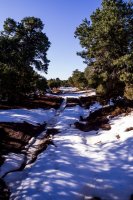 Anyway, here's pictures from the trip.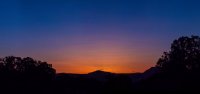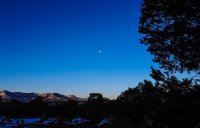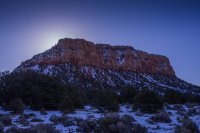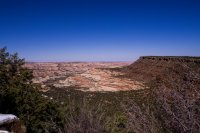 View attachment 40264
The snow was mostly gone once we got down into the creek itself.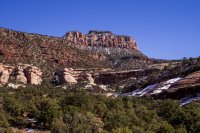 We started seeing ruins almost right away.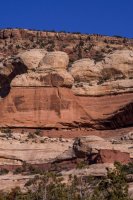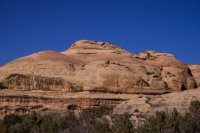 The riparian overgrowth near Kirk's cabin seemed a lot more impenetrable than this picture shows.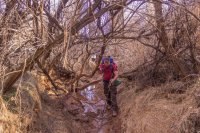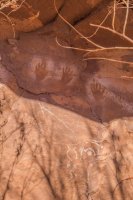 The arch near Kirk's cabin is hard to see because of the rock wall behind it.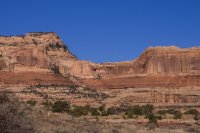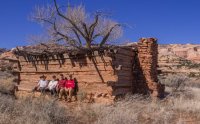 The wagon seemed to be in better condition in some of the other older reports.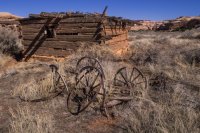 Looking down canyon near Kirk's cabin

Looking back the way we came in about the same spot.

Big ruins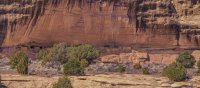 More ruins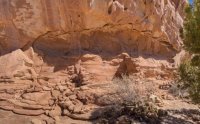 Some ruins on the middle shelf. I can't imagine how the ancients accessed them.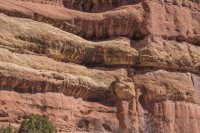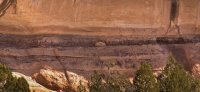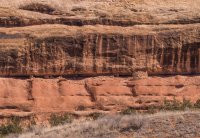 Squash Patch Ruins. The remains of last year's squash are on the lower right corner.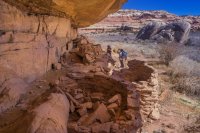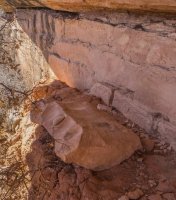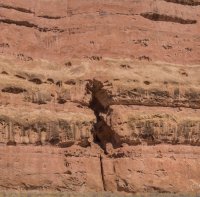 Alcove where All American Man is found. He's in the alcove on the left in front of the wall.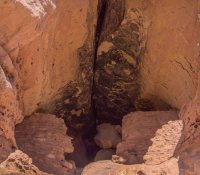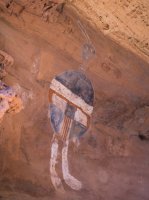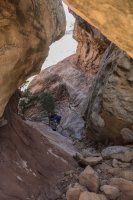 View attachment 40290
View to the north. The picture above was taken at the notch between the two monoliths.

View to the south.

Ruins at the 4 faces. The 4 faces are on the right edge under the ledge.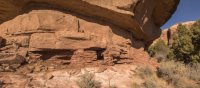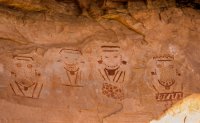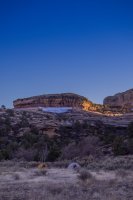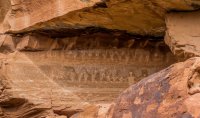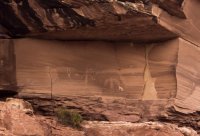 We liked this camp spot a lot. It was an established spot but didn't look like it had been used in a long time.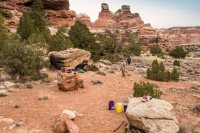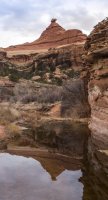 Flash flood debris.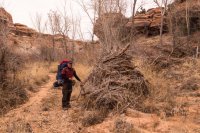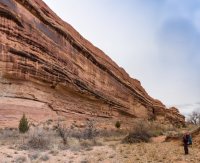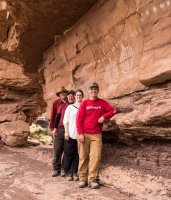 Last edited: