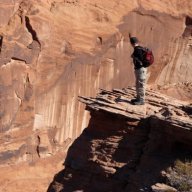 Joined

Jun 16, 2012
Messages

1,485
New Trail Guide up for Angel Cove in the Robbers Roost/Dirty Devil area. In-depth questions & comments can be posted in this thread.
View Angel Cove Trail Guide
[bimg=fleft|300|Angel Cove]http://backcountrypost.com/forum/data/attachments/7/7563-c8bdf8f916c74a37884a7bc6bad272af.jpg[/bimg]
The hike at Angel Cove along the Dirty Devil River is insanely beautiful, wonderfully remote, and a great winter hike. The trail ventures across desert landscapes and long stretches of slickrock, and I've never even seen another car at the trailhead.
Read more...
.