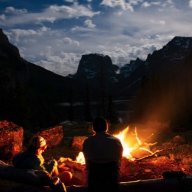 Joined

May 3, 2018
Messages

253
We got to the TH at 9:30PM or so on a Saturday, about 50 cars in parking lot. Was a full moon and beautiful out around 55 degrees. Didn't even need a head lamp for navigating due to how open and the illumination from the bright moon! Camped in a meadow and saw lots of headlamps further out. Next morning there was around 18 tents scattered throughout the valley and people everywhere. Def not a good saturday getaway. It was gorgeous and as time went on (Sunday) everyone left and we were the only ones in the area it seemed like. We ended up not sticking at the ancient lakes and climbed over the cliffs to Dusty Lake where it was a bit more remote to camp into monday.
Saw tons of wildlife, super pretty! Heard lots of owls and coyotes.
Beautiful area and look forward to returning.