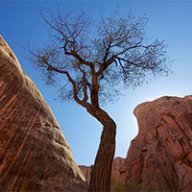 Joined

Aug 9, 2007
Messages

12,939
The discussion in the Micro TR thread got me thinking that we need a dedicated thread to the art of anchoring tents in challenging conditions like sand, snow and solid rock.
Yep, but they still leave a whole lot to be desired in really cold, loose snow. You need an avalanche shovel to bury them deep enough so they don't pull out.

http://www.rei.com/product/725165/rei-snow-and-sand-tent-anchors

I think a free standing tent is much better in snow, especially if some of that happens to be on top of the tent. But it makes it more interesting to get up in the morning. Even with a freestanding, you still need the guys so the problem doesn't go away.
I've been struggling this past year to really get my tent down solid in Glen Canyon where it's either powder sand or solid rock and the winds can get crazy. I bought a set of those REI anchors like you linked to, John. I also bought a bunch of the
REI Snow Stakes
and a couple sets of
medium Tough Stakes
.
Out of all of those, the Tough Stakes have worked the best by far, then the REI Snow Stakes. I didn't care for the REI snow and sand anchors that much.
I think I'm going to order a 4-pack of the
small Tough Stakes
to try this year. I think I have my tent pretty well anchored down now (famous last words?), but I'd like to have extras on hand because most people that come with me to Lake Powell aren't prepared for the kind of anchoring needed to keep a tent down out there. We had a friend's loaded Big Agnes Copper Spur go flying in a storm last May.
Anyone else know of any good products or techniques to keep things together in challenging staking/anchoring conditions?