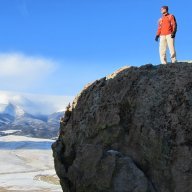 Joined

Nov 22, 2016
Messages

40
For my 40th birthday I was on a road trip mountain biking in hiking in UT,ID,MT, and WY
This is the trip report for a climb of Little Rainbow Mtn along the Continental Divide on May 25 and some surrounding travels around Georgetown Lake the next day.
Snowpack kept me down around 7000' so I walked the road on snowshoes to Storm Lake. I Climbed 9989' Little Rainbow Mtn, the prominent peak above the lake. It snowed on and off most of the day so the views are somewhat obscured. Despite the name, Little Rainbow Mtn is the ranked 8th highest in the Anaconda-Pintler Wilderness and actually nearly 350' higher than Rainbow Mtn 2 miles to the west.
I have the full, complete trip report at the link below with lots of photos including the wildlife in the surrounding area.
http://tomcatoutdoors.blogspot.com/2017/06/anaconda-pintler-wilderness-climb.html
Here's a few photos to get an idea:
Ridge to Little Rainbow
Little Rainbow Mtn beyond Storm Lake
Looking down Little Rainbow Mtn toward Mt Tiny