Joined

Jul 23, 2013
Messages

1,572
My sister, Melinda, was in town from Phoenix for a conference and had wanted to hike Mount Timpanogos. However, I dissuaded her on account of the sketchy snow conditions that remained up on Timp and because she had some recent problems with her feet, only recently being cleared by her podiatrist for more aggressive activity. She had never been hiking up in the Uintas, so I figured the Clyde Lake Loop would be a perfect way to introduce them to her.
Thursday - July 20, 2017

We rounded up my dog Sophie and drove on up the Mirror Lake Highway to the Crystal Lake Trailhead and as expected, found it to be mostly full, but we were fortunate enough to find one of a few spaces available. It was about 5:30 in the evening when we got started. At five miles without any remarkable elevation gain to overcome, it was a hike I knew we could finish well before it got dark, including time to pause for pictures and views. We opted to hike it clockwise and set up for Cliff Lake.
Cliff Lake
Indian Paintbrush near Petite Lake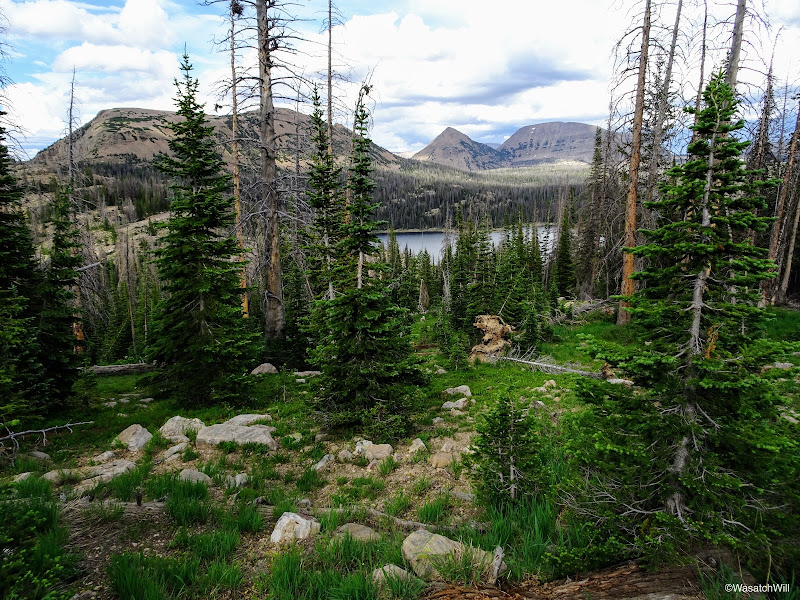 Looking out across Wall Lake to Notch Mountain, Reids Peak, and Bald Mountain

Up at a lake with no name near Clyde Lake, we found our first surviving blocks of snow. It was a treat for Melinda, now a resident of Phoenix.
Unnamed lake near Clyde lake
Standing on the snow
We also discovered a small little cave at the lake's edge that I had not noticed before on prior hikes around this loop.
Under the small cave
We did not linger long there inside the cave because there were questionable clouds about with the potential to erupt into some serious weather and taking shelter in that little cave would not be the wisest place to be.
So out and up we went before dropping back down over to Clyde Lake.
Clyde Lake
From Clyde Lake we veered off to Booker Lake but stopped short of seeing the rest of the Three Divide Lakes so as to keep on time with the rest of the hike.
Booker Lake
Back down at Clyde Lake, we continued on around it and on toward Twin Lakes. The flowers really took off all around these lakes in the meadows in between.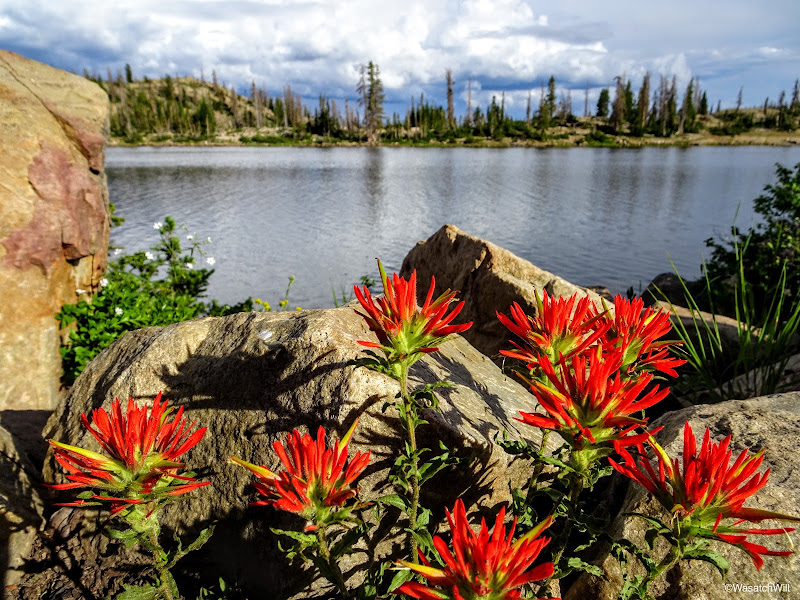 Clyde Lake
Indian Paintbrush
Columbines
Columbines
Columbine
Columbine
Indian Paintbrush and The Notch
Bluebells
Meadow of flowers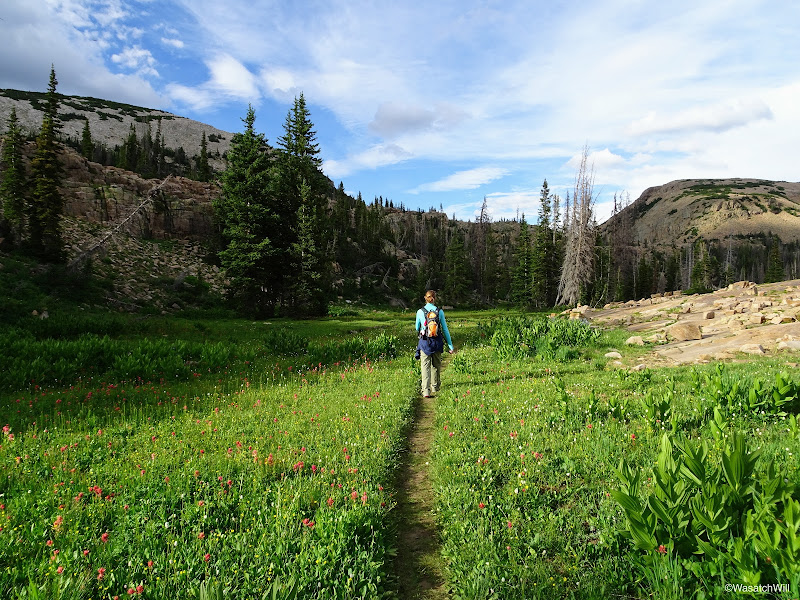 Melinda on the trail to Twin Lakes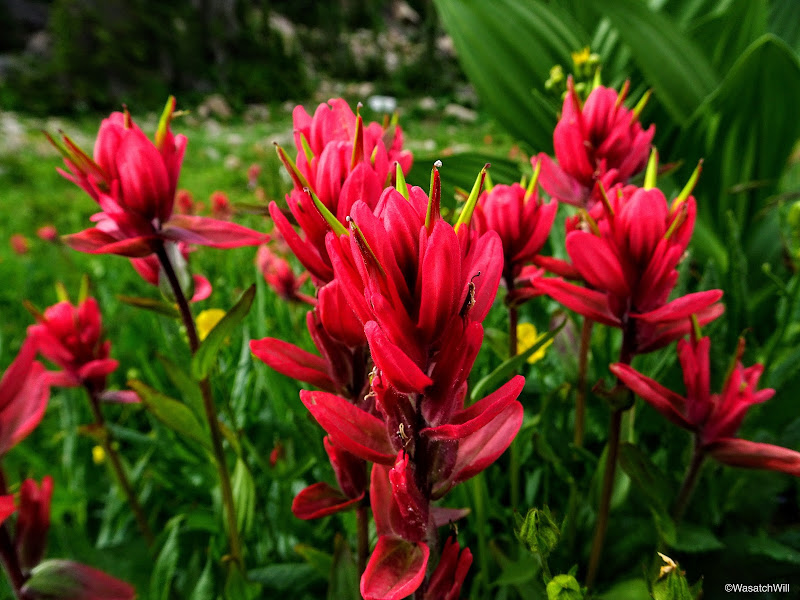 Indian Paintbrush
Still mind-blown by all the flowers
Paintbrush and Elephant Heads
Elephant Heads
Upper Twin Lake
Indian Paintbrush
From Twin Lakes made our way down and around to Hope Lake.
Reflection on large tarn near Hope Lake
Meadows around Hope Lake
Bridge and boardwalk by Hope Lake
Another meadow of flowers near Hope Lake
Meadow of flowers near Hope Lake
Melinda taking in the view from above the cliff between Hope Lake and Wall Lake
And from Hope Lake, it was on down to Wall Lake.
On the trail toward Wall Lake
Wall Lake
Wall Lake
Wall Lake
Log macro at Wall Lake
Surprisingly, we didn't encounter very many people the whole way around the loop until we reached Wall Lake. One of the most popular lakes for people to hike, fish, and camp at in the Uintas, it was sprawling with people as usual.
From Wall Lake we finished out the final mile of the loop.
Reids Peak and Bald Mountain from trail below Wall Lake
Near the trailhead we pulled off to checkout Lilly Lakes. It was easy to see where the name comes from.
Lily Lakes
Lily pads and flower
Lily pad and flower
Lily pads and flower
There was also a nice reflection in one of the lakes.
Evening reflection
Dead tree
Same tree, same reflection
Once back at the car, we drove on out and pulled over beneath Trial Lake dam. Seeing the sky starting to change colors and I wanted to see what it looked like over Trial Lake.
Warming colors over Trial Lake
Reids Peak and Bald Mountain across Trial Lake
From Trial Lake we drove on back down the highway and pulled off at Provo River Falls where the sky really put on a show.
Upper Provo River Falls
Longer exposure of Upper Provo River Falls
Changing sky over Provo River Falls
Fire in the sky over Provo River Falls
Longer exposure of the falls
Sky show above the falls
And with that, my sister, Melinda, had a proper introduction to the Uintas, at least by my standards.