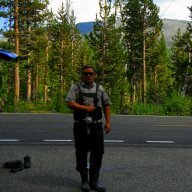 Joined

Sep 30, 2014
Messages

109
Trevor and I got a chance of a life time this weekend. An all expenses paid, 1st class trip to Jackson Hole WY to ski in an upcoming film for Tribal Snowtools! What a great way to start off the new year! This weekend was an adventure from the get-go! The powder was perfect, the accomidations were too good for us, and the company was full of great people. Big thanks goes out to Susan Pieper-Bailey for setting up and funding the whole thing! We covered another spot on the Bingo Card of Life.
Day 1
We left SLC late since we decided to buy new tires for the car....and what a great idea! The roads up there suck! On the drive up I convinced the twin to stop for a sunset pic @ Salt Creek Pass.
The 1st class accomidations within walking distance of downtown in Jackson Hole WY was too good for us backpackin type of folks!
And of course we made a stop at the liquor store in WY to grab some "Wyoming delicacies".
We hit the town's night life, and started with the "Silver Dollar Saloon". The moment we walked into the crowded bar 50+ cowboys, all 40 years older than us, stopped what they were doing and gave us a prison stare! So we bailed to the Town Square Tavern, where the scene was more young, the live music kicked ass, ski movies played around us and we found a new favorite drink....Cinnamon Toast Crunch which is Fireball plus horchada!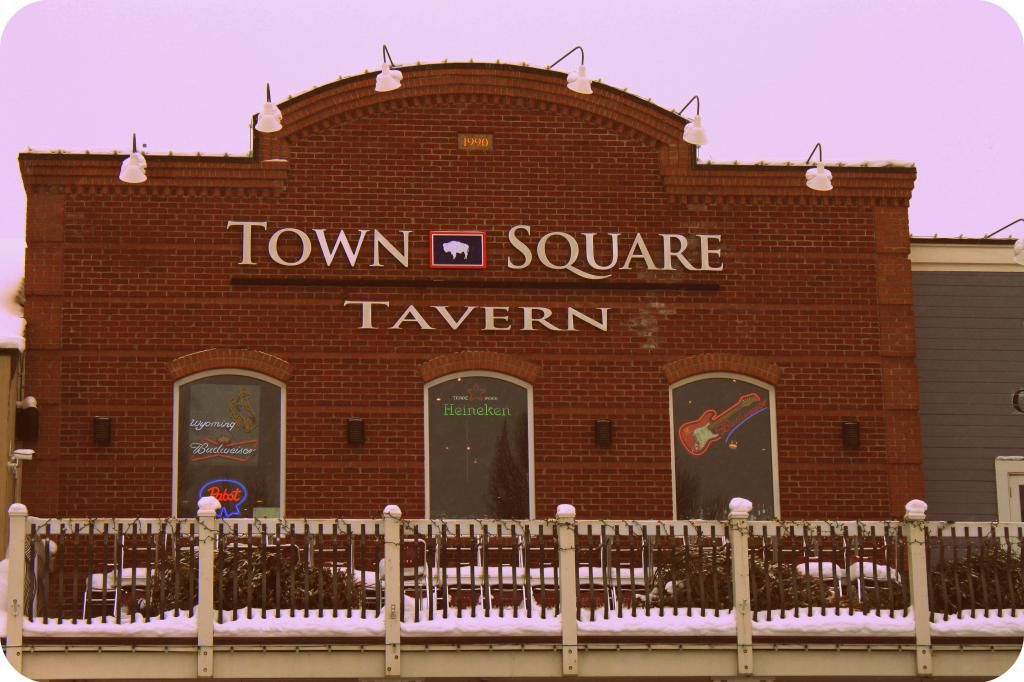 Day 2
The next morning we drove over to Teton Pass to meet the crew.
We were being filmed, so my twin never really got the camera out during the tour on Teton Pass. However he did sneek a few pics of the me in BLOWER TETON POWDER!
A Rossignal worker heard we were filming, so shit got crazy on Teton Pass. This is a backflip sequence.
And yeah, he LANDED IT!
Conar was with our crew and went big too....with a paddle in his hand I might add. Conar almost reaching the tops of the trees on Teton Pass!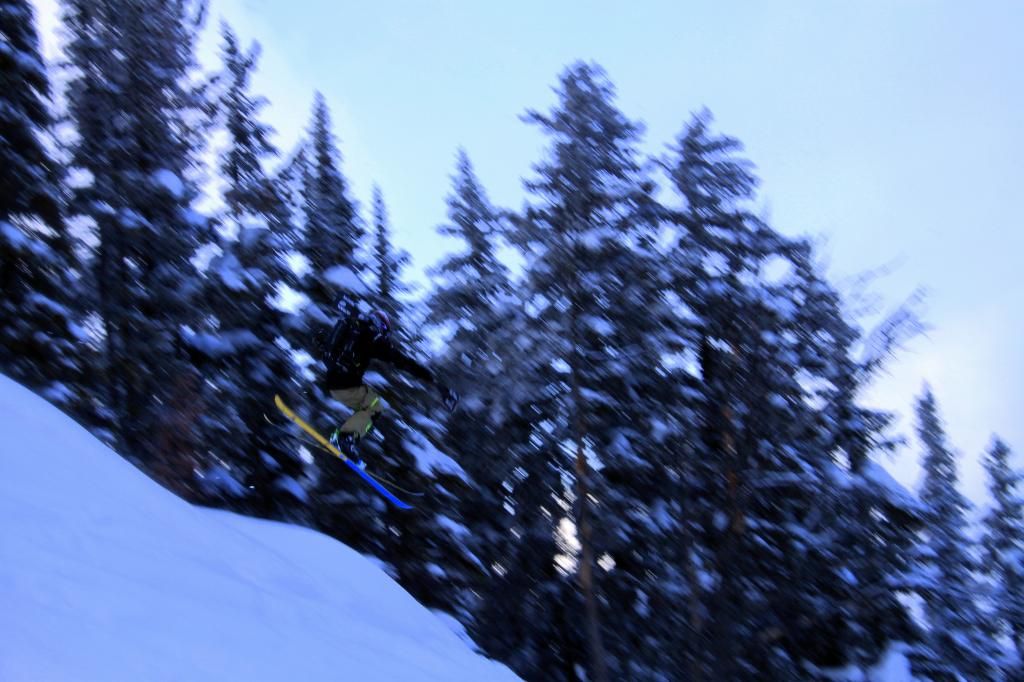 And Conar stuck it! He must have traveled 60 feet, nearly above the trees!
What the crossbone's paddle was born to do....rip powder!
Me skiing down Teton Pass with Tribal Snowtools "crossbones" paddle. This picture shows just how much leaning you can accomplish with a paddle.
That night we went to Thai Me Up with Susan for some A+ brews and thai food....and it was by far the best spot in town! Where we parked however, was not. Reds and Blues showed up, and sure enough, we got a $70 ticket (visitor's tax I guess!) Susan paid the tab, and the ticket. That's what I call a STAND UP person in my book! THANKS SUSAN!
Day 3
On the last day we did some testimonials @ the house for the film crew. The twin and I were being filmed together, and when asked what our names were my twin said his name was Troy....what a jackass. Sure that one will end up on the bloopper reel! After we said our goodbyes and thank yous, we hit the road before the storm really got going. The roads only got worse on the way out of town.
After 2 hours of driving in white out, snowpacked icey roads we thankfully, @ salt creek pass, got a snowplow in front of us. Thank god we bought new tires!
WEDNESDAY
Trevor, Ron, and I headed out to the WIlson Chutes in Mill Creek Canyon's Wilson Fork. We started before dawn at Bulter Fork.
After a few icy miles the sun came out and conditions improved. Kessler Peak is in the background.
Ron and I summit bound for Wilson Peak
Tomfoolery ensued at Wilson Peak.
Meet the newest member of the group....
I was 1st to drop in.
Trevor the photographer was next, and last but not least was Ron. The next 7 miles of skiing to the car was great!
TODAY
I prepared my gear in the dark and was ready to roll with the sunrise.
The summit of West Monitor was reached via Willow Fork. My buddy Grady was to meet me there, he was coming from the Canyons Ski Area.
Ready to drop in? I was for an hour till he got there!
I took the opprotunity to take pics of other groups skiing down West Monitor.
We charged the face of West Monitor!
Looking back at our lines just made on the face of West Monitor
Grady bailed down The Canyons Ski Resort while I skinned from the boundry back to Big Cottonwood Canyon to ski Will's Hill of Willow Fork.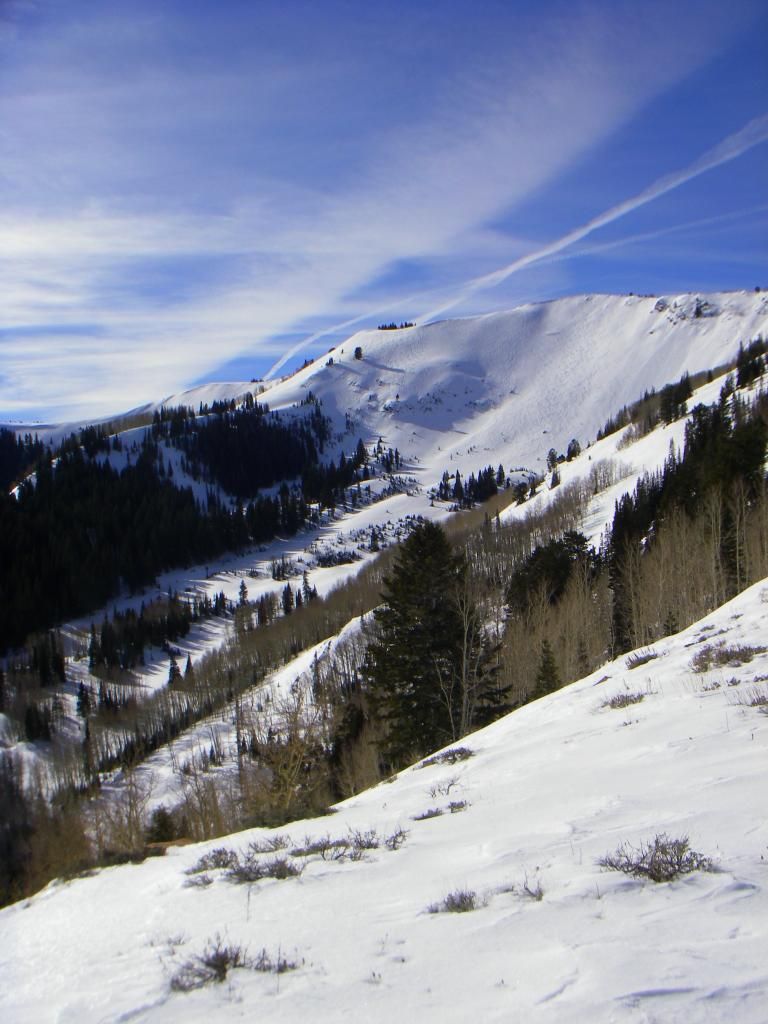 Once back at the ridge I was ready for a wind buffed Will's Hill down to the Highway where I hitched back to my car.
Featured image for home page: