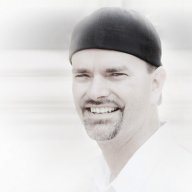 Joined

Sep 20, 2013
Messages

6
Back in August I decided It was time to stop procrastinating, and make the drive to Eastern Utah. I've always wanted to visit the eastern deserts, but kept shelving it in order to pursue other sites. I had seen a few photos of Fantasy Canyon, but had no idea where it was, and the photographers I asked wouldn't give up the location, giving me misdirection as to the difficulty and accessibility. When I finally found the site location, I was happy to learn that you can drive right to it on dirt roads... and I was frustrated that people were intentionally keeping the site secret.
I had a friend lined up to go with me, but he backed out, so I just pushed ahead alone.
There were some beautiful discoveries along the way, including herds of wild antelope, and numerous herds of wild mustangs living in the desert. But the canyon itself was truly the highlight, not just of this trip, but of ALL trips I've done in Utah. The site is so unusual, so ALIEN, that words can't really describe it. The sandstone formations look like a mixture of dinosaur skeletons and weird alien carcasses.
I got there in the evening and realized I would need to camp overnight to shoot it at sunrise as well. Talk about an eerie place to stay the night! I'm considering making this a Halloween weekend annual event.
As an aerial film maker, I couldn't have been more pleased with the scenery. It was a delight to film those odd forms.
When I got home and reviewed the footage, I realized this film needed a special soundtrack, something haunting with vocals describing memories of past creatures revealed in gardens of bone. So I spent the better part of a week writing and recording an original soundtrack for this film.
It's one of my best films, and hopefully a few
BackCountryPost
nature lovers will appreciate the effort put into it.
If you do visit the site, be aware that the formations are smaller than they appear in photos, and some are quite delicate. I am positive that the splendor and fragility of the place is the reason photographers keep it a guarded secret. Please be careful and treat the site respectfully. Keep pets on leashes, and energetic children on shorter leashes.
There is a rest room on site and a few tables for eating.
Cheers!
- TJ Sheridan
-
www.birdseyevideos.com
Featured image for home page: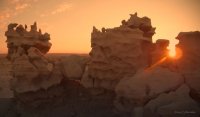 Last edited by a moderator: