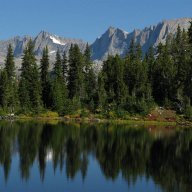 Joined

Aug 18, 2015
Messages

270
A Lander hunter I had a great talk with last year at Dad's Lake said I was wasting my time fishing for goldens in mid-Sept. Based on the last several years of attempts, I can't dispute that! So far I've struck out twice at Wall and last year at Upper Golden and L. Louise (did not try Dennis on way out; sleet and 40mph winds). Granted, it's just been 3-4 hours each time and I haven't hit the "golden hour" of dusk (Dad's exploded with trout then, but no goldens there). Have always used a Jakes Money Clip, fished as deep as possible as many suggest as well as much of inlets/outlets as I could reach. Connector streams are pretty much dry at that time of year.

I've done plenty of research on the publicly "known" GDT waters. F&G are a great help, as are reports online and of course Fly-Fishing the Rocky Mountain Backcountry by Rich Osthoff (though that is 18 yrs old). I'm not mentioning anything here that isn't general knowledge.

While the 20+ mile hikes are fun of themselves, it would be nice to finally see a golden at that time of year. This year I'm in the area 24 days. With acclimation, travel, etc. 9 of those are committed to fishing and backpacking (solo this time so trying to stay out of heavy griz country). Then my girlfriend joins me and I need to do tours of the national parks, area dayhikes and 1 overnight backpack. Hoping for 2 3-4 day adventures, weather and energy allowing. My backpacks are trivial compared to folks here. After 3-4 days, I've had enough, especially solo.

So, recommendations before I hike in another 20+ miles and not catch fish?

1) Same areas, more time?
2) Target smaller waters over larger? (maybe faster turnover/less deep)
3) Go deeper into the Fitz to Bull Lake Creek? Reachable in 2 days from Elkhart.
I know where Flying Monkey is, but folks in town said it's over-rated. Confirmed GDT by F&G though.
4) Hit more popular spots (stocked more?): Titcomb/Mistake, Coon/Poison/Windy, Deep Creek Lakes
5) Attempt death-by-bushwhack to Clear Lake or over Osborn to Faler?
6) Give it up. Go in at ice out or hire a guide!
7) Wouldn't mind trying to reach Elbow L. Made Big Slide from Elkhart in 1 day.
Was told in town a few years back the chances of catching anything were low - too big, deep.

Hope Sublette F&G does another survey. The last I have was published January, 2009.