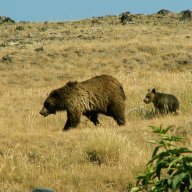 Joined

Jan 23, 2012
Messages

601
New Trail Guide up for Alum Creek via Mary Mountain Trail in Yellowstone National Park. In-depth questions & comments can be posted in this thread.
View Alum Creek via Mary Mountain Trail Guide
[bimg=fleft|300|Alum Creek]http://backcountrypost.com/forum/data/attachments/8/8010-fccdc39b081cbe398b1c1d8104ed378d.jpg[/bimg]If you're looking for a day hike that has great scenery and provides an excellent chance of seeing wildlife, including grizzly bears, the Alum Creek hike is a great choice. This hike is located in the wildlife-rich Hayden Valley. The trail travels west through the northern part of the Valley and runs adjacent to the banks of Alum Creek. As the trail travels west it passes through lush, open prairie land until it enters into the trees, gaining 500 feet of elevation on its way to Mary Lake. The trail can be quite marshy in spots especially in early spring, but can stay wet even into late summer.
Read more...
.