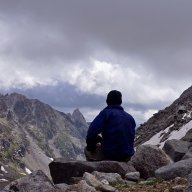 Joined

Jun 14, 2016
Messages

264
Alice - Toxaway Loop
It was too snowy. One of the friendly people at the Great Outdoor Shop suggested I give the Sawtooths a try as the altitudes there are lower than the Winds. I found a map over in Jackson and everything was indeed much lower, placing trailheads at ~6500, big passes ~9000 and tallest peaks of ~10,500. The extent of my advance research was looking at the 1/63,000 map for 10 minutes. A route was chosen mostly on the basis of how easy it was for me to drive to the trailhead. It was a canned route off the map and we were heading into 4th of July weekend so I was not expecting alone time. Surprisingly, except for Alice Lk, I saw few people. The weather was ideal with some clouds and nicely warm temps, just a few light showers.
It was almost 6:00p before I started up the trail hoping to make Alice for the night. I ended up camping unintentionally at some unknown location in the bushes. I've been backpacking for a long time and it was kind of fun to be reminded, thankfully without real consequence, how a little carelessness can send you off. 1: The map was large scale plus I did not look at it. It's a trail, easy, right? 2: A little ways in a couple told me about a simple shortcut but I misheard. 3: I was racing darkness. So I raced off into trail less, sloping, rocky, brushy forest on the wrong side of the creek. I scrambled through the dimming light. That lake was definitely right in the next clearing. I hopped up on good sized rock to try to see through the undergrowth better and the darn thing rolled out down the hill sending me into a sideways somersault face plant. Enough! Time to camp. I wandered around looking for a flat spot clear enough to lay down. I found one if I tied a branch back though no room for the shelter. Ok, I'll figure out where I am in the morning, time for dinner. I like to carry my alcohol fuel outside the main pack in case it leaks. I discovered that in my rushing I had failed to cinch it down for bushwhacking and it was gone, likely in the somersault. I should have had the presence of mind to check for it after the fall. It was cold dinner and no hot chocolate for me. Luckily I had near a liter of water as none was close and it was now dark.
I woke before dawn to light rain on my face and burritoed up in my shelter while waiting for the day. It took a good bit of thinking, mental backtracking and orienting to place myself on the admittedly inadequate map. I had gone surprisingly far up the wrong drainage. Quads for off trail. I know, use a gps, zero skill needed. No way I could find that fuel bottle so I headed back to the truck and started the trip over. That was all the adventure for this hike, the remainder being routine. I walked in beautiful spots, I sat in beautiful spots, I ate in beautiful spots and I slept in beautiful spots, the simple joys of life while backpacking.