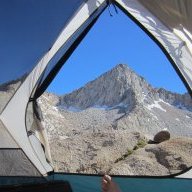 Joined

May 24, 2015
Messages

156
If you drive up to Lone Pine to climb Mt Whitney you usually pass through the Alabama Hills and car camp above 10,000 feet at Horseshoe Meadow to try get better acclimated before your climb. The last few times I have been up there we have not been climbing and opted to car camp in the Alabama Hills and explore the area a bit before driving further north. The area is most known for the hundreds of movies and TV series that have been filmed there because of the unique western feel of the scenery. Old TV series like Gunsmoke, Bonanza and Rawhide used the area a lot for the obvious western scenery. A lot of movies, including Star Wars and Star Trek, utilized the scenery because of the other worldly look of the rock formations.
The area also has lots of small arches scattered around in the rocks and that is what we stopped to explore before going north for our Sierra backpack trip. We flopped our sleeping bags out away from the dirt road and got up with the early light to explore before it got too hot.
The early morning sunrise with the most known arch in the area, Mobius.
As long as you respect the rock and don't climb on top of them you can explore them all you want. Once the sunlight filled in a bit we used Mobius for a family photo op.
There are a lot of other arches and formations to find in the area. Below is Behind Heart Arch
This is Hitching Post arch. Not easy to find because it is behind a lot of other rocks.
This arch made for some great views and portraits. Kelley felt a good tribal vibe coming from the rocks before the sun hit it.
Holly was able to carefully scamper around to the other side of it.
I could't resist taking this sales pitch picture for the New Hyundai Archmobile at your dealers soon.
This formation is called the wave.
Mt Whitney getting barreled by the Wave.
Another unnamed Arch
Hiking back to the car before it heats up too much.
Tim V.