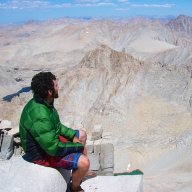 Joined

May 15, 2013
Messages

589
I was overly ambitious and wanted to summit Thurston Peak. I still do, however, if I'm going to do it in the winter I'll need to recruit a few more people to help break trail. The snow was really packed for about the first mile up the ridge and then it was a solid 3+ feet deep. The trail, I've heard, in the summer is defined enough to make it first to a cabin that's on the ridge and then to the top. Not easy due to the elevation gain but doable. The snow adds much more to it...that's all I'll say. I met a nice guy (Gary) trying to reach the cabin too. He'd never been there so when we decided to advance together we both had no idea how far or the condition of the 'trail'. I had already gotten off to a later start then I wanted, but the bed was so comfortable and cozy that it was hard to leave at 530. The sunrise was beautiful, I saw a herd of about 20 deer, the wind was brisk to the point of reminding me I'm alive, the snow was deep, and, after I'd resigned the idea of summiting, the cabin called to me like the sirens to Ulysses. I'd refuse the sweet sound, and return to the sweeter sound of my wife and daughters and I was back by 1130. I'll be trying again and I'll throw out an invite to anyone that is crazy and wants to do a lesser known peak in the middle of winter.
Beautiful Sunrise
Doe and fawn. The herd appeared just after I'd secured the camera.
Ben Lommond and Willard Peak lit up.
Antelope Island above the muck
The Oquirrahs.
The cabin is, I believe, on the highest ridge to the right
It was a good burn. I'll be back there for sure.