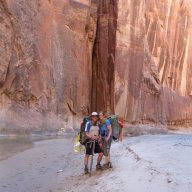 Joined

Dec 5, 2017
Messages

1,008
We're working on plans for our backpacking trip in the Winds next August and have a few questions:

1) I'll need a few days to acclimate to the altitude. We'll fly into SLC, spend a night, then head directly to Pinedale for a few dayhikes OR make our way to Pinedale more gradually with a dayhike or two in the Uintas and/or Flaming Gorge and/or elsewhere in the general area. Any preferences or recommendations? Thanks!

2) In August, do trailheads tend to be more crowded on weekends than weekdays? Or does it not really matter?

Thanks so much. I have really benefitted from people's help planning previous trips and appreciate any advice you can give for this one, too.