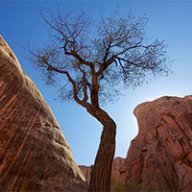 Joined

Aug 9, 2007
Messages

12,938
I noticed
MTN_DUDE
posted something about this happening earlier today on Facebook. Much like that other SAR thread recently posted, the information available leaves more questions than answers. The report says he fell sixty feet at Kanarraville Falls. Sounds like he must have been up on the rim or something and not on the standard route? Hope he's alright.
http://www.sltrib.com/sltrib/news/56316557-78/amp-falls-kanarraville-com.html.csp
A teenager fell about 60 feet into a canyon at Kanarraville Falls just before 2 p.m. Wednesday, according to the Iron County Sheriff's Office.
Early reports indicated the victim is a 16-year-old boy. Dispatchers did not know the extent of his injuries.
Sheriff's deputies, firefighters, paramedics and a medical helicopter were called to the scene as authorities worked to determine exactly what happened at the falls.
No further information was immediately available. An investigation is underway.
Kanarraville Falls is located 16 miles southwest of Cedar City and is outside the town of Kanarraville.