Joined

Jul 23, 2013
Messages

1,655
Stewart Falls offers a short and relatively easy hike near Sundance Ski Resort and the BYU Aspen Grove Camp. As such, it is a very popular hike throughout the year. I had not been to these falls since I was a high school senior and ran to it as part of a summer trail run workout with my cross country team. Well over a decade later, I took an opportunity to make a return visit, only this time, it would be on the cusp of winter.

Stewart Falls
Wednesday - December 7, 2016
When I arrived at the trailhead, there were very few cars in the vicinity. It was a dramatic change from the crowds that fill it up all through the summer. The trailhead also serves up the Aspen Grove route up Mount Timpanogos.
The weather was fantastic with sunny blue skies. While there was quite a snowstorm that had come through days before, it was early in the season so the snow depths weren't too high yet and what was there had plenty of time to settle in making it so that any avalanche risk was low. As the snow typically piles on as the winter season progresses, the avalanche risk at select points along the trail to Stewart Falls and especially around the falls itself, increases significantly, especially in the hours and days immediately following a fresh layer of snow.
Excited to get back on a trail for the first time in over a month, I got my dog, Sophie, out and got on our way. Almost immediately after starting up the trail, I threw on my spikes. Let the winter beauty begin.
Near the start of the trail
Where some views start to open up to the east
Lifeless aspens
Continuing to pass through aspens
After just over a mile, the falls became visible.
.
Stewart Falls (lower left) becomes visible
A little further on and the view of the falls really began to take shape.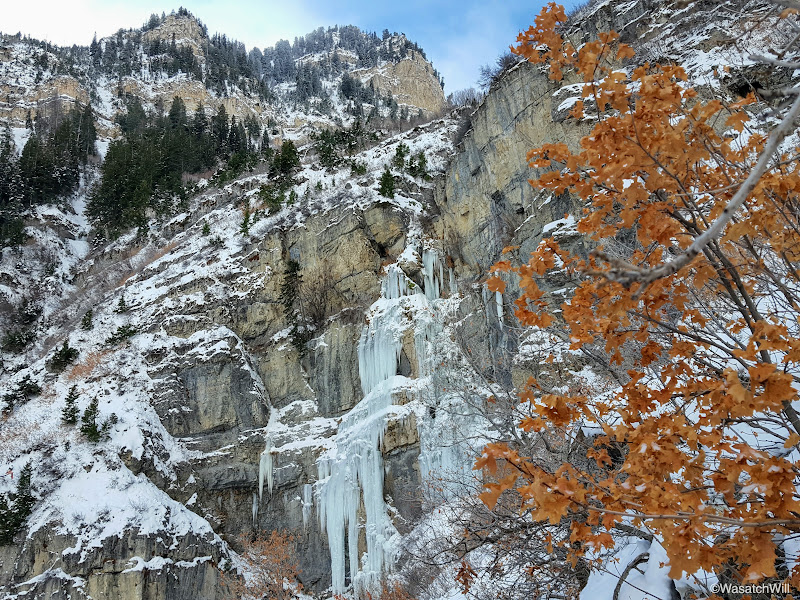 A contrast of seasons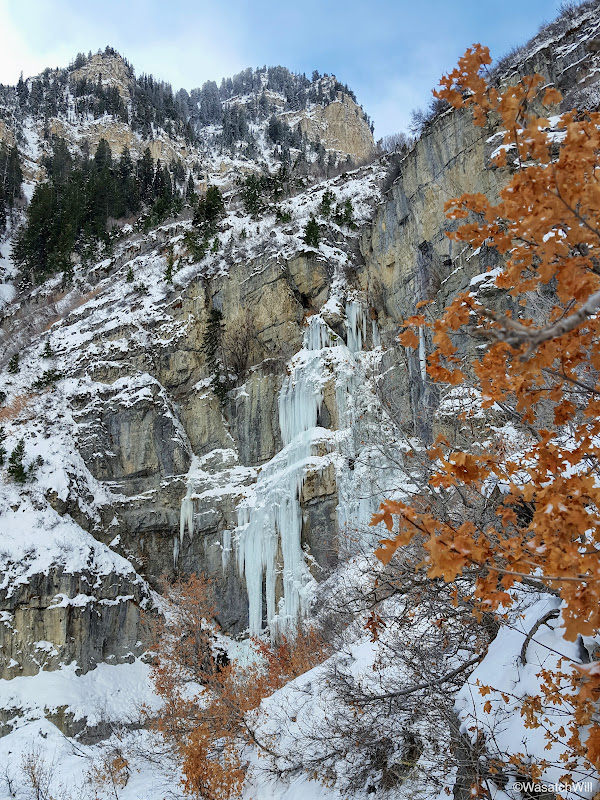 Winter and Fall
At this point the trail appeared to reach a dead end with a small but significant drop-off cliff now in front of me. Surrounded by snow, it wasn't immediately apparent how I could get any closer. Again, it had been over 10 years, about 17 years in fact, since I had last been here and was with a group on the run. No matter, the view was breathtaking.
Upper half of Stewart Falls
Lower half of Stewart Falls
After surveying around for a few minutes, I discovered a switch back where the trail made a sharp turn in direction to continue to the descent down to the bottom of the falls. Down Sophie and I went.
Near the base of Stewart Falls
Icy cascades
At the base of Stewart Falls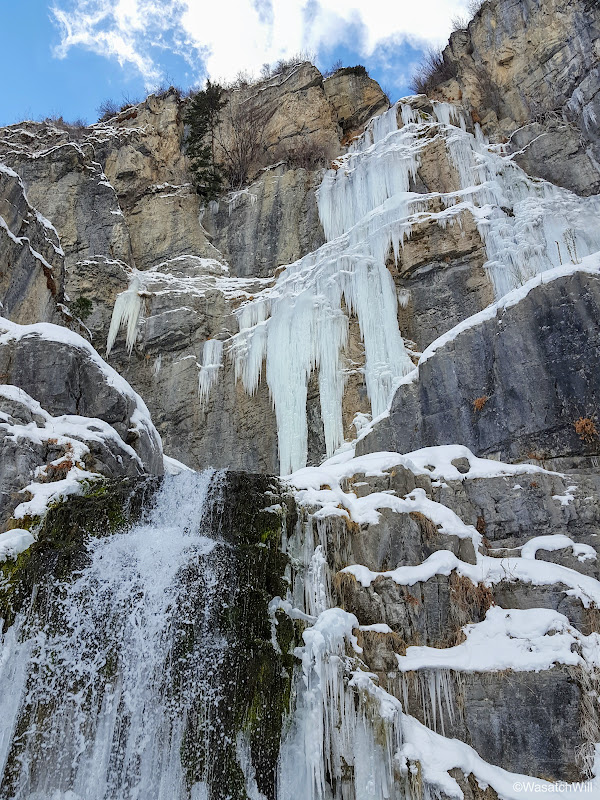 Looking up
Wider shot looking up
Surviving liquid
A very cold shower for those who dare
Selfie with Sophie
Needless to say, it was breathtakingly beautiful. Waterfalls take on a whole new mystical persona when overwhelmed by sub-freezing temperatures. Also, for obvious reasons, I passed on the opportunity to step directly under the falls, an experience I had embraced with the rest of the group I was with the last time around.
Satisfied with the quiet solitude I was fortunate to experience, I made my way back up and over. It wouldn't be until about halfway back to my car that I'd see another person, a couple actually, and their dog, all making their way to the falls.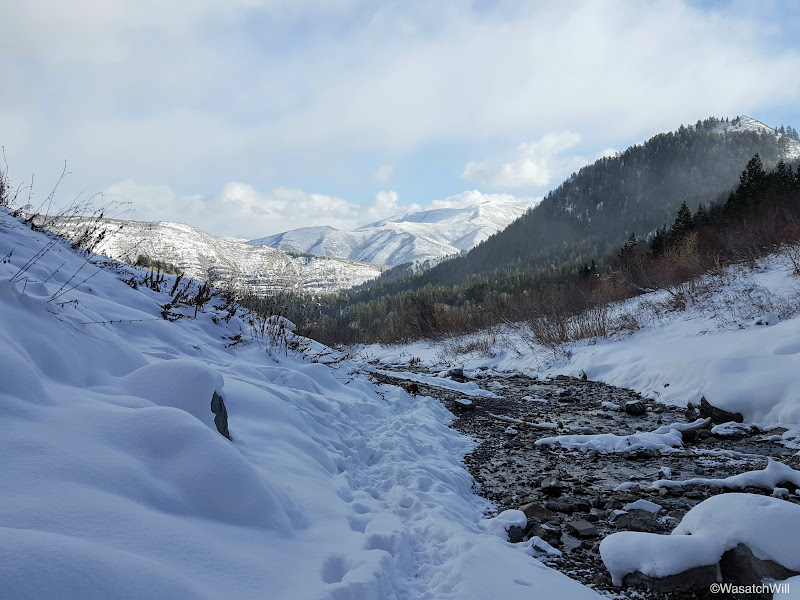 Looking downstream toward Sundance Resort
Sundance Trail
Looking back at the ski slopes of Sundance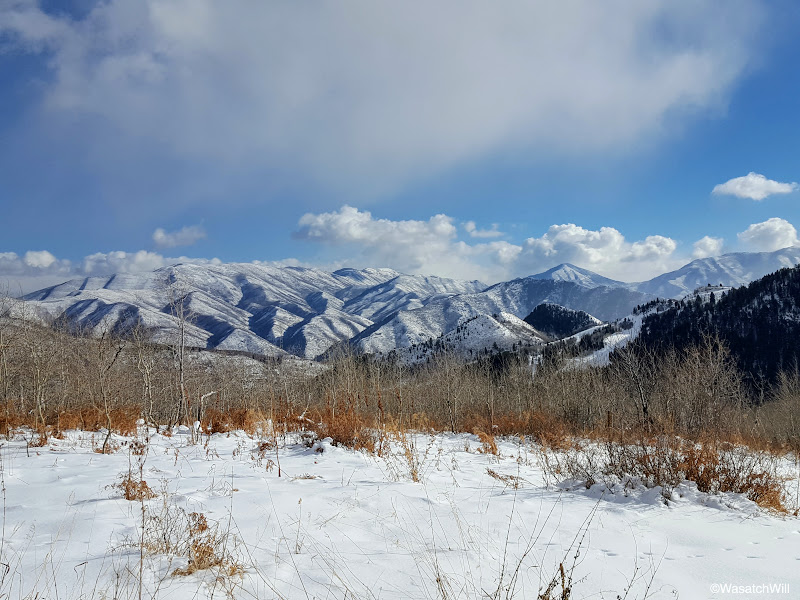 Looking east toward Sundance
Roberts Horn from Stewart Falls Trail
Roberts Horn
It was a wonderful outing and again, I found myself very grateful to live in a place where hikes like this are so close to home.
Video: