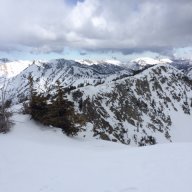 Joined

Mar 1, 2012
Messages

106
Five or six years ago during my first trip to Grand Gulch we drove through Hanksville along Highway 95 and I remember thinking how beautiful that section of highway was and I would love to get out and explore it a little more. However, as far as I can tell there isn't really many backpacking options, and since I had no canyoneering skills I hadn't done any more than drive the road while wondering what was hidden in the canyons.
Fast forward to a couple weeks ago and I am really starting to catch the canyoneering bug and I finally get the opportunity to spend a few days exploring the area. On day one we did Slidenide and Arscenic Canyons and by the end of the day I had no right butt cheek in my pants, which really kept me on my toes for the rest of the trip so I didn't end up with no skin on said butt cheek.

BTW if you can only do one of these canyons make sure it's Slidenide as I think it is a much more enjoyable canyon.
On day two we did Foolin' Around, Morocco and Hogwarts. All three were a blast though Morocco was easily the nicest. Too bad it is so short. I will say as someone new to the sport the initial cairn anchor gave me pause. But after some testing it was bomber.
Before heading home on day 3 we made a quick run through Blarney. All in all it was a great trip even with the pair of pants and shirt I sacrificed at the sandstone altar. I can't wait to get back there and step up the difficulty a bit. Hog's 1-4 are calling my name.
I am a pretty horrific photographer , but here are a few shots.