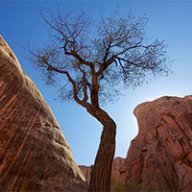 Joined

Aug 9, 2007
Messages

12,940
I'm still behind on trip reports from over the winter, but here's a quick one from this weekend. I dug out my old point and shoot camera so I didn't have to spend any time processing photos - what a concept!
2 months ago I secured a permit to float Westwater Canyon on the Colorado River on St. Patricks Day. It would be my first trip through the class III-IV stretch of whitewater. Early spring might not be the best time of year for it but I wanted to get a run under my belt at lower, safer water levels before going big. But as the trip grew closer, the weather got worse and worse. With less than 48 hours before we would leave, the weather looked like crap, but we were committed. We'd already be in dry suits to avoid hypothermia, so what's a little wind, rain and snow?!
That all seemed good (but a bit crazy) until the updated forecast dropped 24 hours before the trip. 45 mph wind gusts and a 60% chance of rain and snow. That's not going to work. So with great sadness, we pulled the plug on it. I spent the night that should have been spent packing working on a new cataraft build, feeling bummed out that my first river trip of the year now wouldn't be until late April. And then at about 11pm, I got a message from Tim (
@lostlandscapes
) proposing that we could still go get in a quick overnighter before the worst of the wind and precipitation hit the area. It didn't take me long to think about that - hell yes.
We both put in a short day at work and made the relatively quick 3 hour drive down to the San Rafael Swell in time for an evening day hike up Cottonwood Wash. It was great to be hiking with Tim again after more than a year.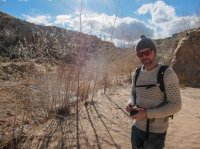 Cottonwood was still in winter mode, but it was beautiful nonetheless.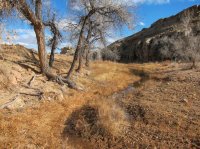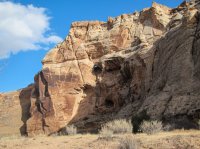 I've never really looked seriously at backpacking here, but walking up it a mile or so made me think twice about that.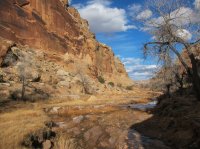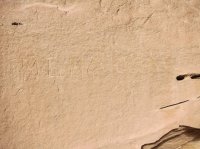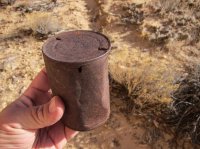 We camped near the mouth of Cottonwood that night. The wind was a little active but not too bad. The next morning we woke up and headed south to Smith Cabin to hike to the top of the San Rafael Reef.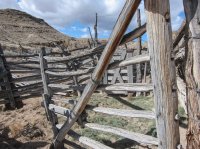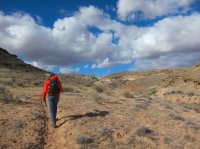 There was a group camped out at Smith Cabin with multiple horse trailers. They passed us on the way up. You don't see that very often in the desert.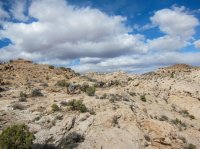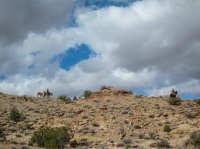 Hiking up the reef is sublime. Great views and a nice gradual incline.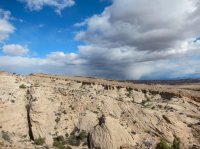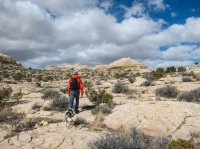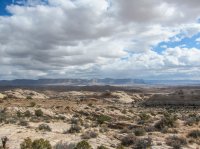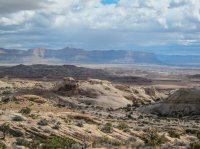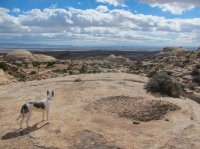 After about 2 miles and 900 some odd feet of elevation gain, we were at the top looking down at Mexican Mountain, the San Rafael River and Spring Canyon.
Click for larger image.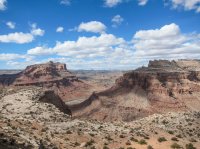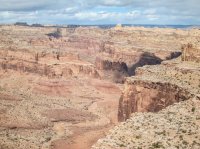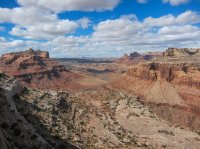 From there we walked along the rim for a while to get some different views of the San Rafael River.
Click for larger image.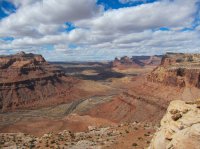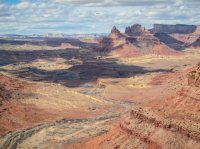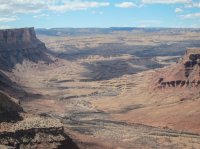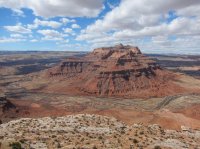 As we took in the view, the first of the really strong winds started kicking up, inspiring us to start making our way back down. After a little celebration at the trailhead, we made our way home. It felt like a longer trip than it was (in a good way) and it really took the edge off of having to skip Westwater. And on the bright side, we were able to move our Westwater permit to a few weeks later, so hopefully we get a break on the weather next time.