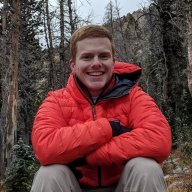 Joined

May 31, 2015
Messages

2,642
Some of you may remember that last year,
I had what was supposed to be a 3-night trip in the Bechler area that got cut short
due to heavy rain and poor site selection for our tents. As we hiked out on that trip, we committed to try again the next year. So we did, and it was a great success. Here it is.
I had actually been planning on doing a somewhat similar trip with
@scatman
,
@TractorDoc
,
@The Trout Whisperer
, and
@wsp_scott
(they posted their excellent reports in the past few months), but I was unable to make it. Fortunately, I got the invite for this one a little later and it worked out.
Everyone else was starting on Friday. The route was to start at Lone Star and end at Bechler Ranger Station. I had originally planned to start with them, but I had a hearing get scheduled in Billings that I had to attend, so I decided that I'd do it as an out-and-back from the Bechler Ranger Station, meeting them on the second night, Saturday. That meant my first day was going to be 16.5 miles with four river fords. That's a longer day than I've done in a while with a full pack, so I was looking forward to the challenge.
I was surprised by how much the ranger station had changed from last year to this year. I believe it was a part of the recent effort of the superintendent to expand and modernize housing for park service employees. Multiple new buildings and a good-sized array of PV panels.
Lots of photos in this report. Sorry if you get trip report fatigue from this one.
I got started at 9:30ish a.m. trying to cover the flat first 8 miles quickly. It was a really nice, sunny fall morning.
Walking across the suspension bridge. I ran into a few spider webs in the middle and almost lost my balance and fell in as I flailed my arms to get them out of my face. Nice.
Nice and dry this time of year.
Good view of the Tetons. It wasn't too smoky for most of the trip. Finally.
I made it to the river ford around 11:45. Chatted briefly with a group headed up to Dunanda Falls, and kept on moving.
The first river ford. Nice and cold.
The canyon was nice and shady for the most part, with occasional views of the river.
Looking back the way I came.
I came up to the falls. There was a trail to walk down to get a better view, but I figured we'd check it out sometime in the next few days since I'd be passing back through. I caught a view of it from above and got a quick few photos though.
Colonnade
Bigger views developing down canyon.
Came up on the next big waterfall, and it was much more visible from right off the trail.
Iris
Really nice, long cascades.
I was making good time. I forded twice more but didn't take any photos. I got closer to the top of the canyon and passed through a thermal area.
I got to the fourth river ford. I chose a bad route on this one and walked on very slippery rocks that were not level at all. I'd discover the next day that 5 feet downstream was not slippery at all, and pretty level. Whoops.
Looking at the fourth ford. The trick is to stay below the rocky riffles on the left.
They had gotten snow a couple weeks back, and some was still hanging on as I got higher and in the shade.
Of course, the last 1-1.5 miles were the steepest of the entire day, and it kicked my butt going up the last stretch. I got to 9D2, our site for the night around 3:30 p.m., literally just as my backpacking partners were arriving. Awesome timing. I was beat and I did not take any photos.
After we set up our tents, everyone was planning to go downhill to soak in Mr. Bubbles. I deliberated a bit while simultaneously thinking about how sore the soles of my feet were. But I decided to go for it. Maybe a hot soak would help my sore feet and legs. And back. And shoulders. So back down the hill I went.
Cool cauldron-looking thermal feature, with some backpackers soaking in the creek.
It was surprisingly busy up by Mr. Bubbles. Probably 4-5 different groups there. Felt like I was at a college hot tub party or something. Everyone was pretty friendly and kept to themselves, at least. The soak did wonders for my soreness. I didn't feel any soreness on the way back. Just some blisters on my toes.
Mr. Bubbles
Steve looking at that big feature on the way out.
Back by camp, this is the stream that runs right next to the fire/cooking area.
We got up the next morning, packed up quickly, and headed to Mr. Bubbles so we could be there with less people.
We stopped and saw Twister Falls on the way.
Twister
Getting close
Third picture of the same feature.I just really like the way it looks.
Finally had Mr. Bubbles mostly to ourselves. There was a pair of guys there who had camped at 9D1. They were great.
I decided to walk upstream to see if I could get to Tendoy Falls. I didn't think much about what the best route would be, so I ended up trying a few different approaches.
Headed high left here, and that was not the right call. It helped me scout it out better though.
Back down at creek level. Tendoy was up to the right.
Found it.
Walked back around some thermal areas to get back to the group.
Andrew, Steve, and I decided to head up from Mr. Bubbles to see if we could find the source(s) of the thermal water. Most of what bubbles up into it is cool water, and the hot water flows in from the hillside.
This was the highest source we got to. There may have been some trickles up higher.
We packed up and started heading toward camp. We were at 9B.... 5? 6? I can't remember now.
Nailed it and didn't hit the slippery rocks this time. Also noticed the bridge upstream that had been washed out within the last few years. Two people in the group recalled using the bridge in the past.
Standing in the middle of another ford.
Shortly after that ford, we saw a mountain goat on the trail. It was unmistakable with its white fur. It took off into the brush as soon as it saw us. We were all surprised because it seems incredibly unlikely that you'd run into a mountain goat in the bottom of a canyon with no alpine terrain for miles around. Maybe someone who knows more about mountain goats has a good explanation for why it would be down there by itself.
Nice cascades.
Iris again, plus a little prismatic effect from the spray.
We got to camp and once again, I took no photos of camp. The tent area was pretty marshy. You'd step and water would puddle up a little around your foot if you stood in place for very long. Annoying but not unbearable. I'm guessing there must have been a lot of springs nearby. We looked around for other possible tent sites, but it appeared we had found the best one already.
The next morning, Andrew, Steve, and I were headed to Dunanda. The other three were headed out to the ranger station. We got an earlier start and were on our way.
The gang.
Loved the colors through here.
Not as apparent in the photo, but the aspens were looking fluorescent in the shade.
We forded the river again, had a snack, and kept moving toward Dunanda.
Gaining elevation.
We got to our site, ate some more, set up the tents, and hung the bear attractants. Then we headed to the falls. Had a nice soak there and met a couple from Michigan who were there with their adult children. It was their first backpacking trip in decades.
Steve and I swam and waded our way up to the base of the falls. It really sucks the breath out of you standing under that pounding water.
The sun was setting, so we headed back to have dinner.
Creek hopping back to camp.
Nice tent site at this one. The smoke really blew in the last night. I guess if it had to happen, that was the best time for it.
Good backcountry shitter site too.
We had dinner, played hearts, and sipped some herbal tea before bed.
Rehydrating as the sun goes down.
We got up before sunrise and headed out so Andrew could have time shuttle back, get his car, and drive home to Spokane.
Blurry early morning shot.
This was the first day with appreciable clouds in the sky. I honestly didn't realize how pretty of a morning it was until I looked at these photos again.
More fall color.
Had to make sure we forded at least one body of water each day. Boundary Creek this time.
We saw lots of scratched trees throughout the trip. This was the only one I photographed. A little old.
As we got into the last 4 or so miles, we saw something big and dark in the trees.
It was a moose and her calf. I didn't get one of the calf. She kept an eye on us, and we went far out of our way into the brush to give her her space. Cool encounter.
We finished by mid-morning. I was pretty tired from not having backpacked a whole lot this year, but I was happy I was able to make the trip. The tough first day made me pretty sore for the rest of the days, but it still was a rejuvenating and often relaxing trip. I'm hoping we can turn this into an annual thing since we've done a trip there for the last 2 years.
Last edited: