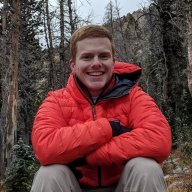 Joined

May 31, 2015
Messages

3,172
May 4-5, 2018
This was my first true solo trip. I had attempted to go in November of 2016 to Lake Blanche, but I ended up unable to find a good place to stake out my tent, and I hiked out in the dark. I was determined not to let anything similar happen this time.
I had wanted to to visit this area after looking at it on some maps, getting some inspiration from a trip
@WasatchWill
did in the area, and seeing some interesting photos on Panoramio (rest in peace). It exceeded my expectations, and I didn't see a single person while I was out there. Here comes a photograph overload.
I started by a reservoir. Nice and quiet out there that morning.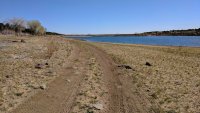 My route then took me off the road and through some land used to graze cattle. I came up on a barbed wire fence and followed it to a pretty large corralling area.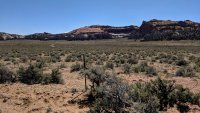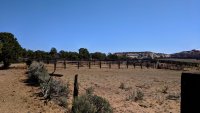 Then it was more road walking for a bit. I ended up doing a pretty good bit of road walking on this route, but I didn't have to share the road with any vehicles, so I had no problems with it. Come to think of it, nearly all the times I wasn't on a road, I was bushwhacking/off-trail, so I guess that gave me a pretty good mix.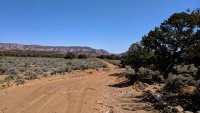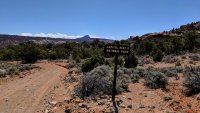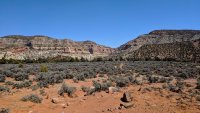 Looking toward one of my objectives for the day.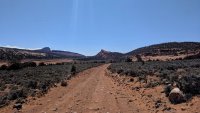 Descending to the creek.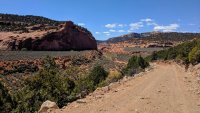 I love this creek.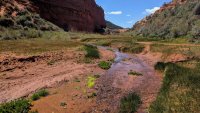 I headed left. Unfortunately, there was no flowing creek that way.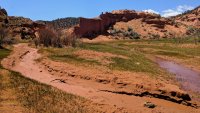 It looked like this.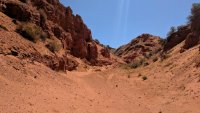 But then I climbed up out of it when it terminated in a dead end.
There were some cool arches up on this rock formation. I got a bit closer, but it was pretty bushwhacky to get there.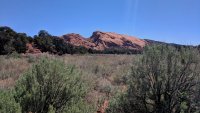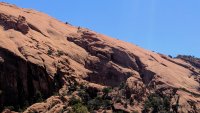 Looking back the way I came.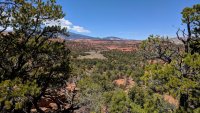 I had a snack, and then I did a little routefinding to get over the ridge and on with my route.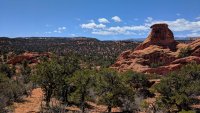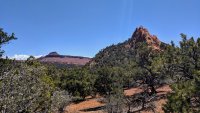 Nice to see the indian paintbrush growing.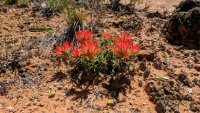 As I was crossing through a field of sage and juniper, I came across some interesting flaked rock, all localized in one area and in various colors. I'm not educated enough to know whether it was natural flaking or human-caused. I'd like to think it was human caused.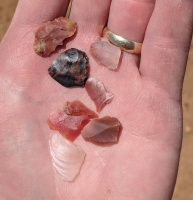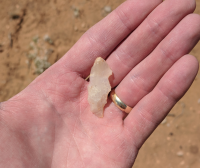 I pressed on and got back to the creek. It made for excellent walking, and the cold water felt good on my feet.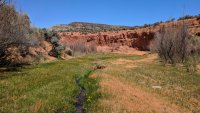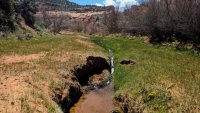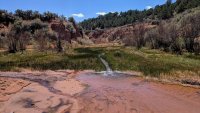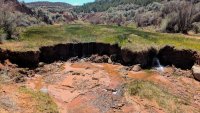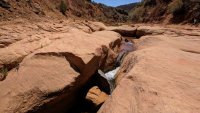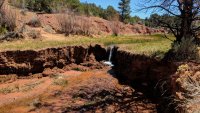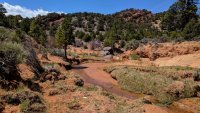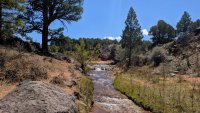 Once I reached this confluence, I headed up the creek on the right. It wasn't as pleasant. The water in it was warm, since the flow was so much lower.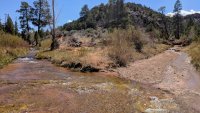 But there was a nice little waterfall.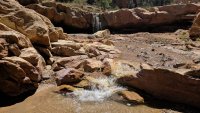 It was still pretty too.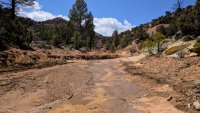 I was headed up the canyon to an old cabin I had seen a photo of on Panoramio a few years ago. Turns out the location was accurately tagged. Have I mentioned how much I miss Panoramio? Anyway, I followed the creek for a bit, but then I decided to follow what appeared to be a path cut for an old telegraph line. There were still poles in many places, but I don't recall seeing much wire or many insulators. It was kind of a rough route, and you can tell in places that ATVs like to use it.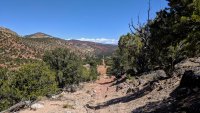 I got to the cabin and took a break. By this point, I think I had pushed myself a little too hard in the heat of the day. I had probably gone 12 miles, and without any other people with me, I had just been going and going. Sitting in the shade and rehydrating seemed to help.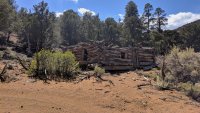 "R Allen OCT 3[?] 1949"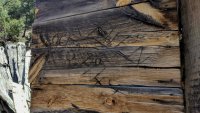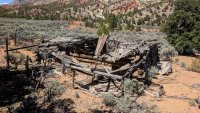 The rest of the walk to camp was on a road.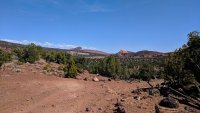 Showing my BCP colors.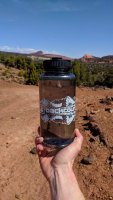 This was a very welcome sight. I camped in that clearing just across the creek. It's reachable by 4WD vehicle, but I wasn't too worried about anyone coming by.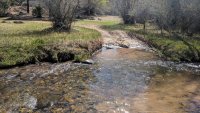 I still had about 5.5 hours of daylight left by the time I had camp set up. I passed the time by exploring every nook and cranny around and then reading my book about the 1871 Hayden Expedition to the Yellowstone area. Passing the idle time was easily the hardest part of going solo. I just didn't know exactly what to do with myself for that long.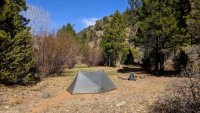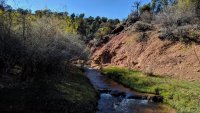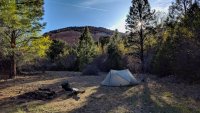 There were some awesome rocks nearby.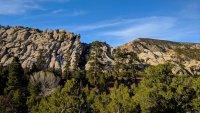 Sleeping with no one else around was much easier than I anticipated. I thought it would be the most challenging aspect of going solo, but it wasn't any more difficult than when I go with other people. That was a relief, and I'm kind of glad that I didn't see anyone all day, since I now know that I do fine even in a place where there are no people anywhere very close by.
I got up and headed out early in the morning, as I had family plans for later in the day. I saw some sights from the day before.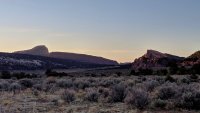 Back near the reservoir, I saw these big kitty prints.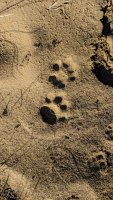 And then it was back around the lake to the car.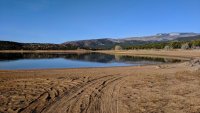 Great trip! Happy to finally say I've successfully backpacked solo, even if it was just one night.