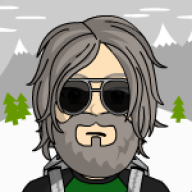 Joined

Jan 9, 2018
Messages

17
We were looking to try to escape the snow that is still in the mountains near us. The Blue Mountains usually melt out before our mountains do, but not this year.
The forecast was supposed to be rainy the whole trip. It was raining when we started out, but stopped shortly after we started hiking. As we started climbing we hit snow earlier than I was expecting. We made camp about halfway up the climb to the top of the bluff.
The second day we started hiking our way up and right away we were in the snow. It was slow going, but manageable. We were hoping that once we hit the top, the snow would've melted off, but that was not the case. At that point we decided that we would change our route because we were not going to be able to make the mileage we needed to complete our original route. We decided to try going further west to try to get out of the snow, but it was nothing doing. Everything was choked in by snow. On the 2nd night we ended up camping at the Godman Campsite.
On the 3rd day we worked our way down the drainage, in the snow, to find the Meadow Creek trail. We found a couple different road cuts that we followed, but they kept taking us up out of the drainage. The drainage was starting to get really steep and we were getting a little worried that we could get cliffed out, so we just dropped straight down in to the bottom of the drainage. We finally located the trail and walked out of the snow. It was quite and adventure!