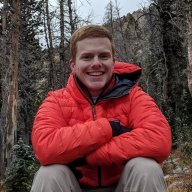 Joined

May 31, 2015
Messages

1,988
This was 2 weeks ago. I decided to try to get to the upper reservoir in Bell Canyon, snow be damned. I had never been in the canyon before, and I learned later that that would keep me from getting to my ultimate destination.
It was nice and cold out that morning, but supposed to be in the mid 50s by the afternoon. The lower reservoir was quite low.
I was trying to make as quick of progress as I could, as I had other things I needed to do that day. The first bit went by quickly. The snow was packed down all the way to the lower falls. From there, I had to walk through very light powder from 4-6" in depth mostly. No snowshoes necessary (which is good because I didn't bring mine). Microspikes turned out to be quite helpful.
I want to know what's under the board that says "Lone."
There was a layer of hoarfrost on top of all the snow.
Pretty granite all over. All the granite on the ground was covered by snow.
Icicles hanging off of some moss on a massive rock.
Near the upper falls.
The falls were rather frozen.
After the upper falls, finding my way in the snow became a bit more difficult. I had looked over a map of the route the night before and that morning, but I hadn't looked closely enough to recall where the trail went at this point. I was able to find my way for a good while, looking for what appeared to be paths and verifying by finding carvings on trees every now and then.
This bridge verified that I was likely on the right track.
Maybe a quarter mile after that, I lost the path. So I followed what were likely game trails and bushwhacked up some steep stretches for a while. Those microspikes were very handy on some icy sections of smooth granite underneath the snow. After doing that for an hour or so, I decided that it was very unlikely that I'd reach my destination and get back when I wanted to. So I made my way to a nice view, cleared the snow off of a rock, and had a snack. It was very pleasant, albeit a little cold.
I learned later that I had stayed too far to the east when I lost the trail. I think if I had gone to the next fork of the creek to the west, I'd have found the right path again. I'll be sure to do that next time I'm there. And maybe I'll put a GPS map on my phone too.
There was a surprising number of people headed to and from the lower falls. Can't blame them. It was a beautiful day to be out there.