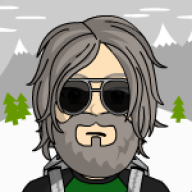 Joined

Jan 9, 2018
Messages

32
This was our annual 7 day, Fall Campout!
We've been trying to do this route for a while and it always seemed like one thing or another kept us out. Circumstances were trying to keep us out again.. Not only with the pandemic, but of course fires! The smoke from the fires burning in Oregon had just reached the area the day before we started this trip. Not to mention there was a fire slowly burning about 10 miles away from the trailhead.
We took off from the Holland Lake trailhead with our destination being Upper Holland Lake. Even though I've been looking at it for years on a map, I was really surprised how big Holland Lake was. It is a really neat area. With 7 days worth of provisions, our packs were heavy and we weren't making great time. We knew that the first day would be the tough one. It wasn't the 7+ miles in that was the trouble.. it was the 3000' gain.
As we climbed up higher we started to get some views. They were pretty smoky, but we'd have to take what we could get. There were quite a few water falls and cascades on the way up. We saw a few horse riders on our way up and one other group of hikers. We made it up to Holland Lake and found a nice campsite on the far end.
Since it was the biggest lake we'd see on the trip, we decided to take our first zero at Upper Holland Lake. We settled in to playing games and exploring the lake. I hiked over to the Upper Holland Cabin. It wasn't locked, but it was hatched really tight, so I decided that I didn't care enough to try to get it open. It was a good 3 feet off of the ground! I assume that it gets some use in the winter.
When it was time leave we packed up and started out of camp. From being at Upper Holland an extra day, we convinced ourselves that we knew where to go without consulting the map..... we went the wrong way right out of camp and hiked about 1.5 miles towards Gordon Pass... not where we wanted to go. We found a grizzly track in the trail and that is what made us stop and I happened to check the GPS. So we had to hike back to the lake and start up Pendant Pass. It wasn't a long pass and it was nicely switchbacked, but it took it out of me all the same. At the top of the pass we finally crossed over into the Bob Marshall Wilderness. It's always a special thing for me crossing over in to the wilderness. A step back in time, where things are more primitive and a bit more dangerous. In a word, it's wild! From the top of the pass it was a short drop down to Pendant Lakes. We could see a couple of horses grazing across the lake so we didn't get to explore around there much, and since we had dogs, we wouldn't be camping there either. There were a couple more lakes down the trail a bit, but we didn't see any decent camping there either.
We finally found one a mile or so down the trail. It was pretty nice actually. Plenty of space for all of us and water near by. There was even a sloping flat rock with water running down it, next to camp. It look just like a water slide! And.. it was... A couple guys at different times, tried to step out on the rock above the slide and were greeted with a free ride down to the bottom. Lucky no one was hurt when they hit the rock and slide down... except maybe some pride..
The next day we continued down Pendant Creek towards the junction with Big Salmon Creek. From there we turned north towards Smoky Creek. On my forest service map, this looked like a straight short hike, but the trail has been rerouted and it climbs up and away from Big Salmon Creek for a while before it comes out at Big Salmon Falls. We pushed on a little farther and camped on Smoky Creek.
We went up smoky creek the next day on our way to Necklace Lakes. There are a bunch of the lakes in the area and we stopped at one of the last ones before the pass. It was a gorgeous campsite! It was very good for hammocks though. We all spread out and had to find trees that would work. We did it though! We spent our last zero here and explored the area some. There is a lot to see and we just explore a portion of it. I'd definitely like to get back here again.
On the final day we were hiking up over a pass and then had to decide which route to take back down to the trailhead. The weather had been great all week (except for the smoke), but the last night we got a little rain. Just enough for all of us to jump out of our hammocks and string up our tarps. The next morning it was tough to tell if it was more smoke or they were actual clouds.
We started up the pass and as we climbed just a little higher the tamaracks (larches... I know) were starting to turn. This was my favorite section of the whole trip. I love it when the trees start to turn. It started to rain on us once we got over the pass and the visibility was no more than 75-100 yards. At points I couldn't see the people hiking in front or behind me.
We had a choice to take a longer more gentle graded trail, or a shorter steeper trail to get back to the trailhead. I was already leaning towards the short trail because the conditions had progressively gotten worse. Either we were in a cloud or it was misting on us, I wasn't sure. When we got the junction, I'll be honest I got a little turned around and confused by the signs there. We ended up going down the shorter steeper trail and let me tell you it was a dousy! I've never had to stop and rest going downhill, but I did on this one. My knees needed a break. We were ready to be done by the time we hit the trailhead.
There's a possibility I'll do another trip from this trailhead and I hope I do. I had a great time on this trip, but I feel like we really missed out on the views. And I'll use any excuse to get back up in to the Necklace Lakes area.
Thanks for watching!