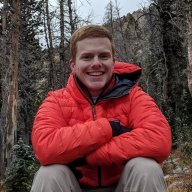 Joined

May 31, 2015
Messages

1,984
October 5-6, 2018
My summer backpacking season was a bit of a letdown this year. I got 3 nights out, but had planned on 7 or 8, with my biggest trip entirely falling through, so I had been feeling a bit frustrated. Additionally, I had a trip planned with
@scatman
for October 5-8 in Wyoming, but there was so much snow in the forecast for where we were headed that we made the decision to cancel a few days beforehand. The weather most places nearby was looking pretty bleak; cold and rather snowy in the Uintas, lots of rain and cooler temperatures on the Colorado Plateau... The Wind Rivers looked ok on some forecasts, but others called for snow and pretty cold temperatures. I thought to look at the Sawtooths, and it turns out they were far enough north that their forecast wasn't as terrible. Still some snow and rain in the forecast, but not nearly as much. So I decided I go for a night or two, depending on the weather, because I thought I owed it to myself.
The drive up was nice. I was shocked by the amount of traffic in Hailey and Ketchum though.
There was a handful of cars at the trailhead, mostly dayhikers, based on my observations on the trail. It was very quiet at Pettit Lake though. No one on the water, and no one at the campground.
On my way up, I passed 5 or 6 dayhikers and a group with overnight packs that was heading back to the trailhead. Didn't see any other backpackers until the following morning.
Certainly felt like fall out there.
I got up to the ponds below Alice Lake. Was looking really nice up there. Clouds were getting heavier up beyond the ridgeline.
Fortunately there was still some nice blue sky above the lake.
I carried on up past the lake. I started hit some of the snow that had fallen a day or two ago.
Such a craggy place. I kept swearing to myself because the scenery was so beautiful.
The original plan had been to camp at Alice Lake, but there was daylight left and I was still kind of thinking I'd complete the loop over to Toxaway Lake, Farley Lake, and back over to Pettit the next day. So I set up camp at Twin Lakes. I hadn't seen anyone since before I got to the ponds below Alice Lake, and it was nice having so much solitude.
Found a good campsite.
I spent some time walking around the lakes. This was a weird looking tree. It reminded of the Native American trail trees back east.
It got dark fairly early, which is the only thing I dislike about fall in the mountains. I got my food hung, and I headed to bed. I think I was able to fall asleep for a bit, but around 11, I heard something brushing against my tent. It happened a few times, and I was a bit concerned. So I yelled out into the darkness to scare the mystery critter off. But whatever it was, it didn't care, and the periodic noise of it against my tent continued. I smacked the tent the next time I heard it, and the same sound happened. Then it occurred to me. It was snowing and it was just the sound of snow sliding down the fly. I felt really stupid, but at least no one was there to judge me.
Even knowing what the sound was, it was infrequent and irregular enough that it kept me up for most of the night. I was surprised in the morning that there weren't feet of snow on the ground, with how many times I hit my tent wall to clear snow off that night. However, being so tired, and with more snow forecasted for that afternoon and evening, I decided to hike back out to Pettit Lake and just take my time. This being my third time going solo overnight, I think I still tend to play it overly safe. Maybe I'll get a bit more adventurous with more time.
Gloomy morning, which actually made for a very, very pleasant walk out.
I got back down to Alice Lake, and I happened upon two guys who had hiked in behind me the previous day and camped. They were planning to head over to Toxaway Lake and back to their camp that day, weather forecast be damned. I wished them well and continued on my way.
I got down into the clouds when I got below Alice Lake. Made for some cool silhouettes.
As I got lower, the weather really wasn't looking too awful. I shrugged and kept on.
The fall colors were about done up there, but these aspens were still hanging on a bit.
I got back to the car and headed home. Despite not getting much sleep the previous night, I didn't feel drowsy at all on the drive home. That was good.
Overall, it was a great trip. Incredible scenery, surprising solitude. I was a bit disappointed in myself for not going two nights, but I wasn't very keen on spending another sleepless night with snow sliding down my tent. I'll have to go back and do the full loop sometime, especially since the distance isn't too long. Thanks for reading.