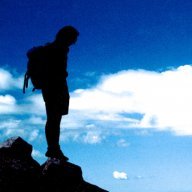 Joined

Jun 25, 2012
Messages

4,420
RIP Fred Beckey
- a sad day, today, to say goodbye to one of my heroes. I've spent much of my adult life chasing around the country climbing in his footsteps. He inspires and always will.
If I think about it I have probably stood under and looked up at 40 multi-pitch and single pitch Beckey routes - and climbed half of them.
Fred was very well known to the SLC climbing community - my community. I had the opportunity to share a meal with him a few years back at a friend's house in SLC. He espoused the same quality of life ethos I have tried to live. I say "I work to live and not vice versa". Fred said "I guess you have your choice of trying to make money or getting involved with adventure". He succeeded better than I ever did but his vision drives me and always will.
https://www.nytimes.com/2017/10/31/obituaries/fred-beckey-dead-mountain-climber.html
Last edited: