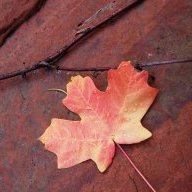 Life really is better Here
.
Joined

Apr 20, 2013
Messages

1,169
Every few years or so, I get the urge to use the permit system and return to Zions. I expectantly hit refresh on the given date and time and then quickly reserve my spots and then refresh again to see most of the available sites red within minutes. It was an obsession born years ago, before the online system, when my dad would take us down Orderville every summer for about a decade.
This year it was a return visit to La Verkin Creek, with my daughter, neighbor and his daughter.
A few years ago, my brother and I had gone into Kolob on the tail end of a couple of rainy days, with an especially strong cell hitting as we arrived. We had waited the worst of it out, knowing it was expected to clear later that afternoon, and still had to cross La Verkin when it was knee deep and the falls cascaded around us. It had made for some remarkable moments, and something akin to a religious experience at sunrise the next morning as Gregory Butte had glowed out of the mist.
And sorry to indulge, but these are three sights from that trip.

This October though, was a polar opposite. A bluebird, warmer than normal weekend.
The girls were chatty and cheerful, in spite of the early drive... and it was not until the small climb out of Timber Creek and before bending back toward our destination that they even took a breath and said "We have talked about everything there is to talk about." To which I said sarcastically "Do you promise?"
How wrong they were... but near about mile 6 they were back to normal, grumpy, pre-teens as the heat, mileage, and the last few up-downs were getting to them.
I think most trails have some section or two that is a slog, but if you keep your eyes out, there is beauty.
We took lunch at a well known place, where you first meet La Verkin Creek.
I could not convince anyone to take a dip.
More from the trail.


Then we were nearing the destination
At the final up-down before camp. The girls did not believe my promise that it was the last climb, but I was right.
Just for anyone who wants real detail, a couple of quick notes. Most of the campsites from 7-11 are great, but most are showing their over-use. The creek usually runs pretty clear, but the best water is if you go past the junction to Icebox cross La Verkin and immediately off the trail to your right as you walk back towards the creek you can find where the spring that is farther above is flowing into the creek. I have heard the actual spring is farther up the hill, but it doesn't seem worth a bushwack or poison ivy to get there. The map shows the spring at a slightly different location, and perhaps there is another, but this water is good.
The girls played in the water, while I swung in a hammock, wandered a little and soaked in the warmth.
This pine held up by a cottonwood was intriguing
Afternoon glow
That night was the tail end of the Orionids, and we sat under a big cottonwood in the breeze, talked and watched dozens of them until almost midnight. (The girls had amazingly turned into bed before 7, their headlamps glowing out of their sleeping bags as they read... we had successfully worn them out
)
The next morning was warm for October.
Gregory Butte is a common theme in many photos, sorry, but I love it.
Burnt Top on our way to Kolob Arch the next morning.
The Arch
A different view of the arch, the tip of Gregory, and Burnt Top in the bottom left background.
I love Icebox too...
After some rest, playing in the creek, a nap, and lunch, we were off up canyon to Bear Trap. Fall colors, blue skies, red rock and dense undergrowth! So Nice.
Stitched two photos to get this one. (I have a bad fascination with the backlit... I apologize for its constant appearance, almost as much as Gregory Butte in these photos)
Two sibling Ponderosas
I thought the texture here of how the maples were obviously fighting for all of the rare afternoon light here and how they curved around the trail was really cool. You can just make out the two girls in blue farther ahead.
The bends of the canyon glowing in the reflected light.
We eventually entered Bear Trap and immediately donned our jackets and sweatshirts. The girls started to complain about the cold, and desperately tried to keep their feet dry- they amazingly were almost successful.
The falls. I love the deep darkness of this canyon and how during the last couple of bends you can hear the roar. Sure, the falls are only 15' or so, but it's sublime all the same.
Some details on the hike back.
see what I mean about my fascination with backlit?
On our return from Bear Trap my daughter was stung in between her toes while playing in the sand by something, probably an ant. After that little ordeal, we passed some time watching a tiny lizard climb around the cottonwood at camp catching big, green tailed flies. Gotta love the simple things.
Another great dinner in the unseasonable warmth, and a little star gazing before we turned into bed. As is part of my habit, Very early in the morning, around 4am, I woke up to the moon lighting up the canyon a bit, and no longer needed to sleep. So I wandered and took some photos.
Orion
The racing clouds were pretty nice and the waning moon still made it very light.
It was a bit colder this specific morning and so I went back and read for a little bit until the late autumn dawn started to warm.
Gregory Butte lights up in the predawn and a long exposure brightens it a bit.
I stubbornly kept waiting for there to be color over Gregory Butte, but the real light show was everywhere else. It was a great morning.
We hiked out. Turns out my daughter's shoes were too small for her swelling feet, so it was not just the mileage, heat, or final climb up to Lee's Pass that she complained about... but we tried to keep the girls in a light mood and swallowed the mileage at a pretty good pace.
We stopped again at the creek.
Muted, glowing colors from the slightly overcast sky
Almost there
A parting shot as we neared the top of the climb
Quite a nice trip and the weather was extremely pleasant for October.