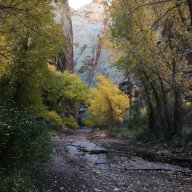 Joined

Mar 27, 2015
Messages

161
This trip originally started as an attempt to go hike South Tent Mountain. However those plans changed when we ran into a snow drift on Skyline Drive. So with our plans changed, we spent some time driving around in the Jeep. Instead going Back down Ephraim Canyon, we decided to continue along Skyline Drive and head down Manti Canyon.
We decided to go down a trail separate from the main canyon road. We passed a few groups on ATV's, but other that we didn't see many people on the trail. We started looking for a spot that we could return to on another trip and camp at. We turned down a road that we thought went to a really good camping spot, but we ended up finding a historic cabin instead.
As you can tell from the pictures, the cabin is on the National Historical Register. The cabin also appeared to be privately owned still. The cabin had a little register that you could sign, as well as some of the history of the cabin.
In this instance taking the wrong turn led to seeing a cool piece of history. After we finished up at the cabin we made our way down the rest of the canyon. While this was a short trip, it was a very successful one. I hope to do another run of this trip later on this year, except this time I want to spend the night some where along the trail.