Joined

Jul 23, 2013
Messages

1,540
Spring Break for this year has come and gone but left in its wake many memories with adventures in places both new and old. Our first day would take us to Nevada's Valley of Fire State Park. For Jessica and I, it would be our 2nd visit having camped there for the final night of our honeymoon, but for the kids, it was their first.
Sunday - April 2, 2017
After a brief rendezvous in Richfield with Jessica's father where he gave him our dog to take back to Torrey for the week, we continued on down south until we arrived at Valley of Fire State Park in mid-afternoon. Our first order of business was to survey the campgrounds in hopes of getting lucky enough to find a vacant site. Luckily we did get lucky. Right as we pulled into the first campground, Atlatl, we found a couple of vacant sites neighboring each other and picked one.
I thought for sure all the sites would be claimed and we'd be searching out a spot way out on the BLM land to the east. Instead, we paid our fee and set up camp right then and there.
From the campground we headed on down to the visitor center to give the kids a quick intro to the area.
Outside the Visitor Center
From the visitors center we headed on up the road to do the first of what would be an attempt at three hikes with the daylight we had left. Petroglyph Canyon, a.k.a. Mouse Tank Trail.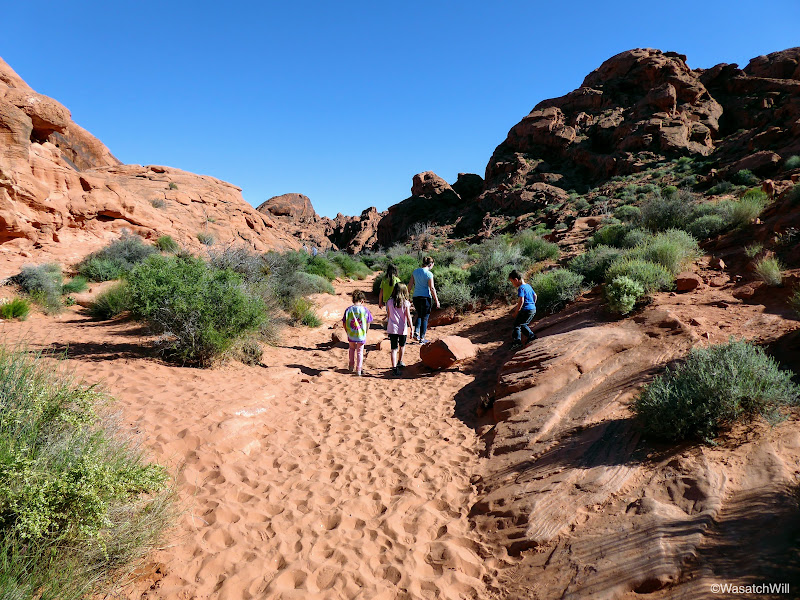 Heading into Petroglyph Canyon
If it's not already obvious, Petroglyph Canyon gets its name from the fact that petroglyph panels are abundant throughout the three-quarter mile canyon, the largest being the first one we encountered which was within the first quarter mile.
The first and largest of the petroglyph panels in Petroglyph Canyon
Petroglyphs up close
Petroglyphs up close
Another petroglyph panel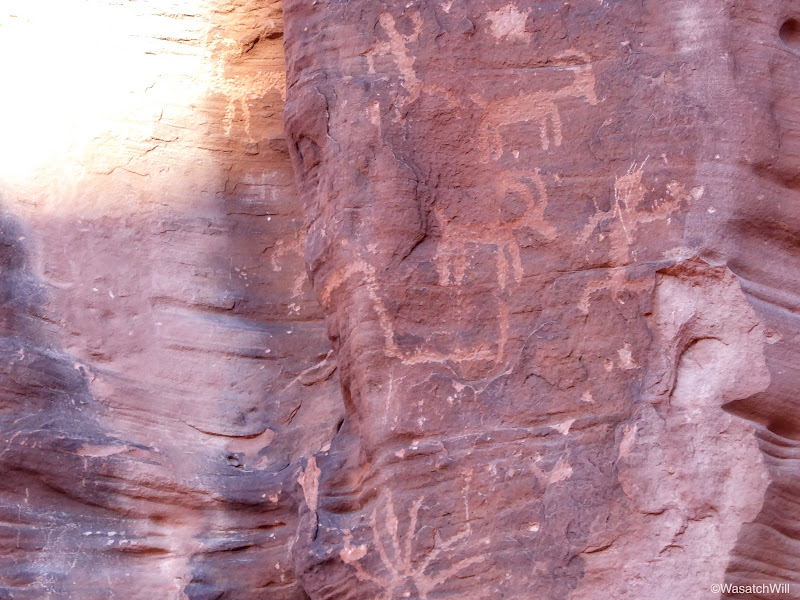 Bighorn sheep and other glyphs
Mouse Tank itself is a pothole of water that sits in enough shadow throughout the day that it is known to hold water for up to 6 months without rain. Legend has it that a Paiute fugitive named "Little Mouse" would hide out in the canyon in the late 1890's as he sought to escape law enforcement authorities.
Mouse Tank (in shadow)
Mouse Tank
Before heading back, some of the kids wanted to try their hand at a little rock climbing.
Ellory climbing
Lennox perched on a foothold
Raylee getting some climbing in too
Heading back up trail
Throughout the canyon, little arches could be found along the canyon crest.
Taking a quick rest under the shade of an arch
Sunburst
Back at the trailhead we got back in our car and drove up to the end of the road where we set out for our second hike, the White Domes Trail. Near the beginning of the trail was some beautiful patches of desert flora.
"These look like pineapples!" remarked my daughter, Ellory, about a small stand of Yucca plants.
Desert evening primrose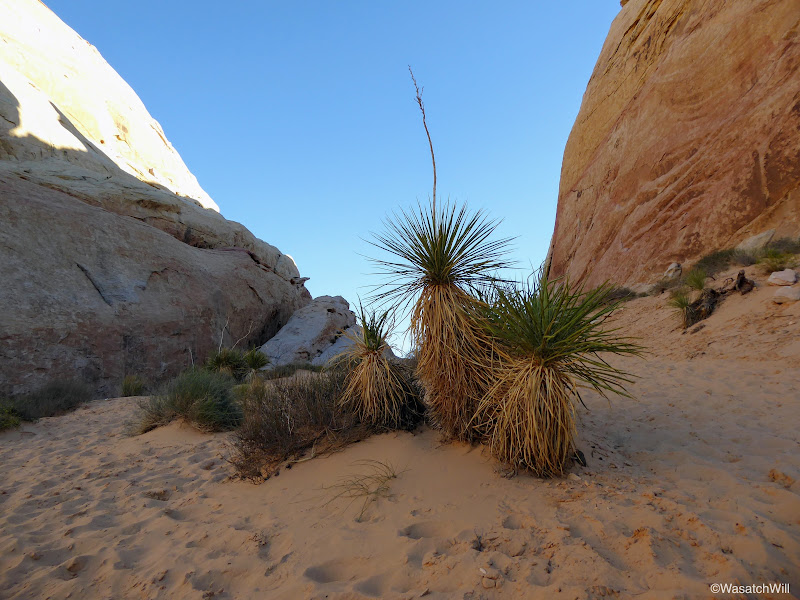 Yucca plant
This 1.25 mile loop trail quickly showed off a lot more diversity. Through several stretches of the trail, I would look up and out and feel like I was right back in the more familiar confines of Capitol Reef National Park. Given the "white domes" in the area and other geological formations and textures visible along this trail, it really did have a lot in common with Capitol Reef.
Heading down White Domes Trail
Descending the White Domes Trail
Descending the White Domes Trail
About a half mile down the trail, it crossed through an old movie set for the 1966 film,
The Professionals
. While it's kind of neat to see a little historical remnant like this from earlier days of movie making, it's also good to know that modern technology allows for sets like this to be erected temporarily to leave no trace, if not digitally created all together in order to preserve the natural geology and landscape of such public areas.
On set of 'The Professionals' movie set
Shortly after passing through the movie set, we entered a short slot section. This was a favorite for many of us.
Entering the White Domes Slot
Inside the slot
Stemming comes natural to some of these kids
The slot
Looking back at the slot exit
Playing on a rock ramp just outside the slot
After the slot, the trail turned back for the trailhead, continuing the loop.
Taking refuge in another little arch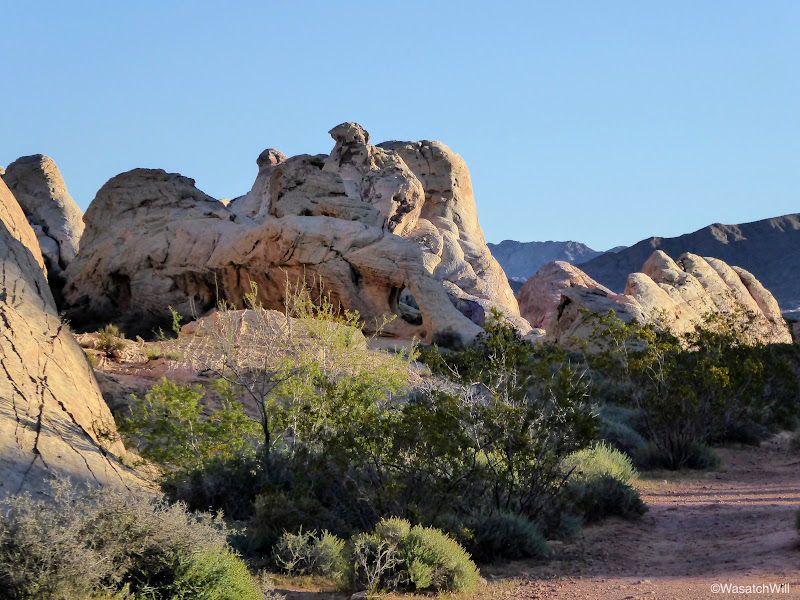 The White Domes
Along the White Domes Trail
Closing the loop back to the road
Once back at the car, the kids had seen enough, but I still wanted to try and make it out to the Fire Wave, another unique formation nearby. So we made a compromise. Jessica and the kids would stay at the car and watch part of a movie, while I ran as quick as I could to reach the Fire Wave before the sun fully set down below the horizon.
Prickly Pear along the Fire Wave Trail
The Fire Wave
Fire Wave
Fire Wave
Fortunately, I was able to get there and catch at least the tip of it illuminated with some alpenglow. Unfortunately, I probably arrived just a few minutes after what may have been the prime time for it. Still, it was beautiful piece of geology to behold.
Fire Wave
Fire Wave close up
Red Barrel Cactus
On the approach back to the road and the car, I paused for one more moment to capture what was left of the sunset.
Sunset in Valley of Fire
Hungry and more than ready to return back to camp, we drove on back and set up around a fire for some hot dogs and s'mores.
Hot dog roasting at the campfire
S'more time
Long exposure catching the moonlit clouds over camp
Orion standing guard in the sky above
Waning Crescent approaching Third Quarter
It had been a full day. There was no trouble getting the kids to fall asleep. If only they were just as excited to get to bed back at home.
Monday - April 3, 2017
As is usual for me on camping trips, I woke up early and did not regret it. I thought I knew why it was called Valley of Fire, but then the morning sky made its own case for why it was called Valley of Fire.
Valley of Fire or Sky of Fire?
Sunrise over camp
Colors of dawn
Sunrise
Camp
Once the sunrise show was over, everyone else started to wake up and we gradually got around to getting ready for the day, eating some breakfast, and cleaning up camp before taking a bit of time to just play on the nearby rocks above our camp.
We then loaded up and pulled over into the parking area for Atlatl Rock just a stones throw away from the campground. Atlatl Rock is a prominent rock formation with a nice petroglyph panel high up on one of its walls. An
atlatl
is a spear throwing tool that was employed by pre-historic cultures for hunting, and presumably defensive purposes too.
In an effort to prevent damage to the rocky slopes that lead up to it, and probably to increase accessibility to it, the state park has constructed a staircase that leads to an observation deck where the petroglyphs can be viewed up close.
Atlatl Rock
Atlatl Rock
The kids at Atlatl Rock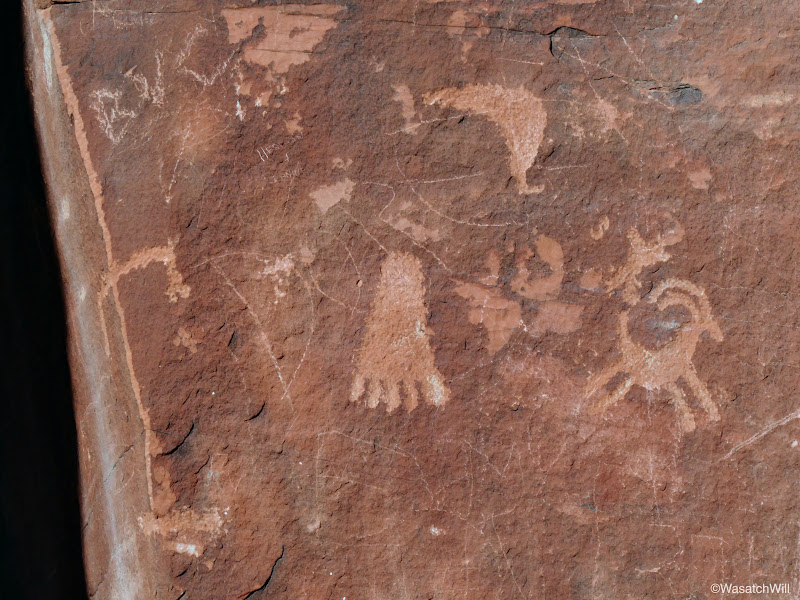 Atlatl Rock Petroglyphs
Atlatl Rock Petroglyphs
Atlatl Rock Petroglyphs
Atlatl Rock Petroglyphs
From Atlatl Rock, we drove around the corner to have a look at Arch Rock. This would be the first of two landmarks named
Arch Rock
that we would look upon this day.
Arch Rock
Arch Rock
Arch Rock close up
From Arch Rock, we drove on out to one of the most popular landmarks in the park, Elephant Rock. From the parking area or trailhead for it, it's only about a quarter mile, but before making it up to Elephant Rock itself, the kids immediately took a cavernous rock where there imaginations ran wild. It's always fun to see what they pretend the such places to be. Often it becomes a house, or a castle, or a dungeon with secret escapes, windows, backdoors, attics, or basements.
Kids at play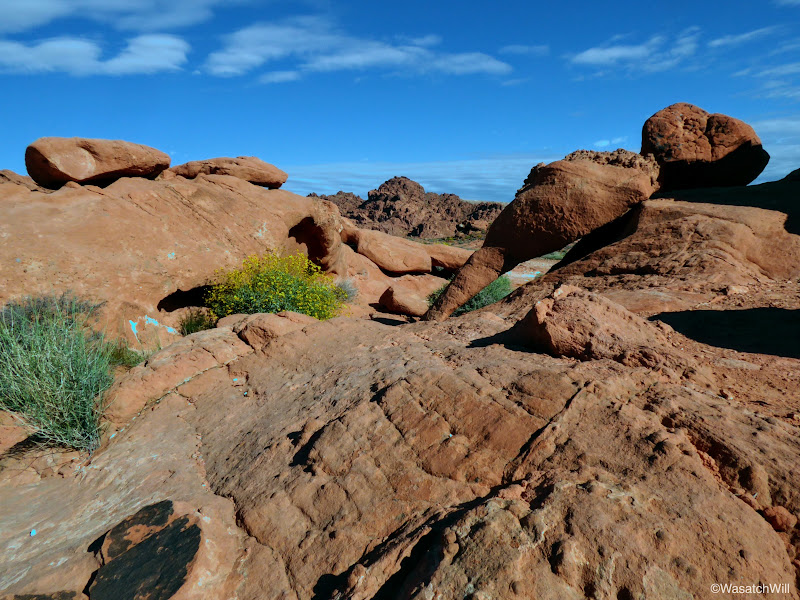 Landscape near Elephant Rock
Soon enough, we finished out the short walk up to Elephant Rock. Elephant Rock is called such, because, well, it very much resembles an elephant...or, a mammoth.
Elephant Rock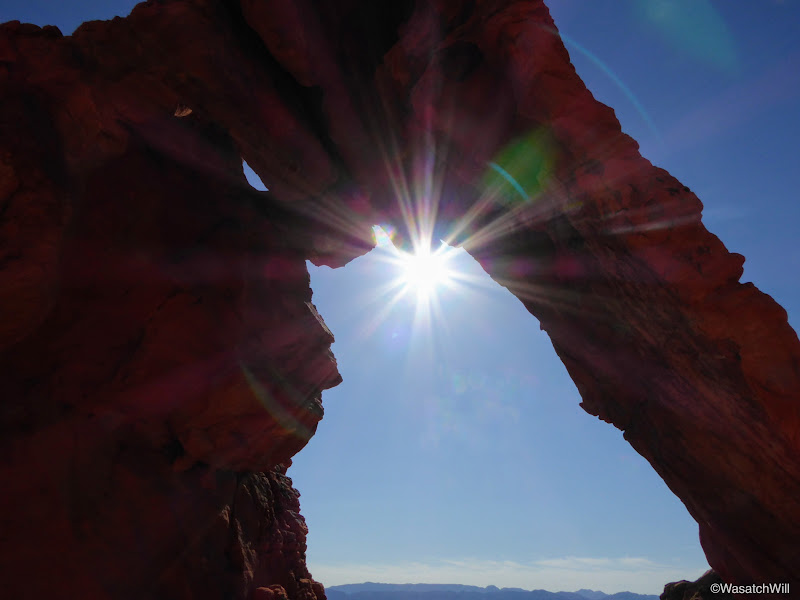 Sunburst through Elephant Rock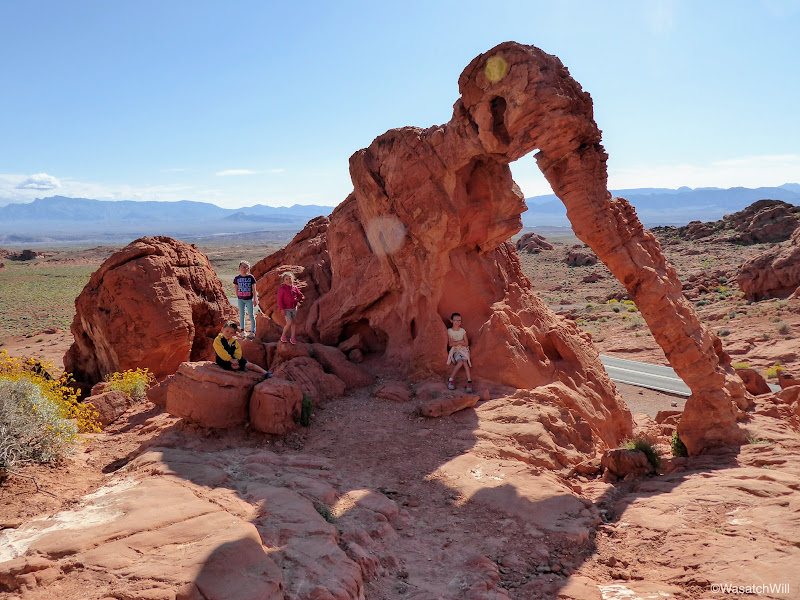 Kids posing with the 'Elephant'
Walking under the trunk of Elephant Rock
We played around a little bit more checking out many of the nooks and crannies in the immediate landscape surrounding it.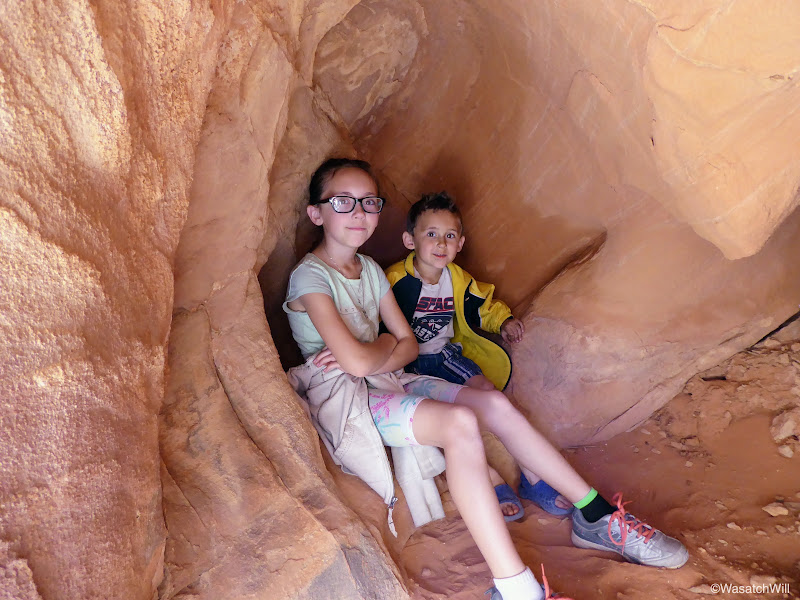 Inside 'Willow's House'
Another play area
We could have made a day of it, just letting our imaginations go and playing all over the landscape, but we had a room waiting for us in San Diego that evening and with plans to make pay a brief visit to Joshua Tree National Park along the way.
Video
: