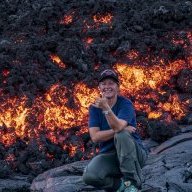 Joined

Jan 19, 2012
Messages

4,057
A long weekend in Tucson, April 2017
A long time bucket list item for me was to see the blooming Saguaros down in Southern Arizona. They usually bloom beginning of May and in the last few years, this was the time I had my finals at university. So I never went. Last year I finally could go and was more than excited to spend a long weekend down in Tucson. I also decided to make this road trip as interesting as possible and to stop at as many National Park and National Monuments along the way as I could squeeze in.
I left St. George early on April 27 and headed towards Page, AZ. My first stop was at Navajo Bridge NM. I was hoping to see some of the California Condor who usually hang out on the cliffs to both sides of the Colorado River, but none were visible.
I walked across the bridge and enjoyed the early morning view.
It was extremely stormy because a deep cold front was moving in. The clouds for sure looked pretty amazing.
After this stop, I went back and to Lee's Ferry where I parked at the boat launch area. I had a nice picnic next to the Colorado River and explored Lee's Fort and the Colorado River Trail a bit later.
The Colorado River trail was really fun, exactly what I was looking for today with a long day ahead and not so much time for extended hikes. There were lots of cacti in bloom and the views along the river towards the Vermillion Cliffs were absolutely amazing.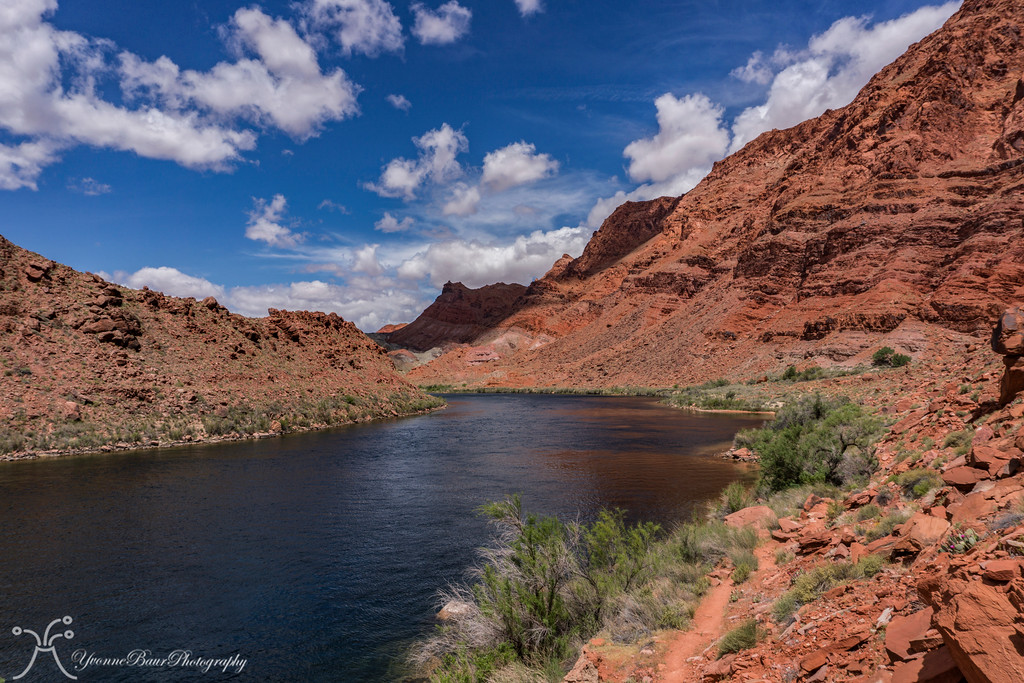 After I short bit of hiking, I discovered a Chuckwalla. They are always so super shy and this one here was hiding in a rock crevice as soon as I saw me. So I decided to sit down and wait a bit. Maybe it would leave its safety zone again. After about ten minutes it did and took a few pictures while I was barely moving at all.
It even came and sunbathed for a few minutes next to me. It was pretty cool.
I went along the trail for about 2.5 miles, and no one else was here anymore. It was perfect, a lot of solitude and only the river was talking to me. The interaction of fast moving clouds created some really amazing interaction of shadow and light.
After this nice stop along the way, I continued and headed south towards Flagstaff. The wind really picked up a lot and there were areas of blowing dust. My next stop was at Wupatki NM. I always wanted to stop here and see the ruins. My first stop was at Box Canyon Dwellings where I did the short walk to the several ruins and to Lomaki Pueblo.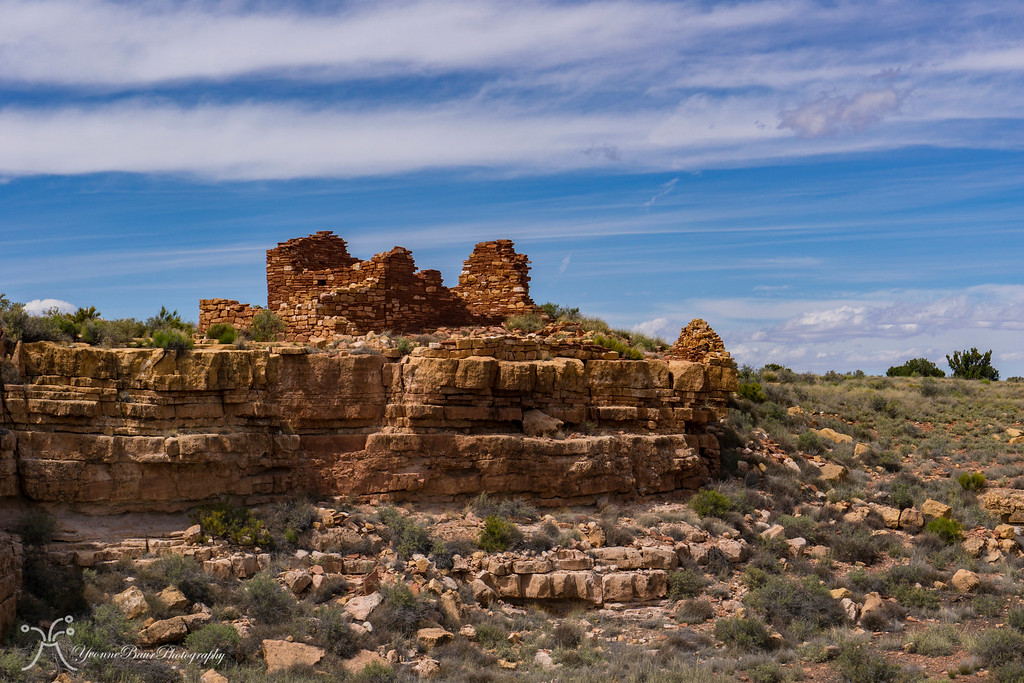 I also found a little friend along the way. This collard lizard was just posing for me I guess.
I stopped at many of the dwellings along the road and finally made it to Wupatki Pueblo. Pretty impressive feature and I walked the little loop trail.
My next stop was Sunset Crater National Monument. Lots of old volcanic activity and A'a lava and cinder cones, this was for sure something that made me smile. I'm just a lava junkie.
The view towards Sunset Crater from Lava Flow trail was pretty nice, the cinder-covered hills were a nice contrast with all its iron-rich colored cinder.
I continued from here to Payson, where I stayed in a cheap motel overnight.
The next morning was cold, overcast and extremely windy. The cold front had arrived and it looked pretty unpleasant. I continued heading south to Tonto National Monument, where I walked up to the Lower Cliff Dwellings.
They for sure had a nice room with a view back in these days towards Roosevelt Lake.
The Cliff Dwellings were pretty amazing and I'm glad I finally stopped here to visit them. There were even a few Saguaro cacti, but they weren't in bloom yet. It definitely made me excited about the ones in the Tucson area.
After this little stop along the way, I continued towards Tucson. I really wanted to see my prickly friends soon. It was about a three-hour drive to get there and then I finally pulled into the parking lot of the visitor center of Saguaro East. I grabbed some maps and information material and started to drive along the scenic drive, looking for potential photo stops.
Of course, there were many. Luckily it finally cleared out. I parked at one of the trailheads and walked through a cactus forest.
And finally, there they were – my first flowing Saguaro cacti.
I stayed until sunset and took advantage of the nice clouds tonight.
On my way back to the car I saw a great horned owl sitting on top of a Saguaro, hooting at me. I guess when I would set up my tripod and good camera it would fly away. So I simply took a handheld shot with my Sony camera for the records.
It was already dark when I reached my car. From here I drove to my hotel nearby and ended the day in the pool.
The next day I decided to visit the Sonoran Desert Museum. I haven't been there in years. It was pretty busy but I loved the stroll along the different exhibitions.
Some of the lovely Argentine and Cereus Cacti were in bloom and it was a pleasure to admire the colors.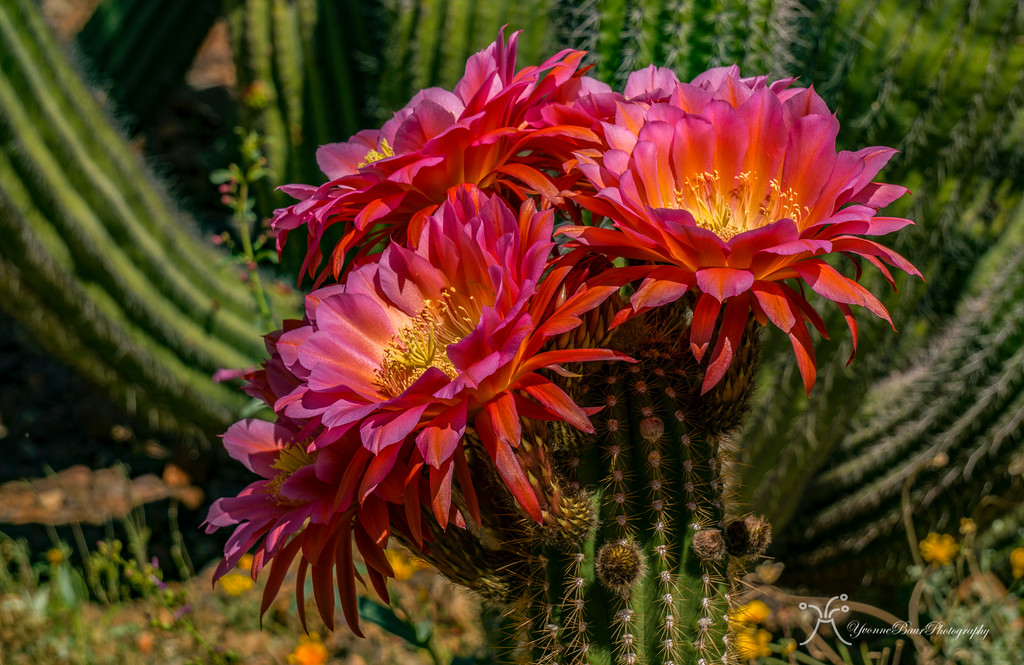 The hummingbirds were also a nice treat and I always loved to hang out there. Because it was cooler than normal they weren't super active.
The funniest thing I saw was a butterfly with an id tag on its wing. I've never seen something like it before. Must be pretty tricky to get the tag on its wing.
After the visit I went to the Western Unit of Saguaro NP and drove the scenic road as well where I had multiple stops everywhere. The cacti were in full bloom and I was happy about it.
I stopped at Signal Hill and did the short walk up to the rock art and continued a bit beyond it on the trail. Flowering cacti everywhere, that's how I liked it.
Sunset was sweet and shortly after I headed back to my hotel.
The next morning was my big hiking day. I had held back so far on this trip but today I wanted to hike up Picacho Peak north of Tucson. Instead of the short Hunter trail, I decided to do the way longer sunset vista trail and then heading up the last part of the Hunter trail to the top.
I wanted to see how this will work out. Last month I had torn one of my ligaments in my ankle when I rolled it and since then I had to wear a brace to stabilize it.
I started early enough from Tucson to beat the heat. The sunset vista trail itself was really nice and followed through a forest of Saguaro cacti.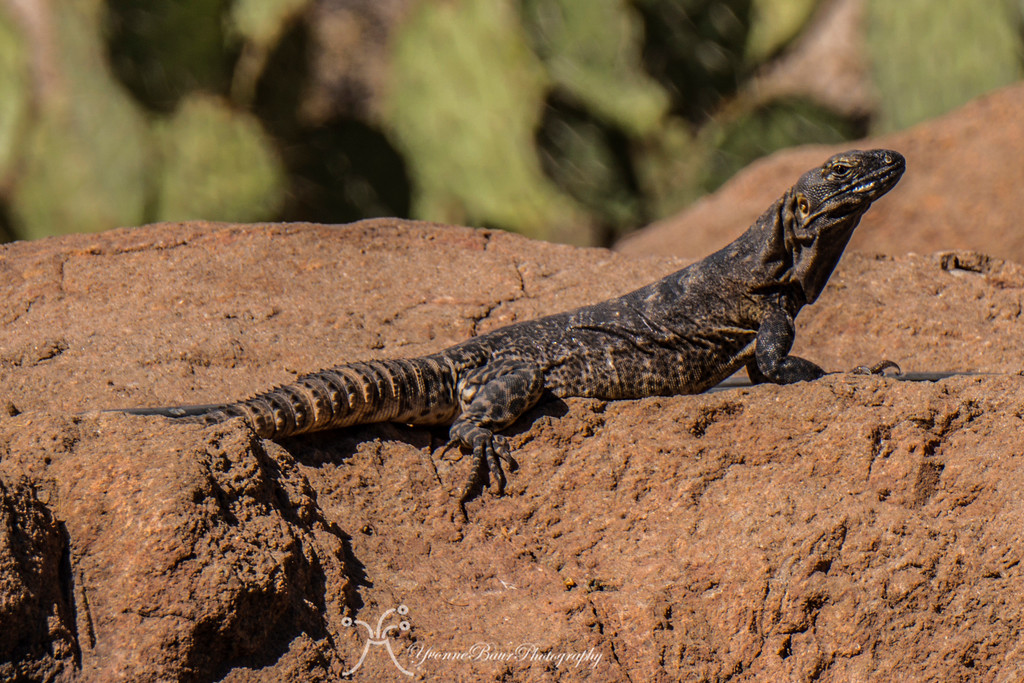 The first two miles were pretty mellow but then it started to climb significantly uphill where it finally met with the intersection of the Hunter trail. Now I encountered the fun part: climbing straight up the granite rocks, where only metal ropes embedded in the rock made it possible to get up that steep part.
The metal ropes looked really weird in some places but helped to get through sections that would otherwise be exposed to steep drop-offs. I guess that part is not for everyone but I actually enjoyed it and my ankle also held up great.
The trail still climbed uphill but finally, I was on top and could enjoy the views. It was pretty amazing and I'm glad it worked out so well.
Coming down the steep part was a bit tricky but was okay. I thought it was harder.
The trail back followed again through the Saguaro forest and after about 6.5 miles I was back at the parking lot.
On my way back to Tucson I stopped at the local REI because I needed a few pairs of hiking shoes for Hawai'i. After the quick stop, I went to Saguaro East where I enjoyed another sunset.
The next morning was my long drive back to St. George. I decided to do a little detour and visited Petrified Forest NP on my way home. I was pleasantly surprised; it was a really nice National Park.
I drove the scenic road and stopped many times along the way. The petroglyphs were pretty neat as well and I did a few short walks. The Blue Mesa trail was really fun as well as the Crystal Forest trail.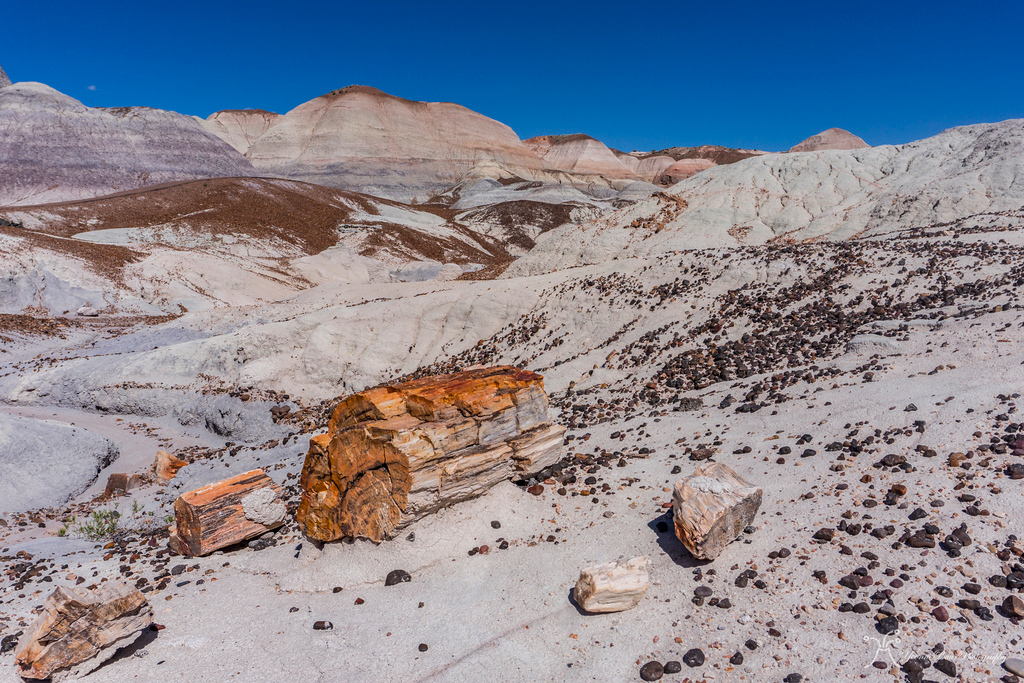 The stop in the park took longer than expected and I was back home pretty late that day. It was definitely a fun trip and I wished I have had a few more days in the Tucson area because there was so much to see. One of these days I will be back for sure.