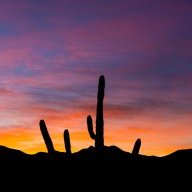 Joined

Apr 22, 2013
Messages

320
Had another trip planed for early October.
Wasn't really sure where I would end up but I brought all the necessary equipment just in case.
Kayak, check
Backpack & camping gear, check
Shovel, tow strap & battery jump starter, check
I was ready to take in some natural splendor!
Headed up north and stopped by Lockett Meadow in the San Francisco Peaks for some fall colors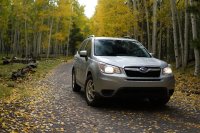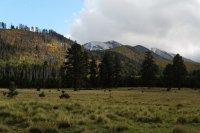 Decided to head toward Lee's Ferry for the night. Been wanting to hike the Spencer Trail and find a web cam that the National Park service has built up there.
After camping out I got up at 3:30 AM and hit the trail...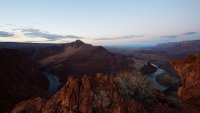 Got to the top of ridge before sunrise and took in Lee's Ferry from above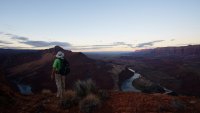 Looking toward Page, AZ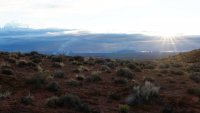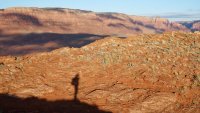 My destination!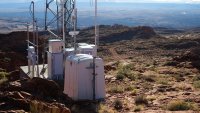 Had to take a selfie with the webcam!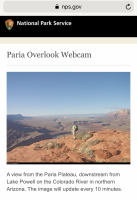 Hiking down the Spencer trail was a whole new experience without using a headlamp! It really is just switchbacks along the side of a cliff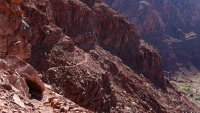 After seeing Marble canyon and Horseshoe Bend in the distance from the top... I decided to load up the kayak and head upstream & camp by Horseshoe Bend. I mean how hard could it really be?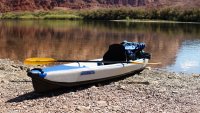 A mear 4 miles later I'm exhausted! Its 9 miles to Horseshoe bend & I'm not even halfway there. I'm camping for the night and see if I can regroup in the morning. This would turn out to be a great thing my campsite had the perfect view for sunset.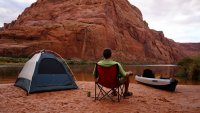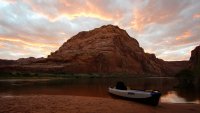 One of the coolest sunset photos I've taken...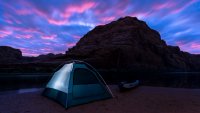 First light of the day hits the canyon wall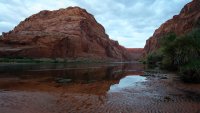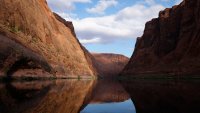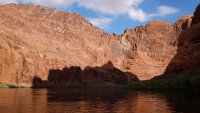 The beauty of the canyon keeps me going... just gotta fight that current a little more. GPS says its just around the bend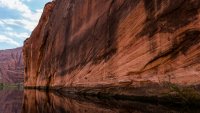 A last... my first view of all the tourists standing at the edge of Horseshoe bend.... Just little specks mind you at the top of that cliff, but at least I've arrived!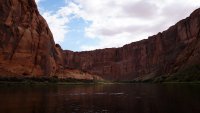 Looking straight up at the new platform they made with a lot of tourists enjoying the view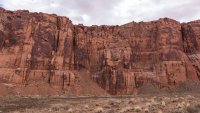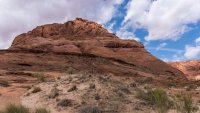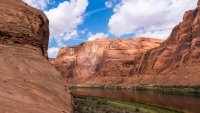 After a little lunch I decide to head back. It barely took two hours to float back to Lee's Ferry. I then made a decision that would have huge impact on the rest of the trip.
I could drive up to Page and see Horseshoe Bend at sunset with all the tourists.... but I've really enjoyed the solitude so far. Why not drive to Alstrom Point for sunset...
What a decision that would be!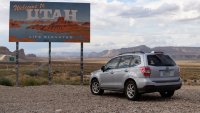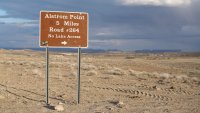 Made it to Alstrom Point with just the last moments of daylight...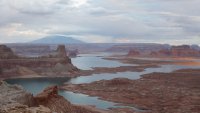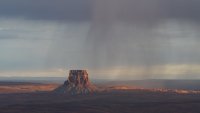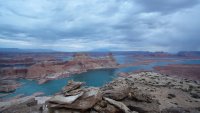 Next morning I woke up to rain...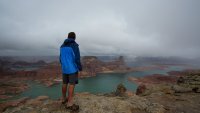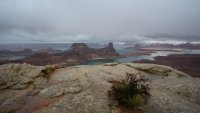 Things started to clear up.... and just wow that view!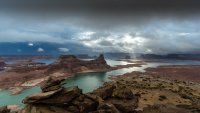 and then the rain came again... I was starting to worry about road conditions. There are many miles of blue clay I have to drive over to get back to Big Water. Ya, things are about to get interesting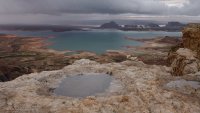 I waited a few hours after the rain stopped... should be enough time for things to dry out right? WRONG!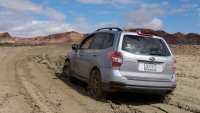 After getting stuck 3 or 4 times in the blue clay I come across a flowing wash.... wait a few more hours for that to go down.
Its been an exhausting day and I'm wishing I had just camped out at Alstrom Point again. I mean beautiful views and no driving on blue clay sounds like a better idea.
But I'm hellbent on getting out... before dark. Ironic because I really have no agenda and nowhere to be for several more days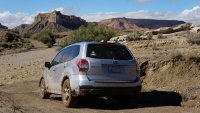 Ya, made it across the the wash, I'm home free right! NOPE. Not even 2 miles down the road I make a horrible mistake & get STUCK!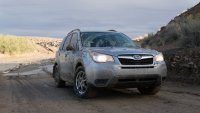 The next morning.... I didn't take any photos because I was too busy (and dirty) digging myself out of a wash I tried to drive around.
It was a really bad, bad idea. I was high centered and wasn't going anywhere. Amazingly enough I had cell coverage and tried making a few phone calls.
Towing companies pretty much laughed...
So... I was wearing my Backcountry T-shirt and that reminded me that I could make a post on the forum!
Sure appreciated the leads I got! However, within 15 minutes of making the post someone very well prepared came along and pulled me out!
Glad I didn't fall in that ditch... its about 10 feet down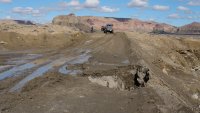 Can you say a dirty mess? Still had 10 miles back to highway 89 & the report from the people who pulled me out wasn't reassuring I wasn't going to get stuck again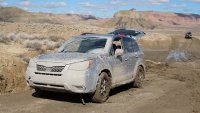 However, the roads were drying & I made it without incident!
Drove to Kanab for the night and got a shower.... and washed the car. I couldn't drive over 45 MPH with all the blue clay stuck to my wheels... the vibration was insane!
Definitely learned a few things though.... rain and blue clay is not fun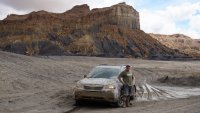 Next day I was back at it... a local slot canyon would do the trick!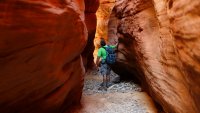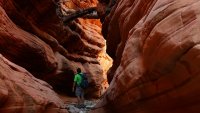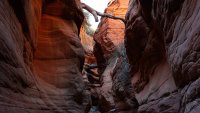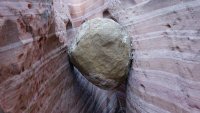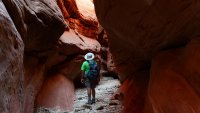 Spent most of the day exploring the slot canyon... from there I was heading to Escalante as I had a cabin waiting for me.
Since I was driving through Bryce and the sun was setting I thought I'd sit and reflect...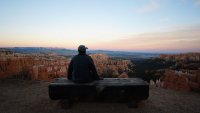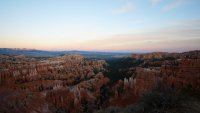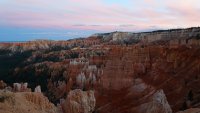 Next day I thought I'd see how the Fall colors were coming by the Escalante river.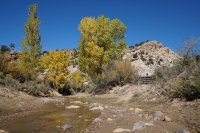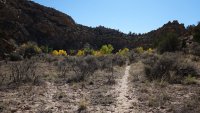 Thought this was a little out of place... almost touched the wire too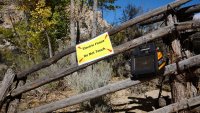 Headed over to Lower Calf Creek Falls afterward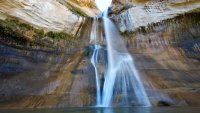 A lovely sign by the Falls...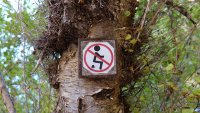 Stopped by the Escalante overlook for sunset... nice colors but a few clouds would have been nice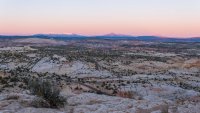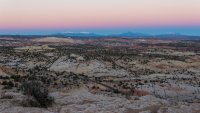 Next day was time to drive home.... since I didn't stop by the Horseshoe Bend overlook earlier I thought I correct that mistake.