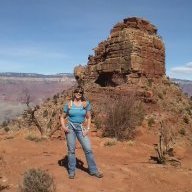 Joined

Oct 1, 2012
Messages

961
Back in June I got a wild hair to photograph Bryce Canyon with snow under a full moon. The Photographer's Ephemeris said the moon would be in perfect position October 19-20, so I bought a plane ticket hoping the weather would cooperate (I photographed Bryce Canyon with snow on October 7 one year). It didn't. Not only did the weather not cooperate but I seemed to be in the wrong place at the wrong time just about every place I went, and made all kinds of rookie mistakes I haven't made in years. Still, a long weekend in Utah still beats work! Here are a few shots-let me know which ones you like and which ones don't work (I mean that, feedback is the best way to improve!):
The Narrows-lots more water this year than last. The wind was blowing so some of the leaves are out of focus with the long exposure-oh well.
A harvest moon rises over Bryce Canyon. This was really spectacular to see in person, photos just don't do it justice!
This was the start of the rookie mistakes. Since nothing was going right I just goofed off along the lines of "let's see what happens when I do this". One thing I forgot was to turn on the long exposure noise reduction so I applied it in Lightroom, but it made the photo look too soft. And it was probably out of focus as well since it was too dark to see.
The obligatory Inspiration Point sunrise shot. After I shot this I realized I was freezing my butt off to take the same shot thousands (millions? It's Bryce Canyon after all) have taken before me, so I tried for more originality. Came up with this:
This reminded me of a Bavarian Castle, and the light was hitting it just perfectly.
Before I left for this trip someone on this site (@Intuitive Cat, I think) recommended the Burr Trail, so I decided to get away from the usual spots and explore this. It was fantastic! I had the trail nearly to myself, I pulled over several times when I saw a sign that said "Trailhead" (to where I had no idea, but that didn't matter) and just got out and hiked and explored. Didn't get any good pictures but the area was just beautiful. I'm definitely going back. Lots of beautiful cottonwoods:
Thanks for the great recommendation, this was the highlight of the trip!
I'll be back here in 10 days-woohoo! Hoping the colors will have peaked in the Narrows by then.
Featured image for home page: