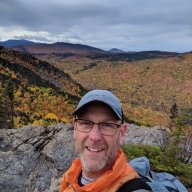 Joined

May 15, 2019
Messages

90
This is my third fall trip in a row to Baxter and I usually time it around peak foliage. The drought this year put everything ahead by two weeks so my best guess was wrong. However, it didn't diminish from the fun. I designed this trip with seeing the center of the park as I haven't spent more than a few hours there. I went up on a Tuesday and my wife and son joined me on Friday for a final family friendly camp site. They are not hikers so I set the bar in the easy/beauty zone for that part.
I started for Russell Pond from Roaring Brook right around noon. I only had seven flatish miles so I knew I'd be in well before sundown. Here is the view back to Katahdin and Hamlin from Whidden Ponds.
First and last moose sighting of the trip. Nice to get it over with in the first hour.
The penthouse suite of Russell Pond, lean-to #5. This site is all by itself at the bottom of the pond. It was nice not carrying a shelter as it gave me more room for carrying layers which would prove invaluable.
The 1700 fire followed by the 1900 bedtime. Skurka beans & rice followed by a wee sip of bourbon made for a fantastic night. Temps were in the low 40s with rain forecast the next day after noon.
One of several ponds I passed on my way to Wassataquoik Lake for the night. Most have day use canoes, paddles, and PFDs for anyone to use. I think this was Deep Pond.
This is Green Falls just inland from my camp at Wassataqoik Lake. The picture kind of compresses the scale as it's about 50 ft tall.
Another premium Baxter campsite complete with moose parts. All by myself on a point in a lake. By the time I got there it was way too windy to go out solo canoeing. I set up camp and took a short cruise to the overlook at the top of the lake.
It was worth the trip. My lean-to was on the point sticking out on the right. There is actually an island at the far end of the lake with a site but it was booked that night. Right after I got back to camp the rain and strong winds rolled in. God bless lean-to living. Being able to sit up, stand up, and read for hours is way better than being tent bound. I knew the temps would be plummeting the next day and I was faced with a choice of getting to my final solo site at Chimney Pond. I really wanted to go over the North Peaks trail but I knew it was probably going to be socked in with high winds. I opted for the low route back out which allowed me to stop at the car, ditch some gear, get a diet coke, and hide from the wind for a few minutes. I got rained on a little but it was brief.
No pics of the walk back out as it was the same 12 miles as going in. As I was walking in Thursday evening I ran in to two guys I had seen at Russell Pond. Turns out that while we were in the middle of the park two different hikers had died up on Katahdin. While we were chatting I could hear the Blackhawk landing at the summit to extract victim #2. It was a young guy from Maryland who appears to have probably summited Wednesday evening and died of exposure. He was found Thursday morning by the first folks to summit that day. This time of year there are many AT thru hikers finishing up their journeys. That would be a downer of a finish. Victim #1 apparently fell on Tuesday night on knifes edge which is on the left side of this photo below. He and his nephew spent the night up there before being rescued. He died of his injuries at the hospital I believe.
This is the Friday morning at Chimney Pond. While walking up to Chimney Pond on Thursday and seeing all the folks heading down to their cars, warm beds, and significant others I may have had a tinge of remorse at my camp site selection. I kept hearing the voice of David Goggins in my head telling me to stay hard but I wasn't really interested. The wind was blowing 40-50 and it was spitting snow. I hunkered down in my POS ghetto lean-to, put on every layer including my wind gear, and climbed in to my bag which is rated for 32 but I know it's good in to the 20s. I pulled the hood shut and hoped for some sleep but there was little. I stayed warm enough but the cirque was an echo chamber of wind howling over the peaks. Definitely my coldest night slept out with single digit wind chills. Summit wind chills were -4. Since I had no goggles, traction, or appropriate gloves I ruled out summiting. I ate a very cold breakfast and headed down to the car to drive to meet 2/4 of my family.
What a difference a few hours and 2000 ft of elevation make. We had a very warm, windless, casual stroll to Martin Ponds, which is the nicest site I have stayed in Baxter so far. Private pond, canoe, lean-to for six people. Just outstanding. Do bring rodent protection, the mice are ruthless. This is part of the new Gossamer Gear ad campaign....take more, do less.
Katahdin from camp the same day.Much different than that morning. Probably would have been a perfect afternoon to be up there.
Parting shot before the short walk to the car.