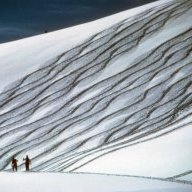 Joined

Oct 17, 2012
Messages

367
Been a while since I posted anything. Thought it was time to get back into the fray.
Just spent 5 days down in Page AZ with a bunch of friends. I've been wanting to get back to an amazing place that I'd been to once before. (Though I've walked by it a few times). This place is the West Clark Bench (Edmair's Secret). Gotta love a place that is as scenic as this, and hardly gets a visitor. A classic breezy fall day, perfect for comfortable hiking, especially all around the crazy slick rock and lacy formations of this place. I led a group of 9 friends, walking in from the Upper Buckskin trailhead. Once we reached the slick rock area it was every man and woman for themselves. "Kids" in the candy shop. We chose a spot to meet up after an hour or two, but we never really got too far out of eyesight.
When you consider how busy all the permitted places are in this area (North and South Coyote Buttes and the non permitted, White Pocket and Wire Pass/Buckskin Gulch) it's really nice to have a place you can wander around without anyone else spoiling the solitude. I know..... I'm probably giving too much info and now it's going to get over run by tourists. But .....I doubt it. Anyway here are some shots from the day of wandering near the Sandhills.
Love the mounds of brain rock
Major cross bedding
What a playground!!
Who needs the Wave?
Some crazy lace
Shark fins
Walking back Upper Buckskin