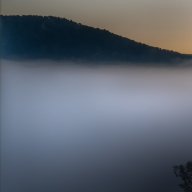 Joined

May 19, 2012
Messages

1,968
I was turning a loose screw in my cars engine bay, when I heard a loud SNAP coming from my right shoulder. It was a decidedly unnatural sound, with waves of pain migrating down my arm. Soon my entire right arm and shoulder were completely fused together, every breath agony. I had completely torn two tendons in my rotator cuff, one tendon completely unattached, with the bicep tendon still attached. Barely.
Well, shit.
The doc said I should have surgery. I told him I was going on a canoe trip in six weeks, he said I should probably cancel it. So, I looked into the procedure, and immediately ruled that out- 8 weeks in a sling, sleeping upright in a recliner. No way. I had a float trip in six weeks, and I was not going to miss it.
As with every medical opinion there are always subtleties, different spin, and that is to be expected. So I contacted a Physical Therapist here in Carbondale. I told her my short term goal was to paddle my canoe by September 19th. She said she was not going to tell me I could paddle a 500 lb. canoe in 8 weeks, but that she thought if I was diligent in my exercises, maybe, just maybe I could do it. After 4 weeks of stretching and strength training, she asked me to bring in my paddle, which is a cherry wood paddle that weighs a ton. She rigged up a two way system of resistance with those colored rubber bands. So I spent the next 4 weeks, paddling and stretching.
We met our friends, who we have paddled with at least once a year for the last 12, at Tex's Riverways. Loading our canoe and sea kayaks at Potash, life was good. We have been down this stretch many times, an easy paddle, and we could get picked up anywhere on the River by Tex's jet boat. So we really did not have an agenda, or schedule. The wind, right on cue, picked up when we put in. Solid 15-20 mph headwind, this might throw one big monkey wrench into our plans. So, I had to test my shoulder right off the bat. It felt ok, not great, but ok. We made it about 8 miles the 1st day, camping on a beautiful sand bar.
2nd Day, beautiful weather, when the wind blew it really was not trying too hard.
We did not care where we were. We were here.
How can life be better, than being with friends on a great river.
One of our goals was to camp in a places we had not been before. That problem (if it could really be called a problem) was that the water had come up about 24" in the last 48 hours, so sandbars were more scarce than we would have liked, but they were still around. The second night was a another beautiful spot. We had not seen anyone that day, so the river was ours, along with all of the critters, which included either a younger mountain lion or a large bobcat.
These were prints we discovered the next morning, all around our camp. I should have included something for scale in the pic, but we measured the print at 3.5" wide. It was pretty cool.
We had a relaxing morning, as the clouds gathered. We knew what was coming, Tex had warned us, rain that afternoon, with a major storm the next day. With a potential river rise of 24". So we knew we needed to find some serious elevation above the river. We came up on the Ledges camp spot, just before Lathrop Canyon. Nancy and I had camped there before. It was now apparent that I could not go further. Twenty five miles was about all I had in me. But we were happy. An amazing spot, with views of Airport Tower, and nobody around. We stayed here for the remainder of the trip. That night it rained as hard as I have ever experienced here. It went from clear calm skies to buckets in minutes.
The next day was light rain, hardly the deluge that we were expecting.
It was of one of the best days I have ever had on the river, sitting under our tent hanging out, going for short hikes when the rain let up.
We hiked up river on the wide bench that went for miles. We hiked only a couple of miles, more next time.
Airport Tower, with our camp spot on the right.
Pick up day, bright and beautiful.
Such a beautiful 5 days.
Now, I get to do it again in 3 weeks.
Thanks for looking.
Last edited: