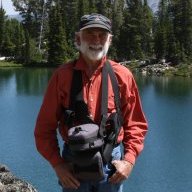 Joined

Sep 30, 2014
Messages

474
My wife and I bought a 2016 RZR 900 EPS Trail several years back to use on BLM/FS 50" designated trails. It got severely baptized shortly after purchase and I spent most of the following winter modifying it into something that actually works. Fast forward to the present with my wife quickly loosing her ability to even walk (no balance left) and the RZR is getting a little more use. We did a midweek trip following the 4th to an area west of here. A lot of the trails we had hiked before but we did see some new to us country. We met friends with an RV in which my wife slept while I slept in the tent with the three canines.
Redacted Peak below lower Redacted Lake on FS Redacted road. OK, this is silly-------- This is Tobacco Root Mountains
Our first obstacle was a couple hundred crap producers which we got to greet twice-once on the road before we got to the Forest Service and again as we sat and waited for our friends. A lot of tent campers near the FS boundary were no doubt in for an unpleasant night's surprise.
The meet up spot pre-bovine.
Our first "run" was up FS 1225 which is open to 4x4s. It has a good view up the South Willow Creek valley-our destination on day 2.
Lone and Fan Mountains from 1225.
We got stopped on FS 1225 by snow at about 9000'.
Lower Sure Shot Lake as we retraced our path back to FS 160 and over the pass into South Willow for the second half of the day.
A wet meadow with Mine Peak in the background. We saw a nice bull moose here but I didn't get a photo. This is 50" trail.
Left to right, Horse Mountain, Mount Jefferson, and Hollowtop Mountain from FS 1252.
Camp Creek Reservoir, or at least what is left of it, with Branham Peaks for a backdrop.
Past the reservoir on now FS Trail 6308, things got a little interesting. It doesn't look steep but it definitely was.
From there we headed back to "camp" for the evening.