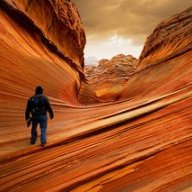 Broadcaster, formerly "ashergrey"
.
Joined

May 5, 2012
Messages

1,722
My brother ended up with a few days of layover time in Anchorage back in August. He invited his wife to join him, given that his room and car rental were already provided by his employer.
Selfishly, I invited myself along as well.
In atypical fashion I did absolutely no trip planning. Because I was third-wheeling, I decided to just ride along and coast on my brother's itinerary.
Due to the limits of time and geography, this meant a relatively small slice of the environs around the Turnagain Arm, Portage and Kenai Fjords NP.
Weather was, predictably since I was on the trip, terrible for photography. Still, the landscape couldn't help but impress.
Salmon were spawning in Portage creek.
We hiked through misty rain, up and over Portage Pass to view the receding glacier and the lake it has created.
Soggy, we returned to Whittier and took a walk around town while waiting for our turn back through the tunnel.
I was unaware of Whittier before the trip but
did some reading
upon my return. This abandoned building is like an art student's interpretation of depression.
Seabirds were roosting alongside these runoff waterfalls from Billings Glacier on the far side of Passage Canal.
The following day we rode down toward Seward for a walk along Exit Glacier to the Harding Ice Field.
Our walk began in deep and lush forest near the Resurrection River. The first mile or so would have felt almost tropical if the temperatures had been warmer. But this was summer in southern Alaska, about as warm as it would get.
Looking out across the glacier valley provided an impressive example of ice's erosive power.
Marmots lunched on the ample plant life.
Up and up we went.
As the trail topped out at the ice field, the climate changed dramatically. Plant life diminished with each vertical foot above sea level. This was only about 3,500 ASL (below where I live at ~4,400), but already vegetation had been reduced to only the most hearty forms.
Without water, the landscape would be barren, moonlike. Thankfully, water was in ample supply.
These globules of water are visible in the photo above if you look closely.
A frigid wind came howling off the ice as the grade of the slope diminished. At last we were granted a peek at a small corner of the expansive ice field.
For a sense of scale, look at the wide-angle scene above and try and place the next two telephoto pictures within it.
The trail continued on, but our time ran short. I had to be back in Anchorage to catch a flight that night due to an emergency back home. We made our way back down to the trailhead.
It was a whirlwind trip for me. The whole event lasted about 48 hours. I'd love to return with more time to explore.
Last edited: