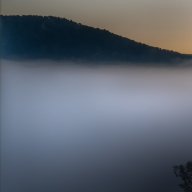 Joined

May 19, 2012
Messages

1,923
Charlie and I had done Ruby Ranch to Mineral Bottom on the Green River with Nate and Nick last year. So it came to pass that Charlie and I would see the rest of the Green, along with my friend Mike and Charlie's brother Dan. I had floated this section 4 years ago, and the river was pretty nasty to us. So in the spirit of reconciliation we started down this beautiful stretch of water, leaving Mineral Bottom and needing to be at the confluence with the Muy Colorado 4 days later. We had 2 canoes, good food & drink & company.
Above & below: from our 1st camp:
The 2nd day started out nice, then started to cloud up due to an old hurricane that originated in Baja. We got a little drizzle, and cooler temps.
The water was glassy all day, every day:
Our 3rd camp. 2 of my 3 batteries drained extremely fast, so I took no photographs paddling on our 3rd day, wanting to save the battery for later that evening. Another great camp spot, deeper in the canyon, and a little sun.
Last photo. Dead battery.
We packed up the next day, and floated an hour down just past the confluence to await our jet boat.
BTW, this stretch of the Green is much more crowded than 4 years ago. We had a very difficult time finding our 2nd camp spot, not until 7pm did we stop. I was thinking that we would be spending the night in the canoe.
Oh well.
It was still spectacular.
Featured image for home page: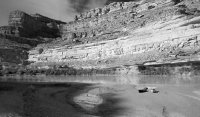 Last edited: