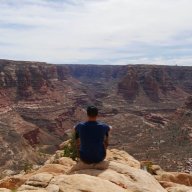 Joined

Apr 22, 2018
Messages

77
This was a 4 Day / 3 Night trip that took place in Grand Teton National Park, Grand Teton Wilderness, and Caribou-Targhee National Forest from July of 2021.
In total, we hiked just under 45 miles with over 9,000' of elevation gain. This trip had multiple days with heavy haze from the wildfires, yet the temperatures, and weather were near perfect.
We started at Death Canyon TH in high spirits and started the trail that gradually climbs into the mouth of the canyon, then leveling out a bit where it follows a stream to where we camped at the end of the canyon for night 1.
Day 2 we hiked up switchbacks to Fox Creek Pass then headed toward The Tetons across Death Canyon Shelf. From there we dropped into the Alaska Basin where we took lunch break during 2 rainstorms. We decided to push on and up past the Alaska Basin up to Sunset Lake, where we took a swim break with the idea to camp at Hurricane Pass on our minds. This camp spot was incredible with views West into a smoky Idaho and the Tetons to our East with 360 degree views.
Day 3 we broke camp and hiked down through the South Fork of Cascade Canyon dropping nearly 3,000' of elevation gain to a trail split. From the crowded trail split we headed up the North Fork of Cascade Canyon to Lake Solitude where we took lunch. Next was going up and over Paintbrush Divide which was a very long switchback and a deceiving summit push. The backside of Paintbrush divide was the "sketchiest" part with some loose rock and a small snowfield to cross which had a decent slope to it if one fell. From there we found camp in Upper Paintbrush Divide.
Day 4 we headed to Holly's Lake and took a dip then hiked down through Paintbrush Canyon to the Leigh Lake / String Lake TH and our vehicle.
This was a great trip with 2 wonderful friends who were both there for my fist backpack trip 5 years ago to the the exact weekend of this hike.
I hope you enjoy the video
Safe Trails.