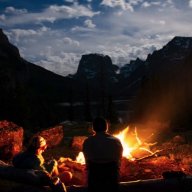 Joined

May 3, 2018
Messages

288
Lacey and I were fortunate enough to visit Utah again a few weeks ago and backpack a bit in Capitol Reef National Park which was absolutely amazing and lonely.
Day 1
:
We got our permits and started at the Chimney Rock TH where we went up Chimney Rock Canyon and then up Upper Spring Canyon where we found a high up bench to camp on. The color displays blew us away, utah was flexing hard. There is so much beauty per square mile in utah that it's jaw dropping to say the least. The temps were low 50s during the day and upper 20s at night. We finally got new sleeping bag gear and were very comfy (our front country CG in La Grande Oregon a day before snowed while we were in the tent sleeping and we had no idea until we looked outside. Super happy to finally have good not 10 year old sleeping gear. There was some snow still near our bench in Upper Spring Canyon which had melted a bit forming some drinking water.
Day 2:
We packed up and headed back toward The Chimney Rock / Upper Spring and Spring Canyon junction where we took off down Spring Canyon. We walked a majority it until we got to what lacey and I called the "Amphitheatre" which was a bench above the main route that was surrounded by canyon walls. It looked like it was a more popular area as there were a few flat previous camp spots to choose from. Exploring up there was pretty hard because there was so much crust that we didn't want to break but it added to the experience it was like walking through a maze. Our favorite part of the day was in the central location of the Spring Canyon route when the walls started to turn white from the red of upper spring canyon. Amazing day. In the evening it graupel'd a bit but it passed quickly. Without are packs before sunset we went back into the wash to walk the rest of the route so we could see all of Spring Canyon as we were going to backtrack and do some cross country exploring a side canyon.
Day 3:
We dropped down from the camp area and back tracked about 2.5 miles to an opening of a bigger basin/canyon where we started our cross country leg. There was some minor scrambling but nothing too bad. It got very hot that day and there wasn't much water so we were thankful we filled up and topped off at the spring in the central location of Spring Canyon. After the boulder hopping we navigated through a few slot canyons before ascending up a ramp onto a flat shelf with an amazing view of our surroundings we were walking along the base of. It looked like THE HIGH SIERRA! I was stoked. Best moment of the trip. What an incredible park!
Day 4:
We tried a side canyon off of Chimney Rock Canyon to get up onto Meeks mesa for another night but it was a sheer cliff which looking at the topo it was a 50/50, so since we were so close to the truck we ended up hiking out and visiting Bryce and Zion on our way out to Nevada for the long drive back.
Capitol Reef 10/10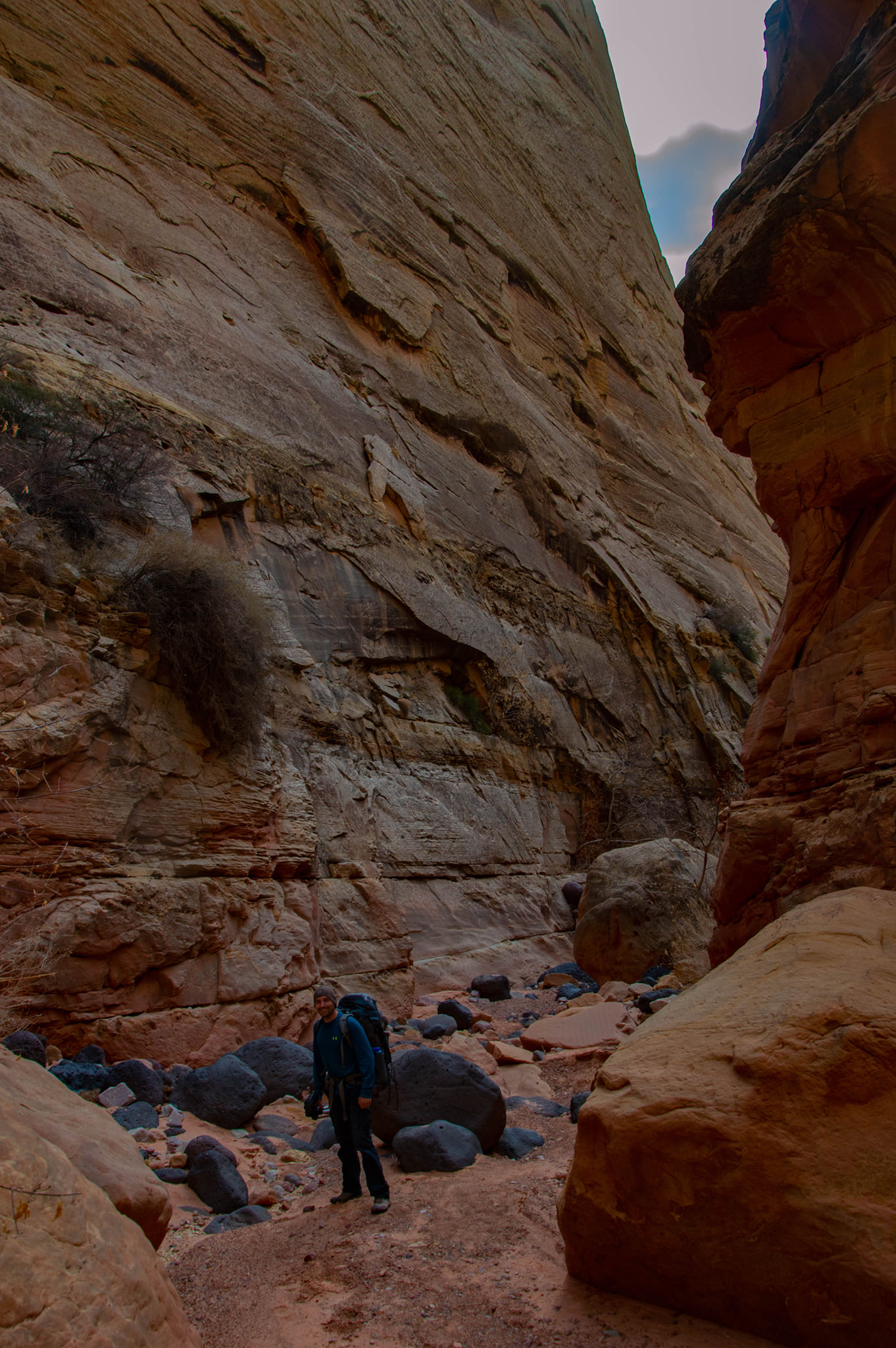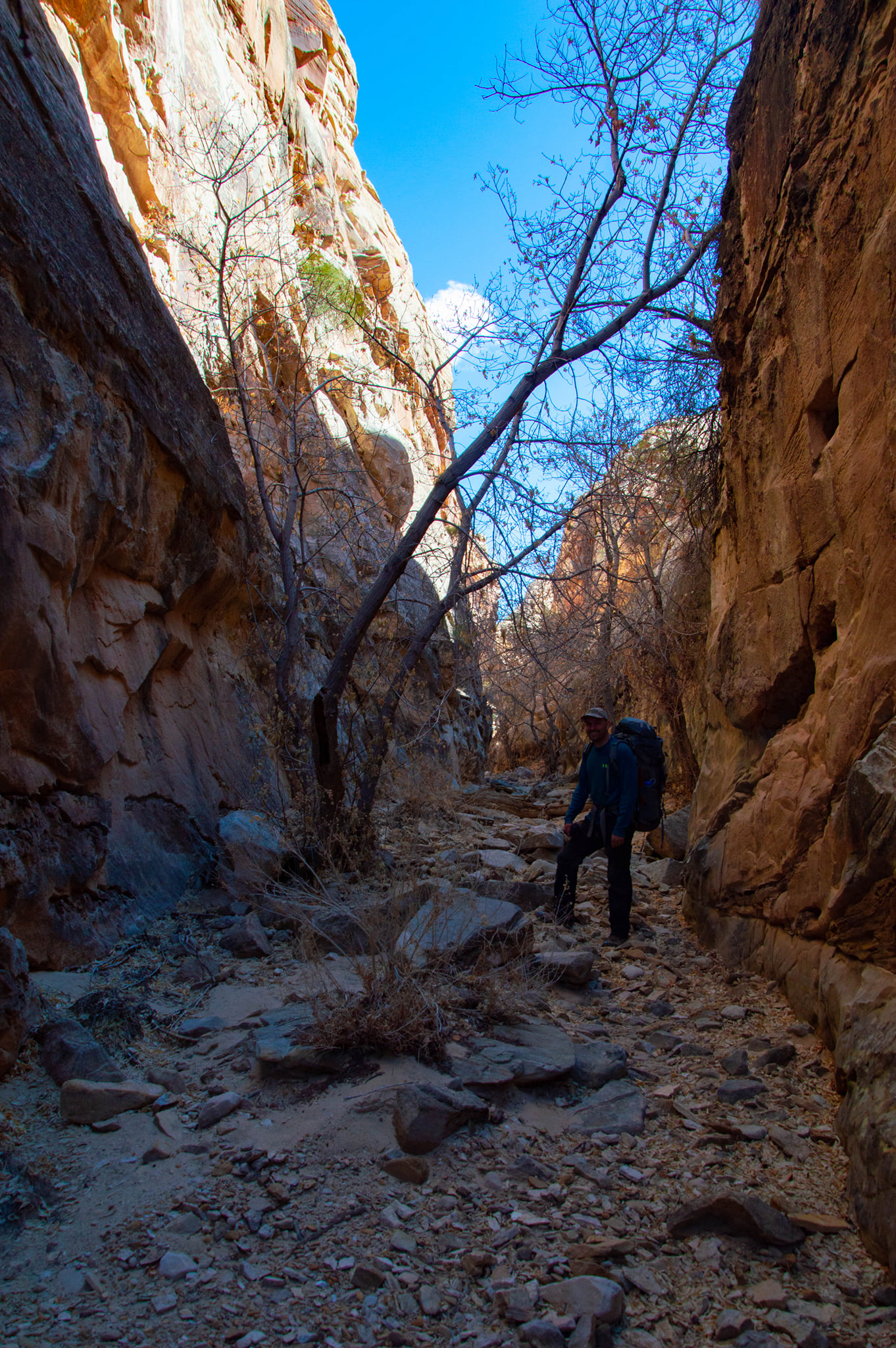 Last edited: