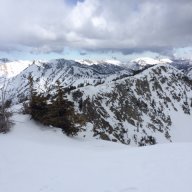 Joined

Mar 1, 2012
Messages

109
I'm headed up in a couple weeks and am wondering where people suggest. We'll be hiking in Saturday morning and coming out Monday evening. I'm looking for a couple of things: 1) somewhere I haven't been 2) some fishing opportunities and 3) not totally crowded.

Normally I would just pull out my map and find something that looks good, but I have misplaced it and I dont feel like looking right now.

My list of been there's:
4 lakes basin, Naturalist basin, Red Castle, Kings Peak, Cuberant lakes, Granddaddy basin, most of the stuff off of the Crystal lake trailhead, and a couple different routes from Mirror to Moon.

I saw someone on here talking about going up to Ryder lake which is definately on my to do list, but has anyone been to Timothy lakes? They look real tempting but the 3.5 hour drive from SLC is kind hoding me back.

Any suggestions are appreciated.