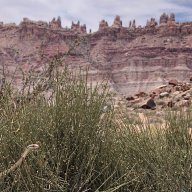 Joined

Apr 18, 2022
Messages

16
After finishing work at noon on Saturday, I finished packing my pack and headed 20 minutes away to the Pollock Bench Trailhead in Fruita, Colorado. I headed out towards Rattlesnake Arches, and after 3 hours of moderate terrain I made it to the spot where I planned on dumping my pack while I visited the Arches. This spot was off a social trail that will get you into Rattlesnake Canyon, then to the Colorado River. With my heavy pack resting under a Juniper, I explored the Arches from the lower trail.
(obligatory Rattlesnake Arches photos)
Wind gusts were getting to 45+ mph, and it looked like it could rain so I headed back to my pack to find a campsite for the night. I originally anticipated on getting all the way into Rattlesnake Canyon and making camp there, but after seeing how steep and rugged the descent was I opted to stay near the trail and set up camp above the descent. I found a cozy site tucked against a Juniper, and slept (as much as I could with the wild wind) for the night.
(campsite for the weekend)
Sunday morning I slept in and had a relaxing morning. I eventually decided it was time to attempt the hike to the River. Not many reports or info were available for that trail, but I needed the water from the river to drink so skipping that portion of the hike was not an option. Leaving most of my gear behind, I headed to the River with my empty water containers and filter.
(the top of Rattlesnake Canyon/ Colorado River access trail)
In hindsight, I wish I would've approached this portion of the hike as a rugged canyon hike, not a stroll to the River because it proved to be challenging. The descent was steep, loose, and required some scrambling, but it was manageable. The rest of the hike to the River through Rattlesnake Canyon was gorgeous, and despite the name I did not see any Rattlesnakes. When I made it to the River I was thrilled and immediately got to business filtering water. 4 liters of clean(ish) water later I was ready to head back to camp. The hike back was much more relaxing after knowing what to expect, and the ascent was tough (as expected).
(Rattlesnake Canyon and Colorado River)
I made it back to camp in the early afternoon and rested in my tent for a bit to recharge from my adventure to the Colorado River that morning. When I felt recharged again I decided to go visit the Arches again. It felt nice having camp close-by and strolling to the Arches with no heavy pack or time constraint, my camp was less than a mile away and I had what felt like unlimited time to explore them! After I had enough of the Arches, hunger was calling and I headed back to camp for dinner.
The night was calm and peaceful, and around 6am I started to wake up and prepare for my hike out. I was packed up and headed out at 8:30am, and I made it out by noon! Just in time for me to run home, shower, and make it to my 1pm class.
I hadn't heard of anyone combining those trails into a backpacking trip with a reliable water source, so I figured I would share my adventure. It was not easy, but it was a rewarding challenge. For those looking for a rugged backpacking trip with arches, a scenic canyon, and a river, I can't recommend this route enough! The trip totaled around 26 miles.