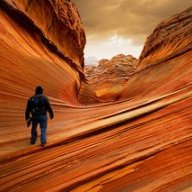 Broadcaster, formerly "ashergrey"
.
Joined

May 5, 2012
Messages

1,724
Four nights.
71 miles.
Grind.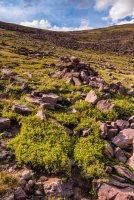 Never really had any intention of tackling. No aspiration. To be honest, a little intimidated by the thought.
Not really into self-flagellation.
So why did I say yes to the invitation? Why did I actually insist on the Uinta Highline when more alluring options arose just before our scheduled departure?
Peer pressure?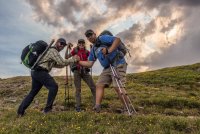 This is
@Nick
's idea. Complete what he set out to do, but bailed out on, years before.
So we cheat a bit. Start where he ended previously. Hence my new nickname: Cheat-peta Lake.
Two moose are in the lake as we pass by. My regret at leaving the heavy camera lens at home burns hot. This is a feeling that won't dissipate. It will only be joined by burning in my calves and thighs.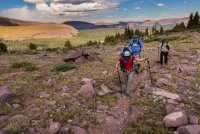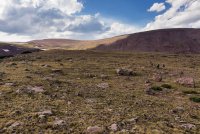 Marvel at big cairns and bigger landscapes in the tundra of North Pole Pass.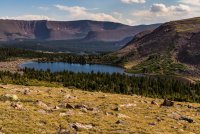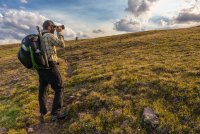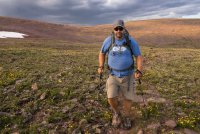 Smoke from the Dollar Ridge Fire fills the valleys west of the pass. Eyes water.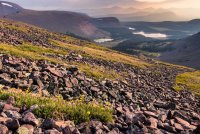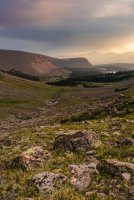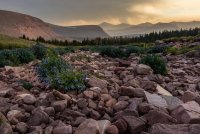 Our short day ends in a dramatic flare of sun through the haze.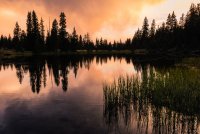 This is good
, I think.
We're slow to rise day two. Lose the best morning hours. It's hot too soon. Trail miles are long. Scenery is blah.
This isn't good
, I think.
A storm rises in Painter Basin. Kings rises in our path. We plant at its foot, leaving Anderson Pass for the morning.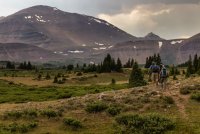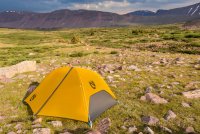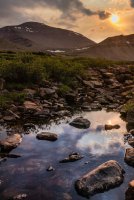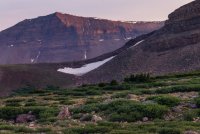 Jen is up and out before sunrise to summit the peak.
I've been there before
. Don't need to do it again.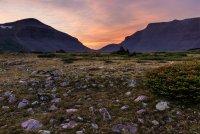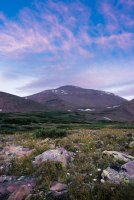 It's a big day. Anderson, Tungsten and Porcupine all have to fall to keep us on schedule.
Like I said at the outset, grind.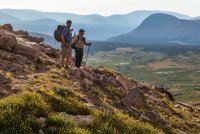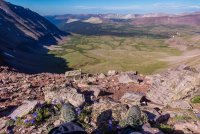 The heavy glass wasn't the only thing I left at home. My first regret at neglecting trekking poles comes as we find a portion of trail descending into Yellowstone Basin that's been wiped out by a rock fall.
Oh well, too late to go back for them now.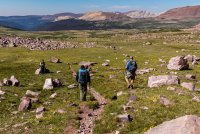 Walk, walk, walk.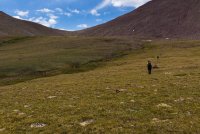 Oh my, Oweep.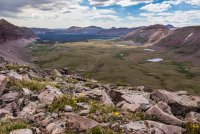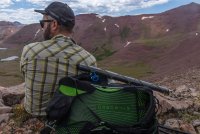 This is good
, I think.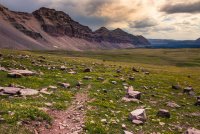 We're past halfway now.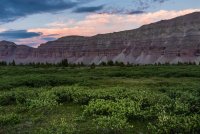 The sweat won't dry from my clothes overnight. They're clammy and stink in the morning. But they're all I've got.
Elk bugle and dart by camp on morning three. A huge herd of them browse in a dewy meadow.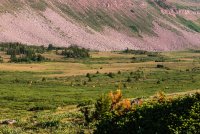 Where's my telephoto?
Oh yeah. Damn.
Too much sun in Lake Fork. We race from shade to shade until there's none left to find.
Up Red Knob. Thunder crackles. No time to dawdle. No time to enjoy the hard-earned view.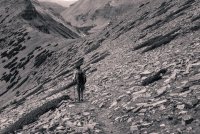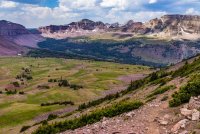 The rain hits with gusto at Dead Horse. We sit under tree branches. The storm persists.
The air grows colder. Nick pitches his tent and makes tea.
Now it's a race. We need to clear Dead Horse to stay on schedule. Will the storm break in time?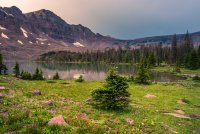 A gap opens. Time to go.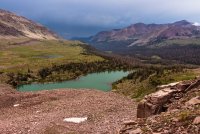 Two small high-angle snow fields to cross. I curse not having trekking poles again. The stick I've requisitioned does not provide confidence on the rain-slicked shale.
Our last night. Gorge on whatever food's left to lighten the load.
Blisters are rising, in spite of best efforts. All three pairs of socks are wet or crusty.
The chafing in the nethers is likewise uncomfortable. A little cleansing splash from a stream helps.
It still burns in the morning but there's nothing to be done about it except make haste.
Rock Creek calls.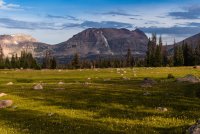 High, middle or low? We choose low. It's shorter and the "official" Highline.
It's the worst stretch of the trip. Mosquito alley as we drop elevation, only to gain it again.
Should have gone middle.
Our final pass. Rocky Sea.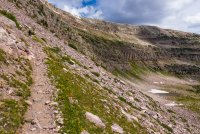 Familiar peaks come into view: Agassiz, Bald. But they disappear when we drop into the trees.
Then, the long slog across the Duchesne drainage.
So many rocks. What an awful trail. I hate hiking. Why did I agree to this?
People. More of them, ever more of them, as we come closer to the highway. I simultaneously wish I was at home and wish I was in Oweep.
A mile or so to go.
The sky conspires. A drenching rain. A last reminder that the mountain doesn't care.
Home it is, then.
Finish line.
Achievement unlocked.
Well what do you know? I guess there was some aspiration after all.
Click here to view on CalTopo
Last edited: