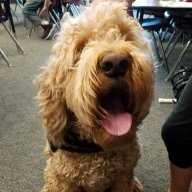 Joined

Jan 18, 2013
Messages

12
Hey all,
I've been given some great advice here in the past, so I'd like to pick your collective brains for ideas on backpacking with tweens.
I'm looking for ~25 mile backpacking trip ideas for taking my 12 and 13 year old daughters on this coming summer.
The 12 year old hiked the West Rim Trail as an over-nighter last year with my wife (14 miles mostly down hill) and the 13 year old hiked 42 miles with me over 3 days on Cedar Mountain last year-also mostly all down hill although it didn't feel like it.
I'm interested in doing one 25 miler with both daughters this year. Anywhere in Utah or within close driving distance to Southern Utah could be considered. I'd like it to be a three day trip with water available along the route.
I've considered hiking over Pine Valley Mountain on the Whipple Trail to Wet Sandy and down into Toquerville (where we live) for a memorable trip closer to home, but I'd also enjoy hiking along the Wasatch or, really, anywhere.
We can go any time from late May through the end of July.
Ideas?
Thanks in advance.
Last edited: