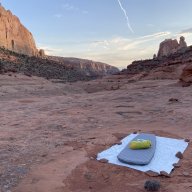 Joined

Apr 1, 2021
Messages

74
I know that average snowpack is a low value toward the end of the season, so any snowfall will drastically change the current value for percent of normal, but still.
So despite the 100+ numbers in the Greater Yellowstone and Bob and Glacier areas, we should expect an average or slightly below average year because the previous months weren't above average?
And even though Cloud Peak has 500+ at the end of May, it might just be an average or slightly above average year because these readings came late in the season when it might temporarily jump 5x from say an average of 4 inches to 20 inches and then quickly melt out?
But the abysmal numbers in SW Colorado are indeed catastrophically low?