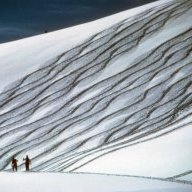 Joined

Oct 17, 2012
Messages

367
My wife and I celebrated our 40th year together this August. She came up with the bright idea that we should do a big trip to celebrate it. Iceland, Scotland, Italy, France, Wales, and England were all mentioned. We managed to get to all these places except for Wales, over a 45 day period. Both Iceland and Scotland were done in campervans and encompassed 28 days of the trip. Both Iceland and Northern Scotland had been on my radar for a long time. If you love mountains , beaches, waterfalls, thermal activity, huge sea cliffs and fjords. Then this should be a worthy trip report. Anyone interested in traveling to these places is welcomed to throw questions my way. Heres the report as I'm working on it.
My wife and I leave Denver Aug 7 at 5:30 pm on Icelandair and arrive at 6:00AM Aug 8 Iceland local time. We decide we'll do as much as our bodies and minds will allow this first day.... considering we're 6 hours time difference from when we left. I do a quick stop at the duty free for some beer only, as we have packed 3 bottles of wine apiece in our luggage. We get picked up at airport around 8 am by our Campervan rental company ACE. https://www.acecarrental.is An easy 10 minute drive to the office. We do full inspection of the vehicle, which was basically brand new, and found one small dent on drivers door. We were shown all the gear that comes with the van, and then take our time packing all our stuff under the bed and in the nooks and crannies of our new "mobile home" (a Dacia Dokker) for the next two weeks. We next head over to the Costco and Bonus south of Reykjavik to supply up on food and some drinks. Our inventory of gear supplied, shows that we're still in need of a decent sharp knife and cutting board for our kitchen box. How convenient that Ikea is right across from the supermarkets. We're now supplied up and ready to head north.
I know all the Trip Advisor DE's and forum contributors advise anyone traveling immediately off a redeye. Best to give yourself a day to recover from jet lag. But ....we were both feeling really good, and felt like a good hike in the fresh air was more appropriate than calling it a day. I knew that our days ahead in the Westfjords would not allow us to backtrack, and this would probably be our only shot at seeing the waterfall Glymur. We pulled into a fairly packed parking lot on a light windy, but sunny day. Hiking boots on, we head out to see our first Iceland waterfall. Woo Hoo! Great hike!! It had everything. Crossing a small river over a slippery log, then cutting thru a cave, to a steep windy climb. Fantastic scenery and views on the way up to the 2nd highest falls in Iceland. The perfect introduction to this trip. Really loved this hike.
Back at the car, we made sandwiches and talked about what next. Maybe we should find a campground around Borganes and just relax the rest of the day. As it turned out, we really didn't like the campground there. Since we share the driving when needed, we ended up continuing on, all the way to Arnarstapi. I'm sure doing all this the first day seems like overkill to most of you, especially after a redeye flight. I would have thought the same....but the energy we felt, finally here in Iceland, was overwhelming. Somehow we managed to pull it all off, without sacrificing safety for us and... anyone else on the road.
Almost 7 PM....We drive our campervan into the Arnarstapi campground, along some tall hedges for wind protection. Set up our little table and chairs and...have a toast of wine and beer, staring up at the beautiful sunlit Mt Stapafell. Exhilaration! We are finally, really here, camping in Iceland. What a first day! Some food..another beer/wine, and finally... sleep around 10 pm. A big, beautiful, first night's sleep. Ahhh...the simple things in life.
Glymur
Glymur
Glymur
Glymur
Glymur steep path
The cave you had to go thru at Glymur
Day2: We're both up between 7 and 8am. Sun is shining. I'm wearing shorts. Yes!! This will be "explore the Snaefellsnes Peninsula day". We wander around the Arnarstapi cliffs from camp and then pack up the van and backtrack to a waterfall I saw on the way in, that needed another look. We do a quick stop at Bjarnarfoss and then head back west again. We will circle around the point, and "the ever in your face", Snaefellsjokul glacier. We make stops at Londranger, Djupalonssandur (I picked up the four big stones...NOT!!!!!!) and Dritvik, Svodufoss, Kirkjufell and many others in-between. So much to see. Stykkisholmur is our eventual destination today, as we have the Baldur ferry booked, across over to the Westfjords the next morning. There is a Bonus Supermarket here and we grab a few things before we head to camp. We're still holding sunny weather and we check out the ferry location. The office is still open and they ask if I have my vouchers. They validate the tickets for us and the vehicle, and tell us when to line up in the morning. Pretty straight forward. We do showers, cocktails and dinner back at camp. Another stellar day of Icelandic sights. If this weather continues to hold, the Westfjords is going to be epic.
Arnarstapi
Arnarstapi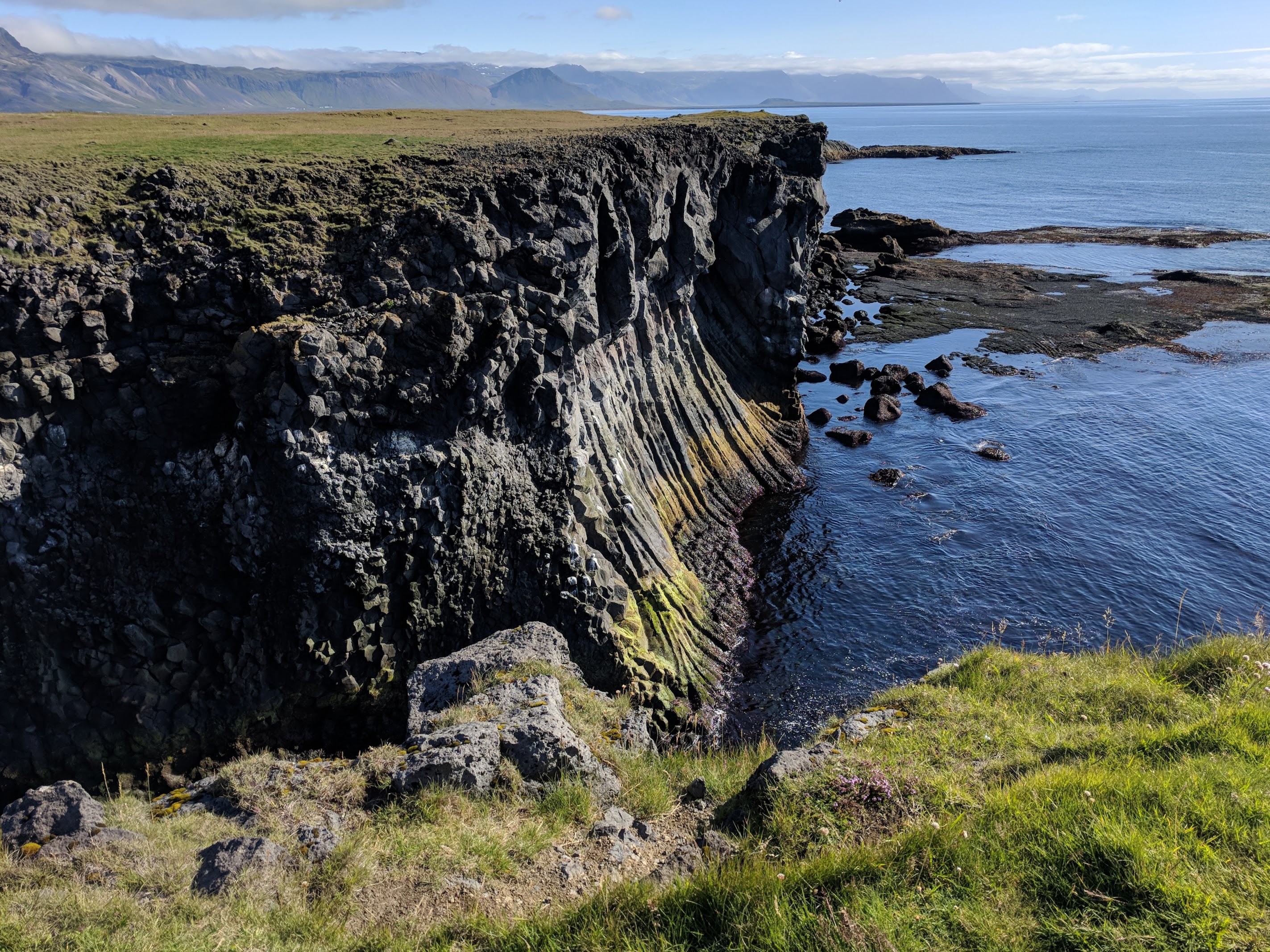 Bjarnarfoss
Bjarnarfoss
Londrangar
Londrangar
Snaefellsjokull glacier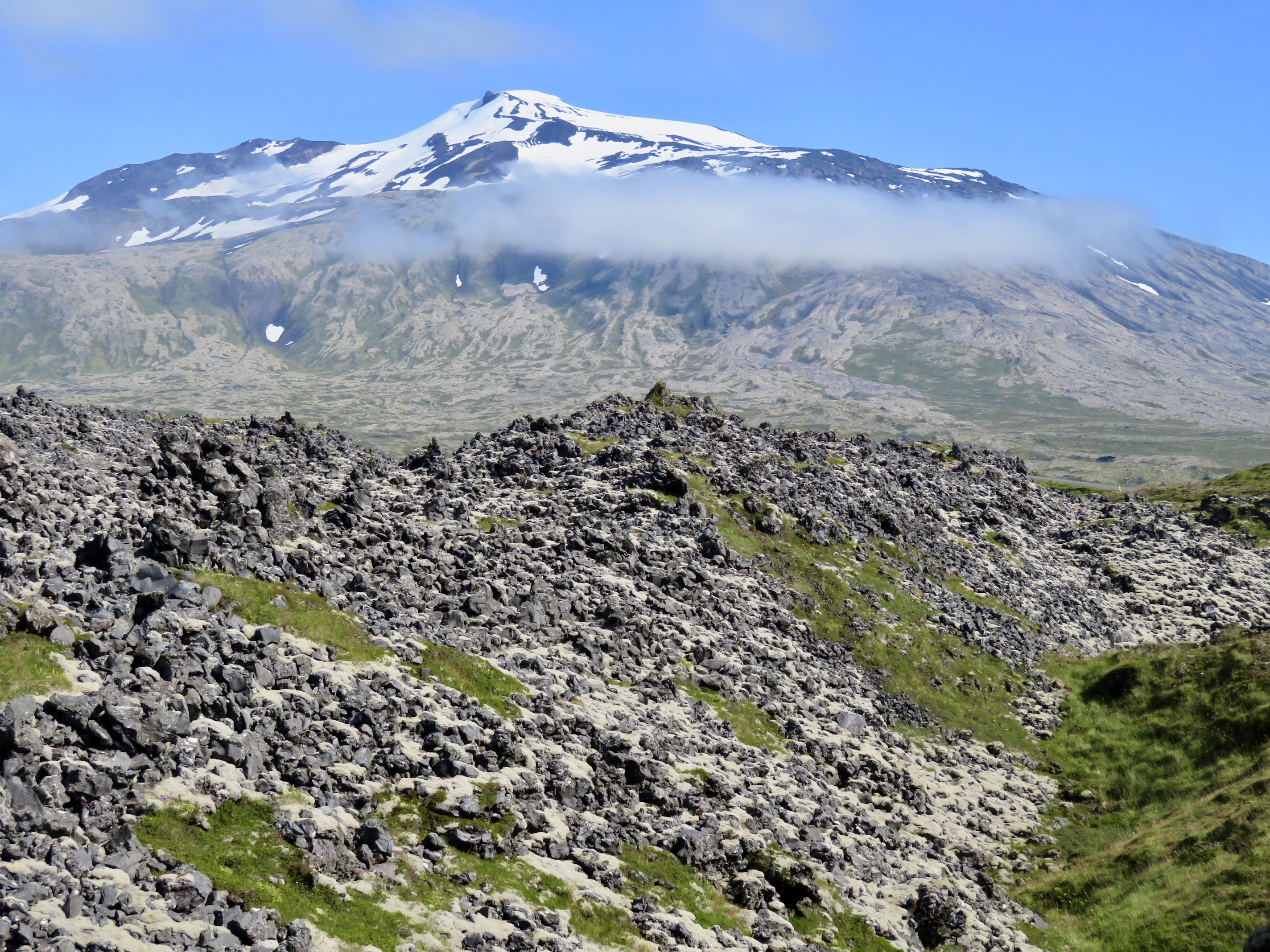 Fresh water pond near the beach
These rocks are for picking up to show how strong and tough you are. You had to be able to pick up the 3rd biggest one if you wanted to row any of the big Viking boats. Not me I'm a dinghy guy.

The smaller stones under the big boys
Lava formations on Djupalonssandur beach
Djupalonssandur
Hole in the rock Djupalonssandur
Lava coastline Djupalonssandur
Svodufoss
Kirkjufellsfoss
Kirkjufellsfoss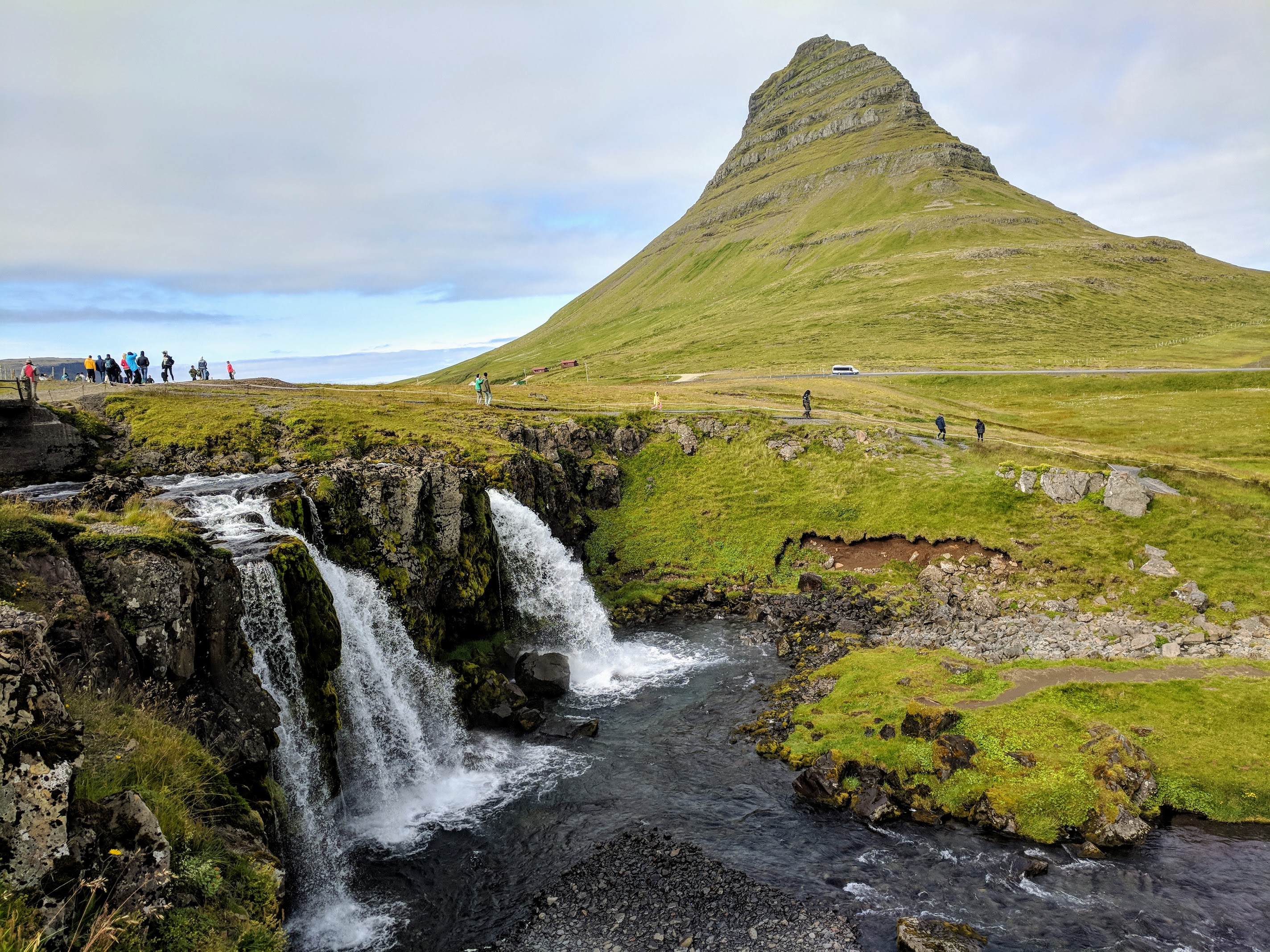 Kirjufell
Day 3 Aug 10: It is a very cloudy gray morning, but the wind is light. The ferry to Westfjords is an easy crossing....really not much to look at on this gray day. Our first stop is a natural hot pot called Krosslaug, about 8-10 miles west on our way to Raudisandur beach. A pretty little hot spring next to the ocean at high tide. There's no one here, so we stop to check out the temperature. My wife says "definitely not hot enough, let's keep going" Oh well. On to Raudisandur as the sun seems to be pushing the clouds away. The gravel road is in pretty decent shape as we drive over the pass and down towards the miles of red hued beach. We park near a black church, and hike a path out to the red sands. The sun is coming out and the day is warming nicely. We spend a couple hours walking the ever changing colors of this huge beach. Very few people here. I'm liking Westfjords so far.
We drive back up and over the windy gravel road and continue on to Breidavik Beach camp with a planned evening visit to Latrabjarg Bird cliffs. We get showers at camp and use the Breidavik Hotel's shared hostel kitchen to make up dinner. We drive 15-20 minutes to the Latrabjarg cliffs at 7:30 pm and start hiking up along the endless meadows and huge ocean cliff faces. Puffins, puffins...where are the puffins? We see a couple on the cliff edges, but not what we expected from this famous bird breeding ground. A bit disappointed, we start hiking back down around 8:45.
Yikes!!!....OMG. puffins everywhere, flying in from the ocean and plopping themselves on the cliff edges. Maybe a dozen people here total, all spread out on the cliffs, taking pictures and laughing. You just can't help laughing at this sight. All these proud little birds, flying in on mass, to their nests on the cliffs. We stay entertained for more than an hour and a half and then drive back to camp, thoroughly pleased that we got to see this awesome event. Back at camp we grab a beer/wine and take a selfie at 11:30 PM with the sunset colors still on the ocean. This nice weather can't hold, can it?? Trip quality is top ten so far! Loving it!
Baldur Ferry from Stykkisholmur to the West Fjords
Krosslaug hot pot This pool is right next to the ocean at high tide
Raudassandur Beach Red sands
The black church of Raudassandur
Raudassandur locals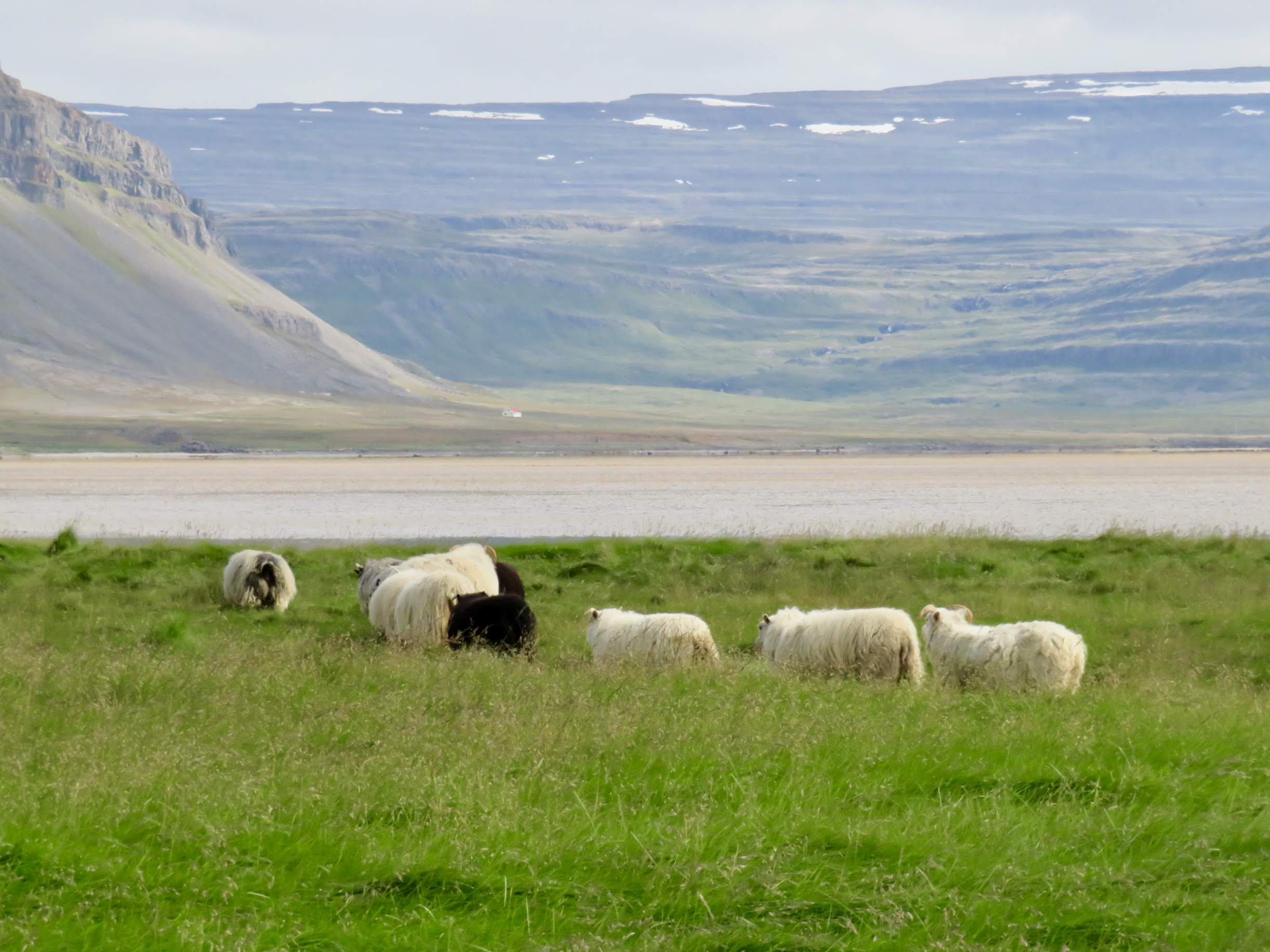 Miles and miles of red sand
Latrabjarg Bird cliffs
Latrabjarg lichen
Latrabjarg
Latsbjarg puffin habitat
The cliffs keep climbing
Latrabjarg Puffin
Selfie at 11:30 PM
Day 4 Aug 11: We are in no hurry this morning. We sleep in and then make up a nice breakfast. We talk to a few fellow campers about places and things they've seen that we shouldn't miss. Almost all are on my long list. It's once again a nice sunny day. Our goal is to camp at Thingeyri this evening. We make stops at Patreksfjordur, Dynjandi Waterfall and a couple times on the pass above Thingeyri. We spend a few hours at the very impressive Dynjandi waterfall. Much bigger than I thought. Fairly busy crowd in the middle of the day, but thankfully no busses. One of Icelands nicest waterfalls. Nice place to have lunch.
Today's drive through the Westfjords is just a classic bluebird day. Winding thru the fjords and over the passes with azure blue skies is a total treat. The campground in Thingeyri is perfect with high hedges to keep out the wind. Very few campers. Best of all..... Kitchen, bathroom, and shower building is brand new. This place is the standard for top CG facilities by far. We decide to do dinner at Simbahollin Cafe. Excellent lamb stew and Butternut squash soup and bread. After dinner we visit a restored Viking camp next to the CG. We also get one of our best sunsets of the whole trip. If this weather keeps up, maybe we should just stay in the Westfjords for our whole trip. After hearing about all the bad weather this summer we are feeling very fortunate.
Breidavik Beach Camp. That lonely table on the right was ours.
Breidavik beach
Patreksfjordur Fjord
Dynjandi waterfall
Dynjandi
Dynjandi
Dynjandi
Dynjandi
Viking carved totems Thingeyri
Viking carved totem Thingeyri
Refurbished viking village Thingeyri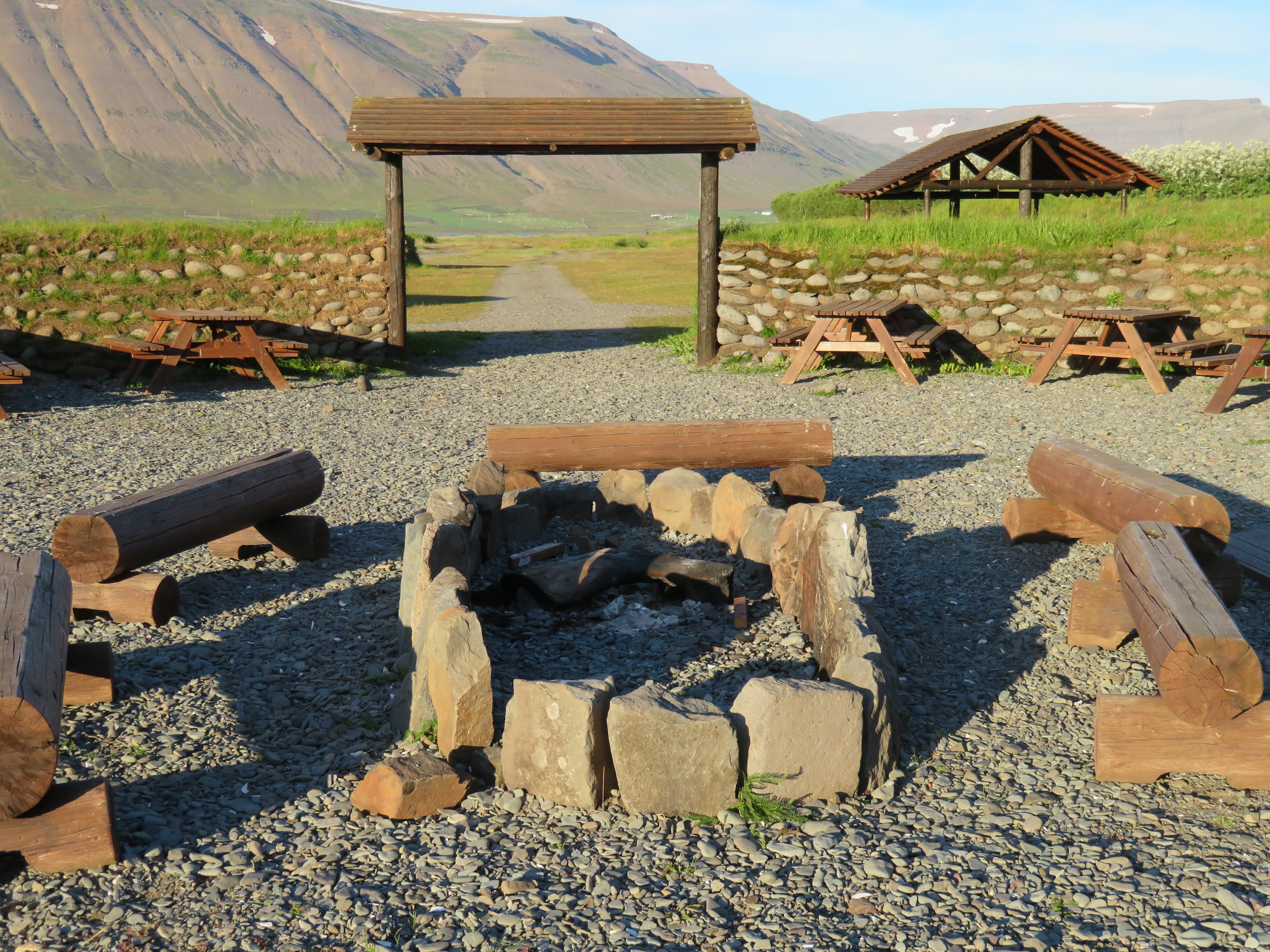 Thingeyri
Thingeyri
Thingeyri
To be continued
Last edited: