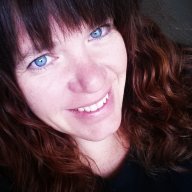 Joined

Jan 17, 2012
Messages

1,109
Some of you will recall I did this trip last year. I fell in love with seeing "main" Yellowstone by bike and no tourists and have decided that is the only time I want to venture into the "main" parts of Yellowstone is when I can go on my bike. 50 miles from West Yellowstone to Mammoth Campground for a 100 mile round trip.
I rocked this ride, felt strong the entire time. My favorite comment this trip was on my way out of the park a women on a road bike said very loudly as she was passing me. "You have got to be kidding me!" I just hollered back "Believe it!"
I saw bison and a fox, some bear tracks and wolf tracks. The day we were leaving Mammoth I talked to a couple who about 5 minutes before I rolled up had seen a wolf. I just missed it.
Nothing to exciting as I rolled slowly through the park. Windy and cold but gorgeous as Yellowstone always is.
Here is the photo dump. Enjoy
Packed with my new Apidura front roll and a can of bear spray handy.
Me
My friend Aaron
Aaron and Bryan
Bryan shrouded by the steam . Loved the clouds on Saturday.
Gibbons Falls
Caldera Rim
Bryan fighting the winds. Aaron was almost blown off the road on this section. The winds were strong and it was a bit difficult to keep the bikes going in forward.
Roaring Mountain
This is me at midnight warming up more water to put in my bottle to hug and keep me warm, I went to bed hugging it, had to warm it up at midnight and 4 am. But at 4 am I made coffee too and started getting packed and ready to leave. The temp dropped to around 17F at least that is what my phone said.
Ready to head home
Snuffleupagus
I found my speed limit!!
Look who we ran into Dave from my trip last year! Most of the iHike group bailed because of the temps and winds. Dave, Mike and Sydney stayed in a hotel in Gardiner.
Wolf Tracks
Wolf Tracks I have a size 10 women's foot. These boots are actually a bit bigger for thick socks.
Foxy fox
Now she is sitting pretty watching us.
Bozeman crew that rides from Mammoth to West Yellowstone in costumes.
Me, Dave, and Bryan
Aaron
This guy was filling his oats. He head butted the goose on the island. I wish I would have had my camera out when that happened. I took a few pictures of him until he turned at looked right at me and started grunting and pawing the ground. Very happy there was water between me an him. Even then I put the camera away and let him be.
Last edited: