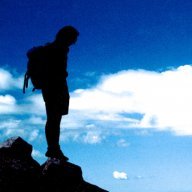 Joined

Jun 25, 2012
Messages

4,425
2013 Winds Crossing – Part 2
Off the beaten path, mostly – Mostly Fun!
OK here it is. Part 2 of my Wind Rivers traverse from this August, 2013 through one of the most wild and remote chunks of the range and all in terrain that we had not yet seen. This completes what I started in
Part 1
. Again, I recount this trip with the necessary caveat that traveling this section of the Winds requires advanced route finding and backpacking skills. The rest of the caveat emptor language is in
Part 1
.
STATS
9 days, 82 miles, 4 days with no human-sighting, zero days without animal sign, 8 nights of semi-exhaustion, food and time remaining when we got to the beer in the truck – near zero. Smiles all around.
MAP with GPS track.
View larger map.
Picking the story up right where I left off.
"…. The weather remained fine and we decided to keep pressing on knowing we had contingency routes. We then turned the corner and encountered the world famous......"
...Golden Lakes drainage. With multiple Golden Lakes purportedly named for the Golden Trout swimming their depths.
Descending from the pass to the Golden Lakes complex.
The view up to the pass we just descended. The pass is to the right of the center, sunlit peak.
Here is our night's camp. Danny fished with not-too-much luck. I don't if the Goldens were too tired or just us.
Sunset sweetening it up even more
Now we left the lake basin and started up to the Continental Divide for the first of our Divide crossings over Hay Pass to get to the west side of the range for a short run.
A duel with fisticuffs above Dennis Lake and just below Hay Pass.
The beautiful alpine meadows surrounding Mt. Victor below Hay Pass on the west side. This is a place I will return to. I personally guarantee myself.
Mammatocumulus or Mammutus or "Mama I have to put my rain fly on, stat!"
Approaching the Middle Fork lake and drainage. Nylon peak in the center.
The view up the Middle Fork from Bewmark Lake. This is the other FAVORITE PLACE of mine in the Windies. This is a five star camp spot - imagine waking up to this view.
This place causes me great delight and a full-on memory rush. A personal history over the years - Climbed 'em! Some of them with Danny.
Another view
My pals. Crossing the Divide again now to remain on the east side for the duration. L to R - Artemus, Elizabeth, Danny standing on Kagevah Pass. The cliff is Prairie Falcon Peak.
A sleight of hand..
An attitude picture
Cool, glacial erratic
One of the most interesting and beautiful suprises to us. Kagevah Lake and it's glacier and lake under its sun-protected north face. An Art attitude picture.
Sunrise from bed.
Another 5-star camp
Prairie Falcon Peak from our Kagevah Lake camp
Time for a walkabout…
What is the name of this cloud? Anybody?
From here on out walking became extremely trying again. Entering the forest and the indian reservation again the trails were essentially unmaintained. Signage was non-existent and the deadfall was interminable. Very frustrating. To cap it off we came upon an abandoned campfire that caught a dead tree on fire and the duff and peat beneath it. There was open flame and the fire ring was probably 20' in diameter. A couple of hundred liter bottles of water had it down to mostly smoke and steam. We were at Wykee lake. A LONG way and several days from the trailheand, truck and road out. Once we got out I called this into first the Forest Service and finally the Interagency Dispatch Center in Cody Wyoming. Note for ALL: They were extremely delighted to have a knowledgeable and trustworthy report. They sent a fly by and a team in on foot the day after my call.
Elizabeth extinguishing. This was next to the lakeshore with a dozen fish carcasses in the water with a presumably "plinked" squirrel carcass.
Twin Lakes and Twin Lakes Park. These lakes were jaw-droppingly beautiful. Rimmed in granite with water slides between them.
Twin Lakes Park from up high traversing away.
Success! 82 miles. Arduous. Sure. Challenging. Sure. Bear Country. Sure.
Delightful. You bet!
Featured Image for home..