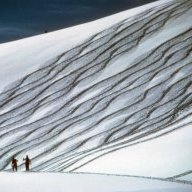 Joined

Oct 17, 2012
Messages

367
Hi all. Been a while since I've posted on here. Kinda got caught up in springtime Yucatan trips the last few years. Anyway it appears we are going to do mostly Utah and a bit of Arizona this spring. Mid April after the ski area closes.
OK..so thinking we base camp at Stateline CG on House Rock Valley Rd. Places we want to visit are Edmaier's Secret near the West Clark Bench, the Notch Panel (since we are so close), Wahweap Hoodoo's and Toadstools (maybe 2 days) and Yellow Rock. Options: Cobra Arch, or possibly the Teepees outside the Wave permit area. Have been up to White Pocket twice and S Coyote (Pawhole and Cottonwood) and the Wave, so.... will probably try something else in the Sandhills if we feel confident our vehicles are up to it. We've also hiked Buckskin....... and the Paria down to Lee's Ferry. Anything else in this area to fill a day?
Trying to decide on part II. Thinking Old Sheffield/Spencer Flat, outside of Escalante for a few days. Want to check out Spencer Canyon, Phipps Wash and the arch, and then maybe visit Red Breaks again. I've been in the West Fork and to the volcano. But I wouldn't mind seeing it all again. Anything else up here? Oh ya, also have been to Big Horn.
Part III is the toughest one. I really don't know Robbers Roost or the North Wash area. I've always wanted to do Happy Canyon, but day access may be a little too much for our group and on our vehicles. So....was thinking maybe between Hanksville and Hite and checking out some of these slots. Need to choose a base camp spot and find non technical slots to explore. Will happily take any suggestions for a few days of excitement.
This should be a massive color overload after a long winter in very white Steamboat Spgs. Any.. and all ideas are welcome...thank you!