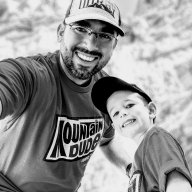 Life Elevated - Rising Higher
Joined

Feb 25, 2013
Messages

600
It was time. Jay was on his way and we were to attempt our first trip on Cross Country Skies. We were both pretty excited! Neither of us has experience with cross country skies, but we figured since the route we were going to take was only 10 miles long, that we could manage it over the course of two full days.
This trip began in at the Aspen Grove trail-head near Sundance, and ended in American Fork Canyon, at the end of the Alpine Loop road. Friday morning we staged all the cars, and before we knew it we were shuffling up the road with skies strapped to our feet!
The learning curve was pretty steep for me. learning how to stay upright on skies took a bit of getting used to. I spent a lot of time falling over, but I did get better as we went along.
Three hours after we started, we finally made it to the top! The climb was about 1000' in elevation gain, and 3 miles long. yeah yeah... we were only going about one mile an hour, I know. I blame myself. After all, I was the one always falling over haha!
Once at the top we found a little meadow just off the road where we built our snow cave. The snow was waste deep and made for easy snow cave building. after about 2 hours of work we finally had our cave all dug out. It was super big and very nice for two campers.
Most of our evening consisted of us melting snow to replenish our water, and cooking our food. Getting firewood took a fair amount of time as well, but we had fun using my new little hand-held chain saw! It seemed like we were constantly working. this camp sure was a lot of work! Good thing we have long nights so we can get lots of sleep!
Jay is one of the best men I know and one of my very best friends. The adventures we go on are always fun, but one of my favorite things are the conversations we have. With Jay I feel more comfortable talking about personal and spiritual things than other stuff. I LOVE how he has that influence on me. He makes me want to talk about God and the Gospel. Being around him inspire me to be a better person. Indeed, it is wonderful to have friends that do that for ya. I feel very blessed every time I get to hang out and chat with this great man. Needless to say, once we settled into our cave for the night, it was nice talking with Jay. I hope he knows how much I enjoy our talks.
Well.... Morning eventually came and we were plenty warm in our cave. Around midnight I needed to relieve myself, and when I stepped outside to do so, I became very grateful for the snow cave. The wind was blowing pretty strong and we hadn't even realized it. I LOVE SNOW CAVES! Once I was out of it, I couldn't wait to get back in!
Anyway, Morning came and we dressed and ate. Our toes were getting pretty cold, so we figured we would just pack up and head on down the rest of the road.
Cross country skiing down hill was a blast! but it was also a lot of work. I fell over a ton, but it was much quicker going than the hike up. After all, the 5 miles down only took us like 1.5 hours compared to the 3 hours it took to hike 3 miles the day before. even will all of my falling down! haha
Well, toward the end of the road we actually got pretty good and started to ski pretty quickly along that snowy road. It was so fun! My legs and back were super sore from skiing with a backpack on, but it was all worth it.
Featured image for home page: