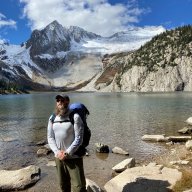 Joined

Feb 14, 2023
Messages

90
I'm planning a bit of a last minute trip here, and was able to get a permit for the route below coming up here in a few weeks, staying at wb1, 1g2, wd3, wd5, we6, we4, and we1. Aside from a few particular questions, I'm curious to hear from anyone here who's familiar with the area. I chose campsites based on what's available and an old guidebook, the only other potential change currently on my radar is maybe trying to get wd4 at High Lake rather than wd5.
-Any preference between entering via Bighorn Pass vs Fawn Pass TH? The mileage difference is negligible.
-I'm going to try to change the night at we4 (Specimen Creek) to one of the sites at Shelf Lake. then hoping to do a side trip, up to the sheep mountain summit, or along the sky rim trail headed SW. Would one be preferable to the other?
-Anything else worth knowing about the area? I've wanted to hike this part of the park since I looked down from Bunsen Peak our first time out there.